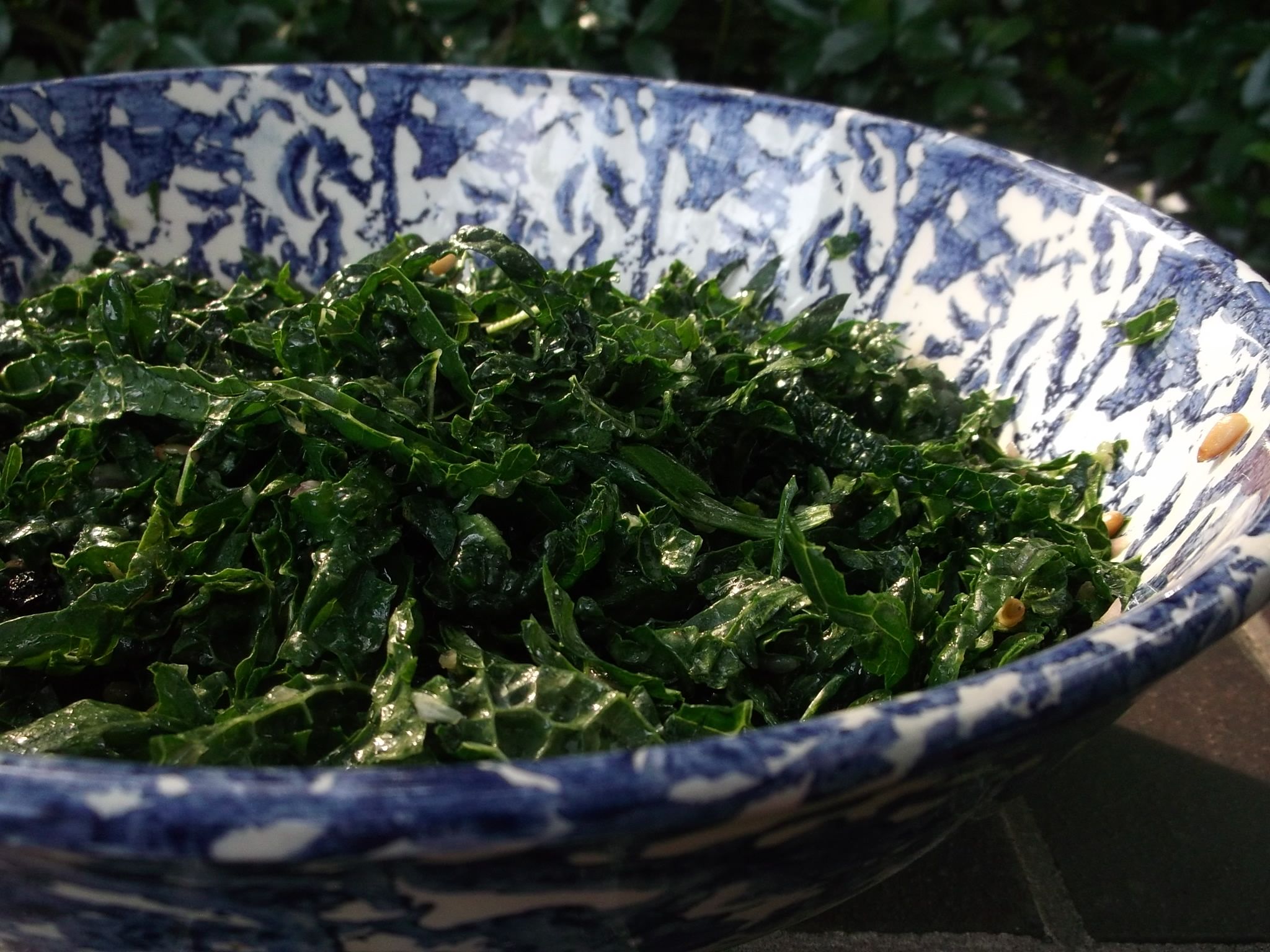 At a little Italian osteria and enoteca upstate that my husband and I occasionally frequent, one of the most popular staples on its ever-changing seasonal menu is a raw lacianto kale salad.
I've eaten plenty of cooked kale.  But raw kale had never appealed to me.  Plus, I knew several women who had embraced raw kale with such enthusiasm that that they ended up with hypothyroidism (low thyroid) from eating raw kale every single day, several times a day!  So, I took a pass on that salad for a long while.  Interestingly, my picky husband always ordered the lacinato kale salad—and enjoyed it. On many subsequent visits to the restaurant, I was struck by how many men ordered that kale salad!
That's a good thing, too, since men can be minimalist about eating leafy greens (no offense intended!), and kale is a super green and nutritional powerhouse.  It's an excellent source of vitamins K, A and C and potassium.  It is also a good source of vitamin B6, as well as minerals, such as calcium, potassium, magnesium, iron and zinc.  A member of the cruciferous family, antioxidant-rich kale contains glucosinolates, which can be converted into cancer-fighting compounds.  Regular consumption of kale helps promote detoxification and has anti-inflammatory benefits. The carotenoids (antioxidants that protect against cellular damage) in kale are also associated with mood elevation.
If men were willing to eat raw kale, couldn't I?  Several years ago, I finally began ordering that raw kale salad. And I immediately understood its appeal: earthy, textured greens married with a hint of sweet and nutty create toothsome appeal.
As it turns out, I liked it so much that I created my own version, using apple cider vinegar, with nutritional yeast (in lieu of shaved Parmesan cheese) and pine nuts optional.
Raw Lacinato Kale Salad
2 bunches of lacinato kale, stems removed
2 tablespoons dried tart cherries (unsweetened)
2 tablespoons shallots, finely minced
1/2 teaspoon Celtic sea salt
4 tablespoons apple cider vinegar
4 tablespoons pure extra-virgin olive oil
3 tablespoons pine nuts, toasted  (optional)
2 tablespoons nutritional yeast (optional)
Preheat oven to 350 degrees.  Place pine nuts on a cookie tray and roast 3 minutes, or until lightly golden.  (Take care not to over brown or burn; otherwise, pine nuts will taste bitter).  Transfer to small bowl and let cool.
Gently strip kale leaves from the stalks.  Discard stems.  Wash leaves well and dry.
Stack several kale leaves on top of each other.  Roll stacked leaves into a tight bundle (like sushi).  With a chef's knife, finely slice the roll into chiffonade. Repeat until all kale leaves have been cut into thin ribbon-like strips.
Into a large glass measuring cup, add minced shallots, Celtic sea salt, apple cider vinegar and olive oil.  Whisk continuously until well combined.
Pour 4 tablespoons of the vinaigrette into a large serving bowl. Add the shredded kale, tart cherries and pine nuts. Toss well, making sure kale is well coated with dressing.  Add the remainder of the vinaigrette, as needed.  And, if desired, add nutritional yeast. Season to taste.