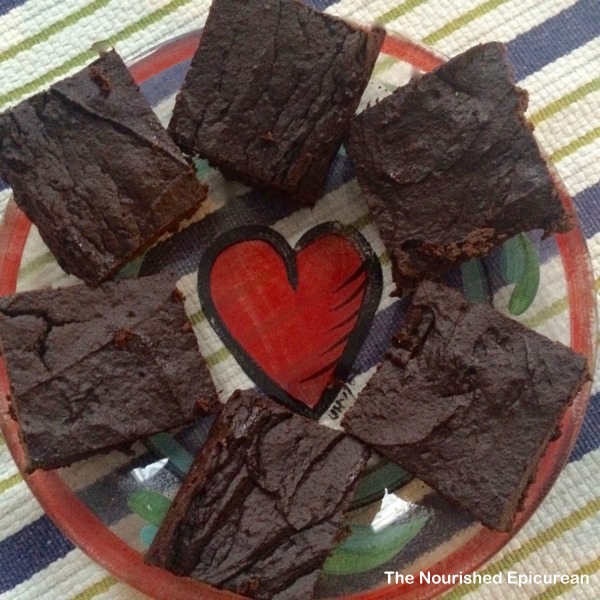 Want to show your love? Give me chocolate—the darker, the better (I like 85% cocoa content or higher). Or…you could make these brownies!
Why does chocolate = love? We have to credit the Mayans for creating this symbolic connection. In the 7th century, the Mayans migrated from Guatemala to the Yucatan peninsula, where they established cacao plantations. Cacao beans were then used as a form of currency for everything, including romantic commitment.
At Mayan betrothal and marriage ceremonies, chocolate—in its naturally bitter, unsweetened form—was served as a cold, savory celebratory beverage (much like vintage Champagne), particularly among the wealthy. The bride and bridegroom also exchanged cacao beans during their wedding vows to signify their bond.
After an exploratory foray to Mexico in 1519, Spanish explorer Hernán Cortés eventually introduced chocolate to Europe, where it evolved into a sweetened beverage consumed by the nobility. During the Industrial Revolution—as chocolate became more "democratized" and available to the masses—it morphed into a commercially sweetened (and dairy-infused) confection and drink.
Personally, I prefer the unsweetened Mayan version of chocolate! Dark chocolate (at least 70% cocoa) is loaded with antioxidants, including vitamins, minerals and phytochemicals (plant compounds). The polyphenols in dark chocolate help flight inflammation, oxidative stress and disease.
Studies have linked dark chocolate consumption with improved heart health. Dark chocolate is rich in flavanols, which can benefit heart health by lowering blood pressure, improving blood flow to the heart and creating less sticky blood platelets thereby reducing risk of blood clots and stroke. A study, published in the International Journal of Cardiology, tracked participants who consumed flavonoid-rich dark chocolate versus non-flavonoid white chocolate for two weeks. The results showed that, among healthy adults, flavonoid-rich dark chocolate intake significantly improved heart circulation whereas white chocolate had no such effects.
Dark chocolate, like many foods, has its own unique nutritional profile and health benefits. However…if you're allergic, sensitive or reactive to chocolate in any way, don't start eating it now!
If you want a deep, dark intense hit of unadulterated chocolate, these are the brownies for you! I use both unsweetened chocolate (Ghiradelli 100% cacao unsweetened chocolate bar) and unsweetened cocoa powder (here, I prefer Valrhona's 100% cocoa powder). I have a bitter bud, so I always rivet to chocolate with a high cocoa content (85% and higher). That said, the intensity of the unsweetened chocolate is tempered by the natural sweetness of the maple syrup and sweet potato—this anti-inflammatory, vitamin A-rich smart carb, contributes to a deliciously moist texture (so much better than wheat flour!). Feel free to use bittersweet chocolate instead of unsweetened chocolate if you prefer.
Sweet Potato Brownies
Adapted from The Iron You
1 15-ounce can of pureed sweet potato (suggested: BPA-free Farmers' Market brand)
OR 2 medium sweet potatoes (about 6 oz each), roasted, peeled and pureed
4 oz unsweetened dark chocolate (like Ghiradhelli 100% cocoa), chopped
1 tablespoon coconut oil
4 tablespoons maple syrup (ideally, Grade B) or raw honey
3 eggs (ideally, pasture-raised or organic), at room temperature
1 tablespoon vanilla extract
4 tablespoon 100% unsweetened cocoa, like Valrhona or Rapunzel
1 tablespoon coconut flour, like Bob's Red Mill
1-1/2 teaspoons baking soda
1/2 teaspoon fine-grain Celtic sea salt
Preheat oven to 325°F (160°C) and place a rack in the upper third of the oven.
Using butter, coconut oil or olive oil, lightly grease a 9×9-inch baking pan. Line the pan parchment paper and grease the parchment paper as well.
In a small bowl, whisk together unsweetened cocoa, coconut flour, baking soda, and sea salt. Set aside.
Place chopped chocolate and coconut oil in a non-reactive, heat-proof bowl. Place the bowl over a pot of low-simmering water, (you will have first brought the water to a boil, then reduced heat to a simmer); the bottom of the bowl—with the chocolate and coconut oil—should not be in direct contact with the simmering water. Stir until chocolate and coconut oil are completely melted. Carefully remove the bowl from the pot and let the chocolate mixture cool.
In a medium sized bowl, combine the maple syrup or honey, eggs, and vanilla extract, using an electric mixer or stand-alone mixer. Mix well.
If you are using roasted or cooked sweet potato, place (peeled) sweet potato in a food processor and pulse until smooth and creamy (no lumps). Add pureed cooked or canned sweet potato to the egg mixture and blend well.
Add the melted chocolate and coconut oil, and blend until completely incorporated.
Using a large spatula, gently fold the dry ingredients (cocoa mixture) into the egg, sweet potato and chocolate mixture until just combined. Do not over mix.
Pour mixture into parchment-lined baking pan. Using spatula, make sure that the batter is evenly distributed.
Bake for apx. 40 minutes, or until a knife inserted in the center comes out clean.
Let brownies cool and set—about 45 minutes to 1 hour—and cut into 16 squares.
Enjoy!  P.S.  They're great for breakfast the next day!