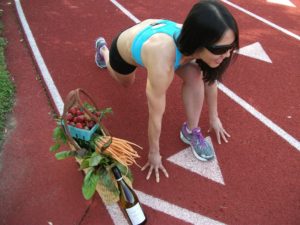 Kathryn Matthews, Certified Integrative
Nutrition Health Coach (CINHC), AADP
When you know your body is "off"— bloated, constipated, low energy, irritable and generally run down—do you resent being prescribed "quick fixes", like birth control pills; an anti-depressant; or an antibiotic after a five minute consultation with a doctor?
I did!
As a lifestyles writer for well over a decade, my articles about food, health, nutrition and travel have appeared in numerous publications, including The New York Times; O, The Oprah Magazine; Bon Appetit; Epicurious.com and Cooking Light, among many others. I love good food. And I love to eat.  Happily, reviewing cookbooks, recipe development, recipe testing, sampling food products and reviewing restaurants has all been part of my job. My work has also given me the wonderful opportunity to travel—and eat—around the world, enhancing my appreciation for different food cultures.
I still enjoy fabulous food. But, these days, I also eat to feel good.
Through my own health struggles—from a compromised immune system, to hormonal imbalances—I discovered that food was my ally. With professional support, I learned to listen to my body. I've never been on a "diet". But modifying how and what I ate made a huge difference in my health.
It can for you, too.
Over time, our bodies evolve. Chronic stress, busy schedules, constant travel and no time or energy to exercise, takes a cumulative toll on your health. The "perfect diet" you followed at 25 may not be right for you at 35 or 50. The nourishment our bodies require for optimal health changes as we age.
The good news? You don't have to give up delicious food!
As a Health Coach, I create a supportive environment that will enable you to achieve all of your health goals.
I received my training from the Institute for Integrative Nutrition, where I was trained in more than one hundred dietary theories and studied a variety of practical lifestyle coaching methods. Drawing on this knowledge, I will help you create a completely personalized "roadmap to health" that suits your unique body, lifestyle, preferences, and goals.
Are you ready to partner with me…and receive guidance and support to reach your health goals?
Let's talk. Schedule an initial consultation with me today.