At the pinnacle of summer in the Hudson Valley, dewy mornings give way to warm, sunny days, perfumed by honeysuckle. Evenings turn cool as the sun sets, leaving a pink dusk in its wake. And, as the light fades, settling into a pitch-black country sky speckled with stars, we often take to sitting on our old farmhouse porch, enjoying the scent of sweet grass and the steady drone of crickets as they chorus to a shrill crescendo, then diminuendo.
Living in the moment can't get any better…
…unless you have a homemade blackberry cobbler on hand!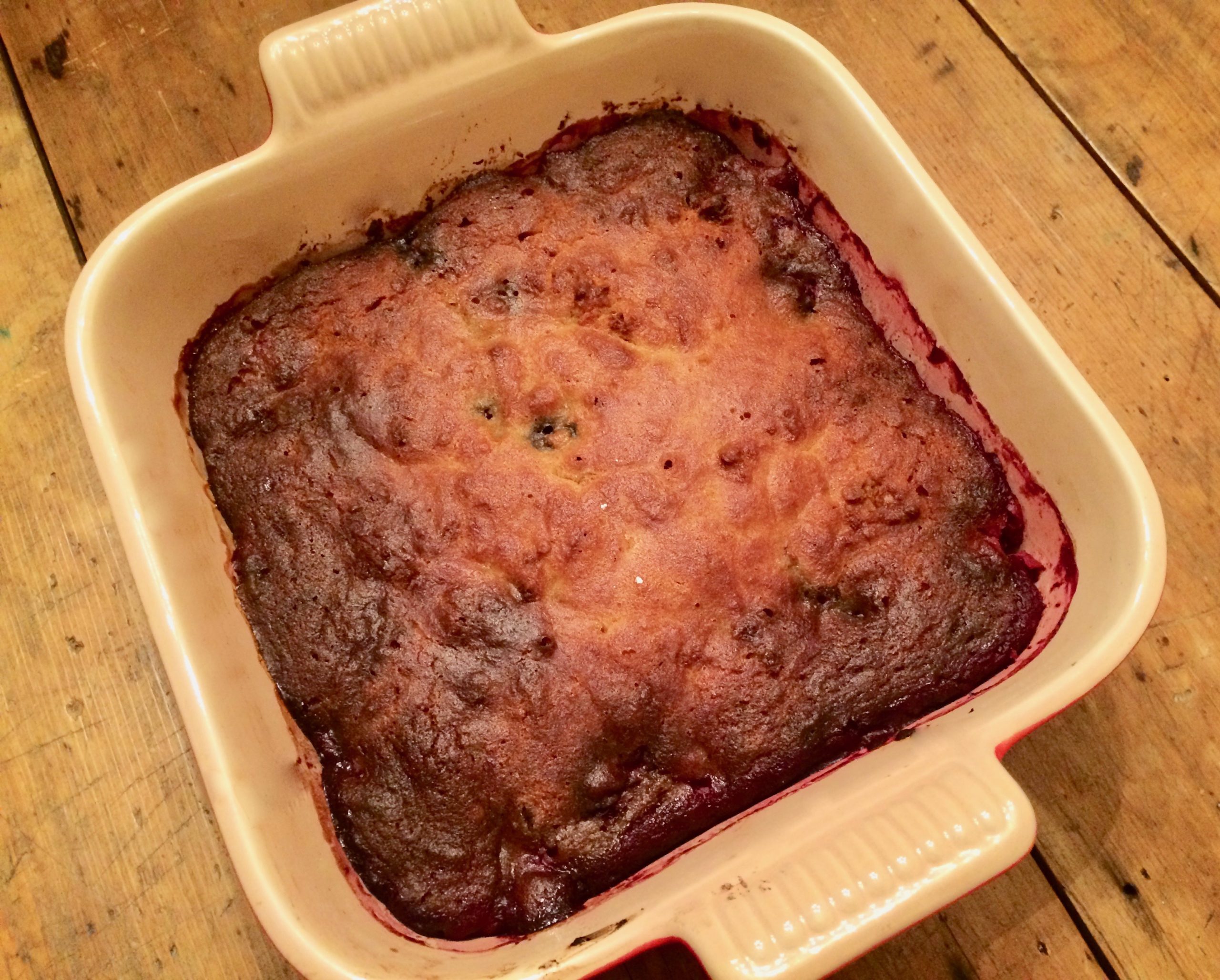 Over the years, Chris, who is passionate about horticulture, has become an expert forager and gatherer. The steep-ascending grassy hill on our property borders two orchards—apple and peach. A few years ago, Chris discovered a bramble patch amid weedy overgrowth between the two orchards. It's a hot, sticky and itchy proposition for berry picking—with a cloud of mosquitos always hovering in anticipation of their next meal.  But Chris still resolutely ventures into the bramble patch, wearing a long-sleeved white shirt, jeans tucked into socks and boots and hair snugly tucked into a cap.
His strategy for maximum berry picking and a quick exit? "I go for the low-hanging fruit!"
The delicious payoff?  Freshly plucked, plump and juicy wild blackberries.
Health benefits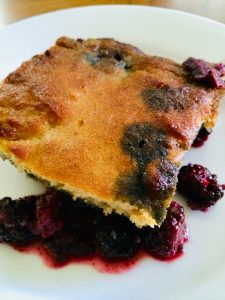 We're not thinking about the "health benefits" of blackberries as we stain our fingers, enjoying these succulent babies by the bowlful, but blackberries are a nutrient-dense food.
♦  Blackberries are high in both vitamin C and fiber.
♦  Blackberries are an excellent source of anthocyanins, which are richly concentrated as pigment in berries (in this case, contributing to its deep dark color) and may contain analgesic (pain-relieving) as well as anti-inflammatory properties.
♦  Blackberries are a rich source of antioxidants; in fact their ORAC (Oxygen Radical Absorption Capacity) value is slightly higher than blueberries.
♦  Blackberries contain ellagic acid, a compound known to help fight cancer, viruses and bacteria.
Since I have hypothyroidism and adrenal fatigue, I've stayed the course in following a hypoallergenic version of the Paleo diet that is wheat-free, dairy-free, nut-free, nut flour-free, and refined sugar-free.
Happily, this blackberry cobbler is a perfect antidote when I have a hankering for a baked fruit treat.
This blackberry cobbler is lovely eaten warm or at room temperature.
Blackberry Cobbler
For the fruit mixture:
5 cups fresh blackberries (blueberries, raspberries, boysenberries or other mixed berries)
1 tablespoon coconut oil
1 lemon, zested, then juiced
For the batter:
4 eggs (ideally from pastured hens)
1/4 cup coconut oil (or grass-fed butter)
1/4 cup raw honey
1/2 cup full-fat unsweetened coconut milk
2 teaspoons organic (pure) vanilla extract
1/2 cup coconut flour, sifted (use a sifter or sieve to remove lumps)
1/4 teaspoon cinnamon
1 teaspoon baking soda
1/4 teaspoon Celtic sea salt
Preheat oven to 350 degree F.
In a 10 x 10 square ceramic or glass baking dish, combine blackberries with 1 tablespoon coconut oil, lemon juice and lemon zest. Mix well (without mushing the berries).
In a medium bowl, combine the eggs, coconut oil, raw honey, coconut milk and vanilla, using an electric mixer. Blend about 2-3 minutes or until well combined.
In a small bowl, whisk together coconut four, cinnamon, baking soda and Celtic sea salt. Combine well.
Using a large spatula, gently fold the coconut flour and spices into the egg mixture. The batter will come together; be careful not to overmix.
Using two spoons, drop the batter by spoonfuls and even distribute on top of the berries. You can leave as is for a "cobbler" effect or smooth out the spoonfuls of batter as I did. Up to you.
Place on center rack in oven and back 30-35 minutes, or until the fruit bubbles and the top is golden brown.
Let cool about 30 minutes, or until cobbler has set.
Source: Oregon Berries