It's funny where a healing journey can take you. Before I was diagnosed with Hashimoto's, flour-based treats—muffins, scones, pancakes, giant chocolate chip cookies from a nearby artisanal bakery or a wedge of chocolate layer cake with chocolate buttercream frosting—were part of my everyday life. I was also a talented baker with a natural "feel" for dough …in fact, I won 2nd prize for my pie crust at a local upstate antique apple pie contest that I entered. Those were the days…!
After being diagnosed with Hashimoto's several years ago, I cut out wheat, gluten, grains and dairy from my diet. With my pastry addiction, I thought it would be hard, but my body (and thyroid) responded so positively and felt so good, that, over time, I stopped missing my daily fix of baked goods that I used to eat.
Although I do not eat gluten or wheat, I choose NOT to eat "gluten-free" baked goods. I also avoid baking with "gluten-free" flours, which can include any combination of brown rice flour, tapioca flour, potato starch, garbanzo bean flour and / or white sorghum flour; these flours are either grain-based and/or high in starchy carbohydrates (e.g., potato flour, garbanzo bean flour).  Baking with gluten-free flours also typically requires using thickeners or stabilizers, like xanthan gum or arrowroot flour, which can spike blood sugar.
That may work for some.
But, if you have hormone imbalances, as I do, you will likely have blood sugar imbalances as well. Eating foods made from gluten-free flours can contribute to blood sugar problems.
These days, I keep baked goods (making and eating) to a very occasional indulgence—usually at Thanksgiving, Christmas and my birthday (which falls smack in the middle of Thanksgiving and Christmas).  That's it!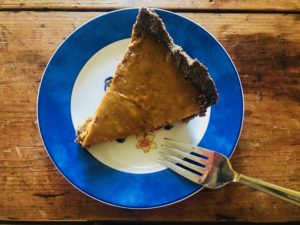 My absolute go-to holiday favorite is a boozy organic pumpkin pie with a buckwheat crust.  The "booze" is 2 tablespoons of gluten-free brandy. My choice of gluten-free flour is buckwheat. Despite its name, buckwheat does not contain wheat or gluten. Nor is it a grain—even though it is often counted as one. Related to rhubarb and sorrel, buckwheat is actually a seed. High in fiber, protein, amino acids, trace minerals, antioxidants and a good source of B vitamins, nutrient-dense buckwheat seeds are also known as "groats".
In addition to the pumpkin filling, another star of this pumpkin pie is its buttery buckwheat crust. Say what? I thought you said you eat dairy-free…I can hear you asking. I do. Like many people with Hashimoto's or hypothyroidism, I cannot tolerate dairy.
Yet, interesting enough, I can, on rare occasion, tolerate grass-fed butter.
Yes, I absolutely have a dairy sensitivity. Though I have not been formally tested, I am likely lactose intolerant (lactose is the type of sugar found in all mammal milk, including humans), as 75% of the world population is lactose-intolerant. I am highly sensitive (and I have been tested for this) to the proteins in milk: casein and whey. Butter is made from cream (a milk product) and contains about 80% fat; however, it contains just trace amounts of carbs, milk proteins (like casein) and lactose.
Every person is different. If you are highly sensitive, you may not be able to tolerate butter. You can always experiment and see what works for you.
I don't eat butter on a regular basis, not even infrequently….so, I am happy that my body allows me to tolerate this delicious buttery buckwheat crust.  Enjoy!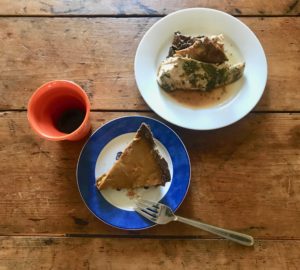 One tip: if you cannot tolerate lactase (milk sugar), you can counter uncomfortable digestive symptoms by eating a dairy food with foods that are high in protein, fat or fiber to slow down your body's absorption of lactase.  In this case, eating full-fat dairy vs. low-fat dairy (higher in sugar) is a better choice. When I eat my boozy pumpkin pie, I usually eat protein first (see photo, right), it's leftover Heritage breed turkey breast.
Boozy Pumpkin Pie with Buckwheat Crust
For the crust
1 cup 100% organic buckwheat flour
4 oz cold unsalted grass-fed butter, cut into cubes
1/4 teaspoon Celtic sea salt
1-1/2 to 2 tablespoons cold filtered water.

For the filling:
16 ounces unsweetened organic pumpkin puree
1/4 cup organic maple syrup, robust flavor, Grade A
1 tablespoon fresh, minced ginger OR ground ginger
1 teaspoon ground cinnamon
1/4 teaspoon whole cloves, ground
1/4 teaspoon allspice
1/4 teaspoon Celtic sea salt
2 tablespoons brandy
2 large eggs, ideally pasture-raised
1/2 cup unsweetened organic coconut milk OR unsweetened hemp milk OR unsweetened flax milk
*I recommend organic unsweetened coconut milk for best texture
Preheat oven to 425°.  If you have a convection setting on your oven, I recommend that you use the "convection baking" setting; you will get a beautifully cooked through pumpkin filling without any cracks!
For the crust: combine the first 3 ingredients (all dry ingredients) in the bowl of a food processor, pulsing until the mixture is crumbly.
Slowly add the water into the processor, pulsing, until dough begins to form a ball.  The buckwheat dough will be very "wet.".  Press buckwheat mixture into a glass pie plate (you should have a thin crust on bottom and sides of pie plate).

For the filling:  In a large bowl, blend pumpkin puree and maple syrup, using an electric mixer.  Add cinnamon, ginger, allspice, cloves, Celtic sea salt and whisky, mixing well.  In a separate small bowl, beat the eggs and coconut milk together with an electric mixer.  Pour egg mixture into the pumpkin puree-spice mixture and combine well (with the mixer).  Pour filling into pie crust.
Place pie plate on a parchment paper-lined flat, heavyweight baking sheet and bake on the LOWEST rack of the oven for 15 minutes. Cover the edges of the crust with aluminum foil (or they will blacken) and turn the heat down 350°F.
Continue baking for about 45 to 1 hour, or until the filling has set.  The filling has set when you insert a knife into the center, and it comes out "clean"; no gooey filling on it.
Remove pie from oven and transfer to a wire rack. Cool to warm or room temperature.