Herbs are an often underappreciated source of green nutrition. They contain unique antioxidants, vitamins, essential oils and other nutrients that can help boost immunity and promote proper detoxification.
Parsley is one of these herbs. I remember a time when "parsley" only referred to the curly parsley that restaurants used as a garnish. The idea of eating "parsley" was unthinkable. Later, I discovered Italian flat leaf parsley, a vibrant, flavorful herb with fresh, woody notes. Parsley is chockfull of antioxidants, as well as an excellent source vitamin K1 and vitamin C. It also contains a good amount of vitamin A, folate and other minerals. If you're feeling a bit under the weather, it's a delicious way to ramp up your intake of Vitamin C, as parsley is rich in this antioxidant.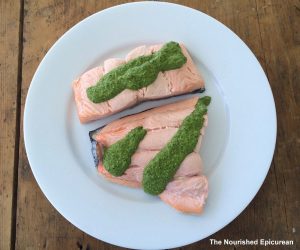 The way that I enjoy getting my fix of fresh parsley is by making a big batch of chimihurri, a zesty green parsley sauce. A staple condiment in Argentina, chimichurri is traditionally served during asados (barbecues) with grilled meats. But, chimichurri is versatile. I find that it pairs well with virtually anything, from salmon, chicken and pork, to grilled or roasted vegetables, like roasted asparagus.  I also love tossing chimichurri with zoodles.
At restaurants, "chimichurri" tends to be light on the parsley—more like a parsley-infused olive oil. My version of chimichurri is loaded with parsley—and resembles a thick, creamy parsley pesto.  I also use raw apple cider vinegar instead of red wine vinegar to help facilitate digestion.
Chimichurri Sauce
Makes: Apx. 2 cups (16 oz.)
2 medium bunches flat leaf parsley, well washed, spun and coarsely chopped
4 garlic cloves
1 large bay leaf (or 2 small bay leaves)
1 teaspoon dried oregano
1 teaspoon red pepper flakes
1/2 teaspoon chipotle powder
1 teaspoon Celtic sea salt
1/3 cup raw apple cider vinegar, like Bragg's or Eden
2/3 cup extra-virgin olive oil
Place garlic cloves in the food processor bowl first. Add chopped parsley. Crumble in the bay leaf and dried oregano. Add red pepper flakes, chipotle powder, Celtic sea salt and apple cider vinegar.
Pulse all the ingredients, periodically scraping down sides of the bowl. Gradually drizzle in the olive oil while pulsing until chimichurri is smooth and creamy.
Serve at room temperature. Store leftover chimichurri in airtight 16 oz. glass mason jar in the refrigerator for 3 to 5 days.