Shortly after graduating from The French Culinary Institute in the late 1990s, a friend and I decided to hold a Burgundian food and wine-themed dinner party at her Manhattan townhouse. She had worked in the wine trade and knew her way around Burgundian wines. We came up with a Burgundian-themed menu, and I volunteered to cook most of the menu, which included the featured dish—yep—boeuf bourguignon, a hearty beef stew long-simmered in a French red wine sauce. Roughly 40 people, including a chef friend of mine and Chef Jacques, who I had studied under at the French Culinary Institute, had RSVP'd to our dinner!
When it hit me that I would be cooking for a foodie crowd, I experienced acute performance anxiety and, being the obsessive-compulsive perfectionist that I was, I ended up cooking six (6!!) "test" batches of boeuf bourguignon before serving up the final dish at the dinner party! My boeuf bourguignon ended up being a rousing success—even Chef Jacques offered his congratulations for a successfully executed dish.
Ahhh…those were the days…!
A lot has changed between then and now…
For one, I do not have the luxury of time to prepare a traditional boeuf bourguignon (let alone 6 times!), which often requires marinating the meat and vegetables together, then cooking the meat and vegetables separately, as well as a lot of straining, draining and transferring of vegetables, reusing and washing the same pot multiple times and/or fussing with a beurre manié (butter and flour sauce, like a roux) in between.
For another, I am strictly gluten-free these days, so I do not cook or bake with any kind of wheat-based flour. I also do not eat dairy (no milk-based products). One exception to the "no dairy" rule is butter, which is apx. 80% fat and contains virtually no trace of casein, the dairy protein to which I am highly sensitive. Happily, I am able to tolerate butter. Unlike the old days, however, where I thought nothing of cooking with a stick or two of butter, I use butter much more judiciously now. If a particular dish calls for butter, I add just enough—perhaps, a couple of tablespoons—for delicious effect.
On a cold winter night, boeuf bourguignon is cozy and nourishing comfort food. It is hearty, warming and easy-to-digest. Grass-fed beef, in particular, is nutrient-dense, an excellent source of pure protein, immune-boosting minerals (selenium, zinc and iron) and energy-boosting B vitamins. Carrots, onions, garlic, mushrooms and fresh herbs come together in this toothsome beef stew to help support the immune system.
In my updated version of boeuf bourguignon, I've streamlined the recipe so that the preparation of meat, vegetables and herbs transitions seamlessly into the cooking phase. After the initial cooking time (apx. 2 hours 20 minute), you can continue letting the boeuf bourguignon simmer on low heat (for several hours), or up until when you're ready to serve.
Some tips for the recipe below:
–Make sure you have all of the ingredients first before you start preparing this dish.
–Prepare all the ingredients for the stew first: cut, slice or dice and set aside. You can even prep ingredients one day in advance of cooking.
–Prepare the bouquet garni.
–I use gluten-free white rice flour—instead of all-purpose wheat flour—to lightly dust the beef pieces on both sides.
–Have a quart (32 oz) of homemade chicken broth (or low-sodium / no salt added store-bought chicken broth) on hand. You may not use all of it. After searing each batch of beef pieces, you'll want to deglaze by adding chicken broth and scraping up any bits of beef and butter sticking to the bottom of the pot. This creates a "sauce"; set this aside: you'll add the sauce back to the pot later. RECIPE BELOW PHOTO.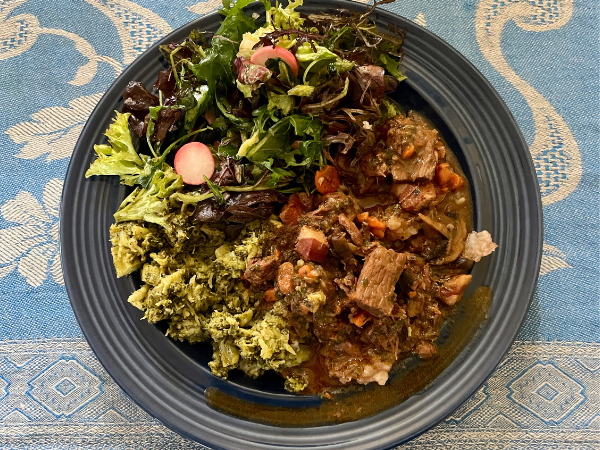 Boeuf Bourguignon
Serves:  6
For the Stew: Prepare and Set Aside:
3 to 4 pounds chuck roast, bottom round or other stewing beef, cut into 1-1/2 to 2-inch pieces
6 ounces pancetta, cut into 1/4-inch cubes
3-4 tablespoons white rice flour
2 medium yellow onions, diced (by hand or food processor)
4 cloves garlic, minced (by hand or food processor)
4 medium carrots (NOT super thick), peeled and cut into thin rounds
8 ounces organic whole white mushrooms OR organic cremini mushrooms, wiped clean, ends trimmed and discarded, and sliced thinly
Optional: 8 ounces pearl onions
* To make peeling pearl onions easier, plunge onions into a pot of boiling water for about 30 seconds. Drain in a colander and rinse with cold water. Grasp and squeeze each pearl onion at the end; the peels should slip off easily. Once peeled, set onions aside.
For the Liquid Ingredients:
2 tablespoons organic tomato paste
1-1/2 cups organic dry red wine, ideally a Burgundy
1 quart (32 oz or 4 cups) organic, no-salt added chicken broth; this will be used as needed
For the Bouquet Garni:
3 sprigs of fresh thyme
3 sprigs of fresh rosemary
2 medium bay leaves
1 teaspoon whole black peppercorns
To make the bouquet garni: place herbs and peppercorns in a double-layered square of cheesecloth.  Gather the sides to form a pouch and tie the bundle with a piece of kitchen string. Set aside until ready to use.
For the Seasonings:
2 teaspoons dried thyme
1 teaspoon Celtic sea salt, or to taste
4 tablespoons of grass-fed butter, unsalted; use as needed
Finish and garnish (before serving):
1 cup fresh Italian parsley, finely chopped
Before Cooking:
Add 3-4 tablespoons rice flour to a medium bowl. Dip all of the beef pieces in the rice flour and lightly coat both sides. Set aside.
To Cook the Stew:
Warm an enameled cast iron Dutch oven or a stainless steel Dutch oven over medium heat. Place pancetta cubes in a single layer in the Dutch oven and brown well, stirring frequently, apx. 3-5 minutes. Remove browned pancetta and set aside.
The pancetta will have rendered a small amount of fat that sticks to the bottom of the pot.  Add a small amount of chicken broth to deglaze and scrape off the bits that stick on the bottom.
You will be cooking the beef next—in at least 3 batches.
Add 1 tablespoon of butter and increase heat to medium-high. Once the butter has melted, place the rice flour-coated beef pieces in the Dutch oven in a single layer to prevent overcrowding.
Sear meat, apx. 1-2 mins each side (second side will take less time). Once browned, remove beef pieces and set aside.
Add a little chicken stock (1/4 to 1/3 to 1/2 cup) to the Dutch oven to deglaze any bits of beef that are sticking to the bottom of the pot. You can them pour this "sauce" into a bowl and save after cooking each batch.
For each new batch: melt 1/2 to 1 tablespoon of butter in Dutch oven over medium-high heat to cook beef pieces; then remove from pot once browned on all sides.
Leave any "sauce" (chicken broth used to scrape up browned bits) in Dutch oven. Increase heat to medium-high and add onions. Saute, until softened, about 6 minutes. If onion begins to stick, add some chicken broth.
Add minced garlic and tomato paste, sauteing until aromatic, about 30 seconds. If mixture begins sticking, add a little chicken broth.
Add red wine, dried thyme and bouquet garni to Dutch oven. Stir well to combine.
Bring to a boil, then reduce heat to medium-low; allow mixture to thicken, about 3-4 minutes.
Add seared beef pieces and any accumulated "sauce" (deglazed beef bits). Add carrots and pearl onions (if using). Then, add enough chicken broth— about 1-1/2 to 2 cups—to cover most of the beef and carrots.
Cover. Reduce heat to low, and simmer until beef is tender, apx. 2 hours.
Uncover and increase heat to medium-low.
Add mushrooms and simmer until the meat and vegetables are softened, apx. 10 minutes.
At this point, the sauce should have thickened. Stir in the pancetta, 1 teaspoon Celtic sea salt and freshly ground pepper, to taste.
*NOTE: If the sauce is still too watery for your taste, use a slotted spoon to remove the meat and vegetables from the pot; set aside. Add 1/2 tablespoon of butter to the sauce and continue cooking, stirring frequently, over medium-high heat until it thickens. Return the beef, vegetables, and pancetta to the Dutch oven.
Stir in most of chopped parsley (reserve about 1/3 cup).
Ladle boeuf bourguignon over creamy buckwheat grits or serve with roasted baby sweet potatoes.
Before serving: Sprinkle remaining chopped parsley over boeuf bourguignon.
Bon appetit!