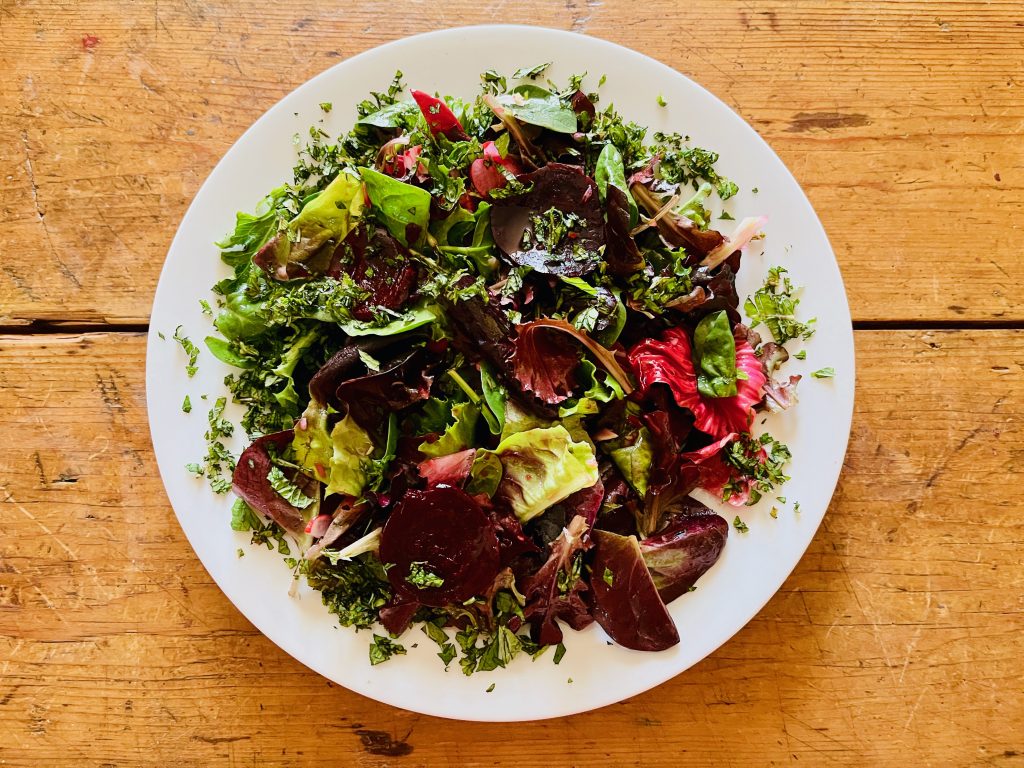 Light. Fresh. Textured. Savory. Delicious. A medley of fresh, seasonal flavors. Exactly what makes eating this spring salad so pleasurable!
Spring Salad
Serves 2-4
For the salad:
Organic spring salad mix, rinse well in filtered water and, use a salad spinner to spin dry
*You can find organic spring salad mix at your local supermarket and at some farmers' markets or farm markets
4-5 organic red radishes, cut into thinly sliced rounds
Half of an organic fennel bulb (the bulb is white), thinly sliced
2-3 organic artichoke hearts (jarred), thinly sliced
2-3 roasted organic beets, cut into thinly sliced rounds
*Click here to learn how to roast beets
1 bunch fresh mint, leaves only, finely chopped
Place the organic spring mix, sliced radishes, fennel and artichoke hearts into a large salad bowl.  Pour shallot vinaigrette (recipe below) over salad and toss together.
For the vinaigrette:
1 shallot, minced (you can chop by hand or use a mini food processor)
1 small garlic clove, minced
3 tablespoons raw apple cider vinegar
4 tablespoons extra-virgin olive oil
Place minced shallot, garlic, raw apple cider vinegar and extra-virgin olive oil in an 8 oz. glass Pyrex measuring cup.  Use a whisk to blend all ingredients together well.
Before serving:
Arrange beets artfully on salad. Sprinkle 2-3 tablespoons of chopped mint over salad and on plate if apportioning individually.
Enjoy!