"I'm going to make myself a coconut cake," I announced to my husband a week before my birthday.  It would be a layer cake, with frosting and all.
"Really?" he asked, shocked.
I didn't blame him.  In all the years we've been together, neither of us have had an affinity for coconut—or any dish flavored with it.  We didn't care for the taste.  Or the smell.  Plus, my birthday ritual had always included a quick stop at a nearby Manhattan bakery, where they still make old-fashioned layer cakes, also available by the slice.  My go-to slice of heaven was the three-layer chocolate cake with real chocolate buttercream frosting—a true caloric and sugar rush indulgence, considering that a single towering "slice" weighs nearly a pound!
My health-minded friends have long been on the coconut bandwagon, but I was a laggard.  The reason, I suspect, is the strong link between smells and memory.  I had always associated the flavor of coconut with the hyper "coconut" scent in suntan lotions, like Coppertone or Hawaiian Tropic, no doubt distorted by a cocktail of synthetic chemicals used for fragrance.
But, last fall, I was persuaded by a recurrent viral infection—and research on coconut oil's many health benefits—to give coconut another shot.  Coconut oil's myriad health-promoting benefits have been linked to increased metabolism, improved heart health and immune-bolstering effects—all thanks to lauric acid, a naturally occurring fatty acid that has anti-bacterial, anti-microbial and anti-viral properties.
So, I began flirting with coconut oil in the kitchen.  I surprised myself by discovering how much I loved it.  Three months later, I was prepared to explore every aspect of this fibrous one-seeded drupe.
What better way than a coconut birthday cake?
But I didn't want a traditional coconut cake.  I wanted one that was wheat-free, gluten-free and lightly sweetened with natural (not refined white) sugar.
I struck gold when I stumbled upon a coconut cake recipe from the Nourished Kitchen, a Paleo and GAPS-friendly twist on traditional birthday cake that met all of my criteria.  It uses every part of the coconut, including high-protein, high-fiber coconut flour and coconut butter, as well as micronutrient-dense coconut milk. A minimum amount of natural sweetener (honey) is used, left to your discretion.  And you can't be afraid of eggs: it calls for a dozen!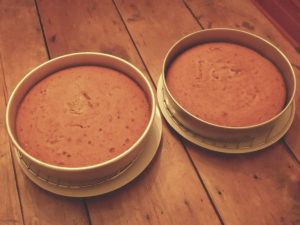 Admittedly, I had been dubious: using alternative flours can result in funky outcomes!  But I was deliciously surprised.  This cake tastes remarkably similar to a traditional yellow cake with a gentle coconut undertone.  It's wonderfully moist (thanks to a dozen eggs!) and nutrient-dense—in my book, perfect for breakfast.  One thin slice is incredibly filling, so much so that my husband, who loves this cake, has dubbed it "a miracle food".
One caveat: this is not a cheap cake to make. A quick tally after buying all the requisite ingredients—excluding the baking soda and organic vanilla extract which I already had—revealed that I had dropped $64.44.
That said, skipping the usual sugar high (then crash) hangover of eating a traditional, (empty) calorie-laden birthday cake, makes this coconut cake a worthwhile splurge.
Coconut Layer Cake with Coconut Frosting
Adapted from Nourished Kitchen
For the cake:
1 dozen pastured (free-roaming or cage-free) eggs, ideally local
2 cups organic full-fat coconut milk
1/2 to 3/4 cup raw honey
2 teaspoons organic vanilla extract
½ teaspoon orange extract
2 cups organic coconut flour (I used Bob's Red Mill)
1/2 teaspoon baking soda
1/4 teaspoon Celtic sea salt
Coconut oil for greasing two parchment paper-lined, round 9" cake pans
For the frosting:
2 cups raw coconut butter (I like Artisanal)
1/2 cup unrefined virgin coconut oil
Up to 1/3 cup raw honey
1 teaspoon organic vanilla extract
1 teaspoon coconut extract
To bake:
Preheat the oven to 350˚F.
Grease two 9" round cake pans with coconut oil. Line with parchment paper and grease parchment paper.
Beat a dozen eggs, two cups coconut milk and up to three-quarters of a cup of raw honey together with vanilla, coconut and orange extracts until well-combined.  The color and texture should be smooth and creamy
Add coconut flour, baking soda and sea salt into the mixture of eggs, raw honey, coconut extract and orange extract.  Continue beating until a smooth batter forms.
Divide batter between both cake pans, shaking to even out.
Place on center rack in oven.  Rotate pans about halfway though the baking time.  Bake for about forty minutes, or until a knife inserted into the cake's center comes out clean.
Transfer cake (in their respective pans) to wire racks.
While the cakes are cooling, make the frosting.  Beat all the ingredients together until well combined.  Refrigerate frosting for at least 10 minutes or until stiff.
When cooled completely, remove cakes from the pans and peel off parchment paper.
Remove frosting from refrigerator.  If hard, beat for a few minutes until it softens.  Frost the middle and top layer of cake.
Enjoy!