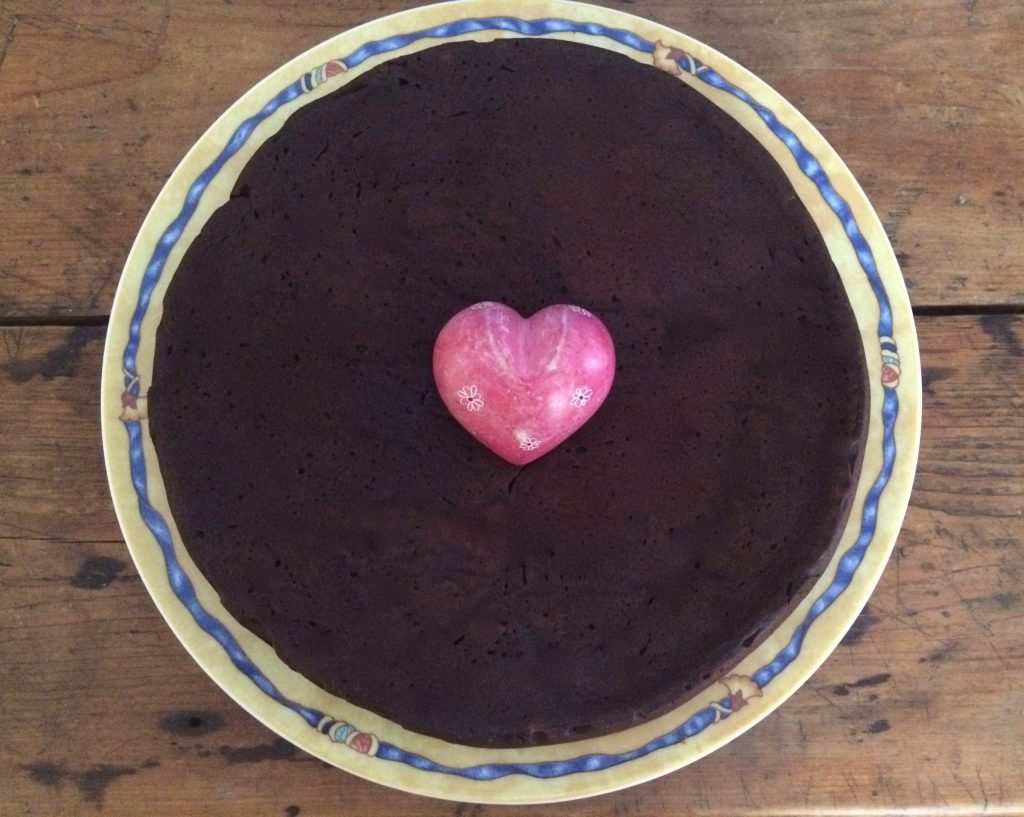 Nothing says "love" like a flourless chocolate cake. Especially when it's homemade.
A flourless chocolate cake is decadent. It's a delectable way to enjoy a combination of healthy fats: pasture-raised eggs, grass-fed butter, dark chocolate and cocoa powder  (ideally, unsweetened and 100% cocoa)—all gently sweetened with maple syrup. You can use 1/2 cup raw honey if you wish, but I prefer using maple syrup that is labelled "Grade A, Dark Color, Robust Taste", which is from a late-season syrup run and more nutrient-dense than the standard Grade A light-colored, Amber maple syrup.
Berries make a pretty garnish. Since fresh berries are out-of-season in February, you're better off using frozen berries, which were picked at the peak of harvest. Simply warm frozen berries in a saucepan, and once they've thawed, spoon over each slice of flourless chocolate cake.
Dark chocolate (containing at least 70% cocoa; ideally, 80% cocoa or more) is a source of healthy fat. The fat is from the cocoa butter and consists of modest amounts of monounsaturated fat (also found in olive oil) and saturated fat (stearic and palmitic acids).
Over the last 60 years, saturated fat has gotten a bad rap. However, incorporating high-quality real food sources of saturated fat has myriad health benefits. It can be good for heart health by lowering lipoprotein (a), a substance associated with increased risk of heart diseases) and raise your HDL, or "good" cholesterol.
Am I saying it's OK to eat a Big Mac, fried chicken or store-bought ice cream? Nope. Those are processed foods high in unhealthy saturated fats. Quality counts when it comes to saturated fat.
With chocolate, it's important to be mindful of choosing a high-quality dark chocolate with an 80% cocoa content (or more) and consume it in moderation. Indulge wisely.
A Word About Dairy
I have a dairy sensitivity. I absolutely cannot tolerate any kind of milk product, from milk and yogurt, to cheese and ice cream. I am highly sensitive (and I have been tested for this) to the proteins in milk: casein and whey.  Butter IS made from cream (a milk product) and contains apx. 80% fat; however, it contains just tiny amounts of carbs, milk proteins (like casein) and lactose. Yet, butter does not trigger me. If butter is called for in a baked good recipe, I only use high-quality grass-fed butter….the end result is worth it!
So…the good news is that even if you are dairy-sensitive, you may be able to tolerate butter. Every person is different. If you are highly sensitive, you may not be able to tolerate butter.
Experiment…and see what works for you. Your body will let you know.
I don't eat butter on a regular basis—not even infrequently—so, I am happy that my body allows me to tolerate grass-fed butter without issue.
If you make this flourless chocolate cake—savor and enjoy!
Flourless Chocolate Cake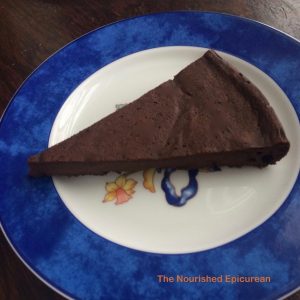 4 oz. 100% cacao unsweetened chocolate bar, chopped or unsweetened 100% cacao baking chips
3 eggs, ideally pasture-raised
1/2 cup unsalted grass-fed butter OR unrefined coconut oil
1/4 cup organic cacao powder
1/3 cup organic maple syrup, labeled Grade A, Dark Color + Robust Taste
Optional garnish: berries (fresh or frozen)

Preheat the oven to 375˚F.
Using butter, coconut oil or olive oil, grease an 8-inch (or 9-inch) stainless steel round cake pan. Line the bottom of the pan with parchment paper; then, grease the parchment paper.
Slice the butter into a medium stainless steel bowl, and add the chopped chocolate or chocolate chips. Place this bowl over a pot of simmering water (you can also use a double boiler) and stir butter and chocolate together until melted; carefully remove bowl from the pot.
Using an electric mixer or standing mixer with a whisk attachment, whisk maple syrup into the melted butter-chocolate mixture. Add the eggs and combine well. Finally add in the cocoa powder, whisking well, until smooth and creamy.
Pour batter into the parchment-lined pan, making sure batter is evenly distributed. Smooth top with a spatula.
Bake cake for 15 to 20 minutes until firm, or a knife inserted the center comes out clean.  **Note: If using a larger than 9-inch round pan, the cake will take less time to bake, apx. 15 minutes.
Let cake cool in pan  for apx.  15 minutes. Remove from pan and invert onto a plate.
Cut into slices and garnish each slice with a spoonful of warmed frozen berries, if desired.