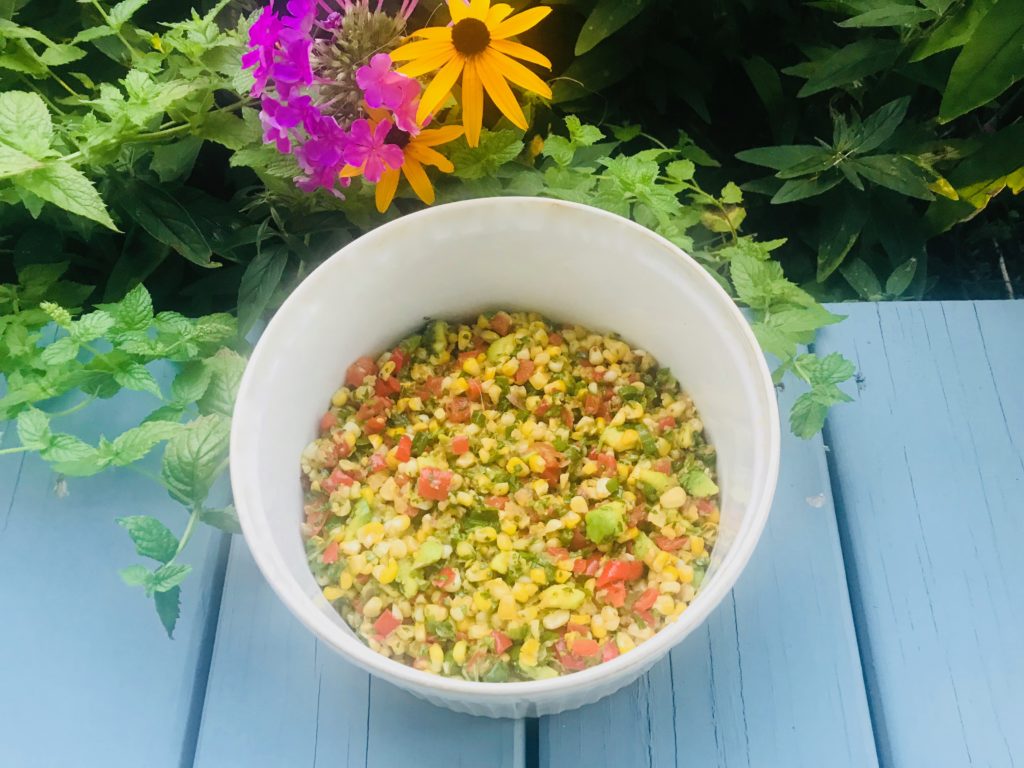 In the Northeast, late summer is the time to savor corn on the cob, also known as "sweet corn", available at your local farmers' market or farm stand.
Sweet corn is a starchy vegetable; this means that it is high in starch-carbohydrates that convert to sugar in your body (the body can't tell the difference between sugar and starch)— and can spike blood sugar, especially if you overeat corn. For example, 1 cup of sweet yellow corn contains about 41 grams of carbohydrates, which is the equivalent of 10 teaspoons of sugar. Granted, fresh sweet corn also contains fiber and nutrients, such as thiamine, folate, vitamin C, magnesium and potassium. But it is a high carbohydrate food that can potentially raise blood sugar.
On the other hand, dried corn, with the bran, endosperm and germ intact, is considered a whole grain.
Many people who have an autoimmune condition, like rheumatoid arthritis, lupus, inflammatory bowel disease (IBD), psoriasis, or Hashimoto's thyroiditis also have multiple food sensitivities; the most common being gluten, dairy, soy, grains (including corn!), nightshades (potatoes, tomatoes and peppers), nuts and seeds. I have Hashimoto's, and I am unable to tolerate all of the aforementioned foods….with the happy exception of corn (as a starchy vegetable—not as a grain) and red peppers!
Sweet corn, enjoyed in its whole food form, confers many pleasure…one of them is this fresh sweet corn salad. So worth the effort! Enjoy…
Fresh Corn Salad
For the corn salad:
3 ears of fresh corn, boiled
2 large red bell peppers, ends discarded, seeded,
white "veins" removed, and finely diced (apx. 2 cups diced red pepper)
2 small red onions, finely chopped (apx. 1 cup)
1 small avocado, cubed
3/4 cup organic scallions, sliced into thin rounds
3/4 cup chopped organic cilantro
For the vinaigrette: (you will have some left over)
1 teaspoon ground cumin
1/2 cup fresh squeezed lime juice
3 tablespoons chopped cilantro
3 tablespoons olive oil
1 teaspoon Celtic sea salt, or to taste
Preheat oven to 350°F.
Line a heavyweight baking sheet with parchment paper.
Cook the corn. Click here for perfectly cooked corn on the cob.
Remove corn cobs from the pot. When cool enough to handle, use a sharp knife to slice the corn kernels off the cob. You should have about 4 cups of corn kernels. Place in a medium bowl and set aside.
Place finely diced red bell pepper and finely chopped red onion (I use a food processor) in another medium bowl. Add two tablespoons of extra-virgin olive oil and stir pepper and onion mixture until well combined. Spread the pepper-onion mixture out evenly on the parchment-lined baking sheet. Place on rack in the upper third of the oven. Roast about 15 minutes.
Remove baking sheet from oven. Add corn kernels to pepper and onions, drizzling 1-2 teaspoons olive oil over the corn. Combine well with the red pepper and onion. Roast another 30 minutes. Remove from oven.
Transfer roasted corn, red pepper and red onion to a serving bowl. Add cubed avocado, scallions and cilantro.
In a small measuring cup, whisk together the cumin, lime juice, olive oil and cilantro until emulsified.
Drizzle about 1/4 to 1/3 cup of the vinaigrette over corn salad. Add 1 teaspoon Celtic sea salt; or, season to taste. Mix all ingredients well.
Enjoy corn salad warm or at room temperature.