One of my coziest childhood memories is waking up to the warm cinnamon-infused aroma of my mother's homemade sour cream coffee cake baking in the oven. When I opened my eyes, I knew that my day would be off to a delicious start!
These days, I no longer eat anything made with gluten-containing wheat flour; this, unfortunately, includes my mother's memorably delicious coffee cake.
That said…this gluten-free blueberry coffee cake, made with coconut flour, rivals my mother's legendary coffee cake. Grass-fed butter and full-fat coconut milk give it a rich texture and indulgent feel. The recipe, calls for four pasture-raised eggs, so it also a nice source of protein. Eggs, by the way, are not a dairy product (even though they are often found in the Dairy section at the supermarket). If you want this coffee cake to be dairy-free, you can swap out the butter for unrefined coconut oil.
It's absolutely delicious with an espresso! Enjoy!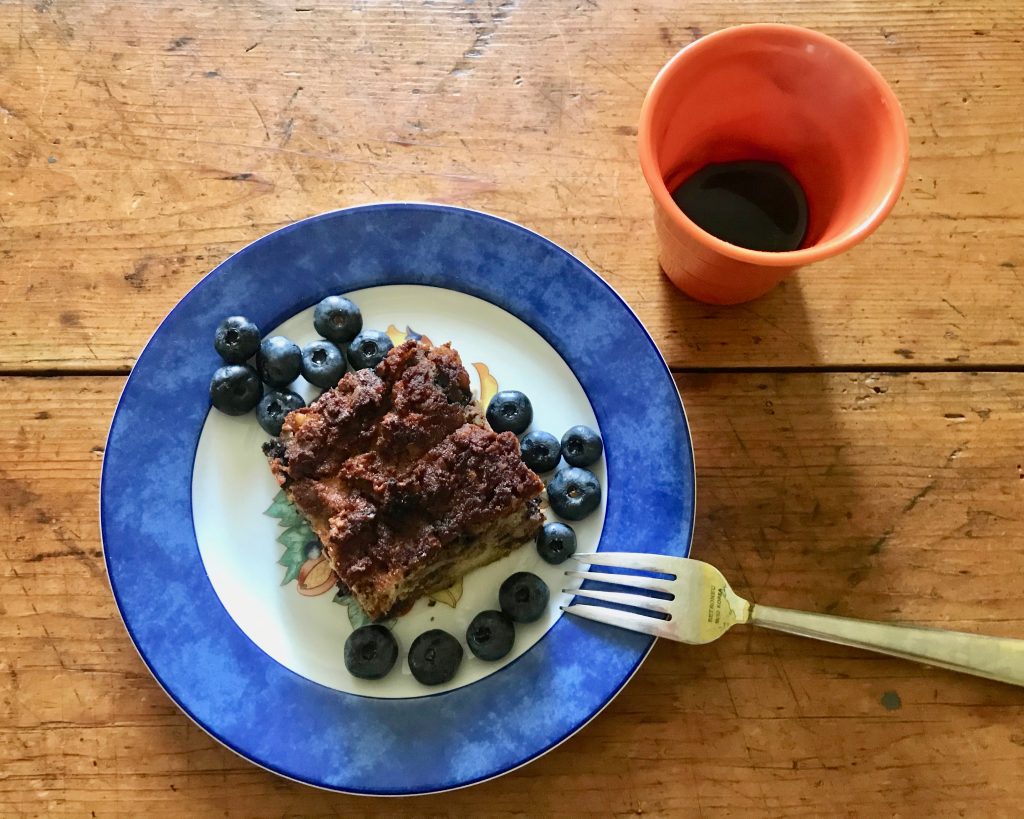 Blueberry Coconut Flour Coffee Cake
For the coffee cake:
Dry ingredients
1 cup coconut flour, sifted
1/2 cup almond flour, sifted
1/2 teaspoon baking soda
1/2 teaspoon Celtic sea salt
Wet ingredients
4 large organic or pasture-raised eggs
1/4 cup 100% pure maple syrup
1 cup organic, unsweetened, full-fat coconut milk
1/4 cup (2 ounces) melted grass-fed butter
1 teaspoon pure vanilla extract
1-1/4 cups organic blueberries, well rinsed
For the topping:
1 cup raw walnuts, chopped
2 tablespoons coconut sugar
2 teaspoons ground cinnamon
Preheat oven to 350°F.
Grease an 8" x 8" square baking pan (I use glass Pyrex), then line with parchment paper.
In a medium mixing bowl, combine the coconut flour, almond flour, baking soda and Celtic sea salt, whisking well. Set aside.
In a large stainless steel or glass mixing bowl, beat the eggs, melted butter and maple syrup together, using an electric hand mixer, apx. 2 mins or until light and frothy. Add the coconut milk and vanilla extract to the egg mixture and beat well.
Add the dry ingredients to the egg mixture, mixing well, but taking care NOT to overmix. Note: batter will be thick. Using a large spatula, fold in the blueberries.
In a small bowl, combine the chopped walnuts, coconut sugar and cinnamon.
Add half of the batter to the parchment-lined cake pan; shake pan back and forth until batter is evenly distributed. Using a tablespoon, sprinkle half of the walnut topping over the top of the batter; gently swirl into the batter with a butter knife.
Add the remainder of the cake batter, top with the rest of the walnut-cinnamon mixture; use a butter knife to swirl mixture into the batter.
Place coffee cake on the center rack of the oven. Bake apx. 50 minutes, or until a knife inserted in the middle comes out clean (batter-free).
Remove coffee cake from the oven. Cool in the pan on a wire rack apx. 1 hour; this allows the coffee cake to set nicely.
Serve with coffee or an espresso. Enjoy!