I grew up eating great homemade Chinese food. Unfortunately, I can no longer tolerate many ingredients used in classic Chinese cooking—including rice—because of my hypothyroidism (underactive thyroid) and multiple food sensitivities. This is especially true for various wheat- and gluten-containing condiments used to flavor Chinese dishes, such as soy sauce, rice wine, rice vinegar and hoisin sauce, to name a few.
If and when I crave home-cooked Asian food, I favor Vietnamese-inspired dishes, which have a fresh, herbaceous, lighter-on-the-palate appeal. The foundation of Vietnamese cuisine has Chinese roots. But, it has its own unique flavor profile: fragrant fresh herbs, including the traditional Chinese trifecta of aromatics—garlic, ginger and scallions—as well as dried and fresh chilies. One hallmark ingredient is the distinctly pungent and salty fish sauce (consisting of fermented wild anchovies, salt and water in its purest form), tempered by the acidity of lime juice, lemon juice or lemongrass.
The marinade for this grilled chicken combines an abundance of fresh basil, mint and scallions, along with garlic, ginger and chilies—all blended with fish sauce, fresh lime juice and a judicious amount of coconut sugar. Asian cuisine strives for a balance of flavors—salty, pungent, sour, sweet, spicy—and traditional recipes often call for the addition of some sugar. Considering that most Asian cuisines serve fruit as dessert, this is, in a way, an effective approach for "pre-empting" sugar cravings after a meal. In this marinade, I judiciously add a little organic coconut sugar, a natural sweetener that rates lower on the glycemic index (35) than cane sugar (68), significantly reducing any impact on blood sugar levels.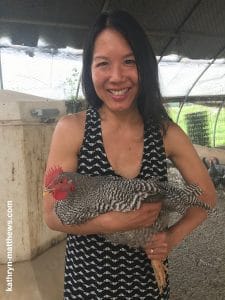 For this dish, I prefer using a fresh-from-the farm, whole chicken that I butcher myself. When I am upstate in the Hudson Valley, my go-to farm is Northwind Farms, a true family-run and operated farm, where I know the chickens are humanely raised and lead a happy and healthy life.
Before discovering Northwind Farms in the early 2000's, I had not eaten chicken for 9 years. At the time I stopped eating it, I regularly bought chicken from the supermarket—it was cheap, accessible and available in parts (breast, drumsticks, etc.). What was not to love? I began noticing, however, that whenever I ate store-bought chicken, I had an upset stomach. The turning point was when my best friend, an accomplished home cook, prepared a supermarket chicken that I had bought for our dinner—and she, my boyfriend and I all ended up doubled over in severe gastrointestinal distress. From that day, I stopped eating chicken altogether. After reading the Chez Panisse Café Cookbook by restaurateur and natural foods activist Alice Waters, I came to understand: source matters. The quality of life an animal experiences affects our health.
From her book, I learned that factory-farmed chickens are raised in crowded spaces, under artificial lighting, fed genetically modified grains (corn and soy) and routinely given antibiotics. I realized then why eating store-bought chicken always triggered my gastrointestinal distress.
In this recipe, the chicken can be grilled or roasted in the oven. Grilling the chicken on a charcoal grill produces a delicious smoky flavor. Roasting the chicken—along with the marinade— imparts mouth-tingling herbaceous notes.
Either way, the end result is delicious.

Vietnamese Herb Chicken Two Ways

3-pound whole chicken, ideally, pasture-raised or organic, cut into pieces
*You can also use 3 pounds of chicken thighs, chicken drumsticks or a mix of thighs and drumsticks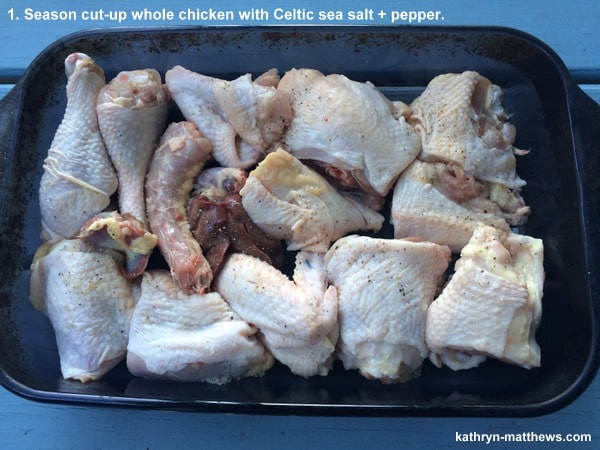 For the marinade:
Place in a large food processor bowl:

1-1/2 cups basil (leaves only)
1-1/2 cups cilantro
1 cup mint (leaves only)
1/2 cup scallions, sliced into rounds
3 tablespoons minced gingerroot
1 jalapeno pepper, ends discarded, seeds include
3 cloves garlic
1 small yellow onion, roughly chopped

In a Pyrex measuring cup, whisk together well:
1/4 cup lime juice
2 teaspoons organic coconut sugar
1 tablespoon fish sauce*
Place all the herbs, ginger, jalapeno, garlic and onion in the food processor bowl; begin pulsing. Slowly drizzle in the lime juice, coconut sugar, fish sauce mixture until well incorporated. The marinade should be smooth and creamy in texture.  Coat chicken well with marinade.
Preheat oven to 350 degrees.
Place chicken with marinade in a 13″ x 9″ or 15″ x 10″ Pyrex dish.
Depending on size of the chicken, roast apx. 15 minutes. Remove from the oven. Using tongs, turn the chicken pieces in the Pyrex. Return to the oven and turn the Pyrex pan as well (to ensure even cooking). Roast another 15 to 18 minutes; then check for doneness. Insert knife into chicken: if knife slides in and out easily OR if the chicken juices run clear, the chicken is done.

To grill chicken: (Charcoal grill)
In a charcoal grill, place all the coals on one side and a pie plate with filled with water on the other side (touching the coals).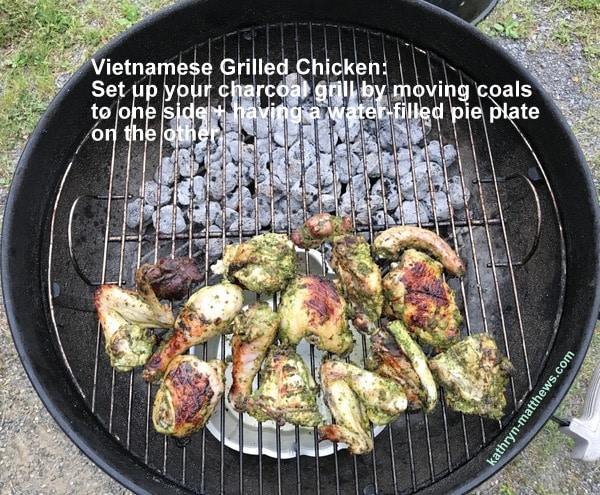 Sear chicken over coals for about 3 minutes; cover if flame gets too strong. Turn the chicken and repeat for another 3 to 4 minutes; cover if necessary.
Pull chicken pieces off the flame and place on the side with the water-filled pie plate, allowing it to "steam" and cook through. Cover grill, letting chicken cook about 5 minutes. Then turn chicken pieces, rotating positions over the pie plate and let cook another 4 to 5 minutes. Insert knife to check for doneness; the chicken should be tender and done at this point.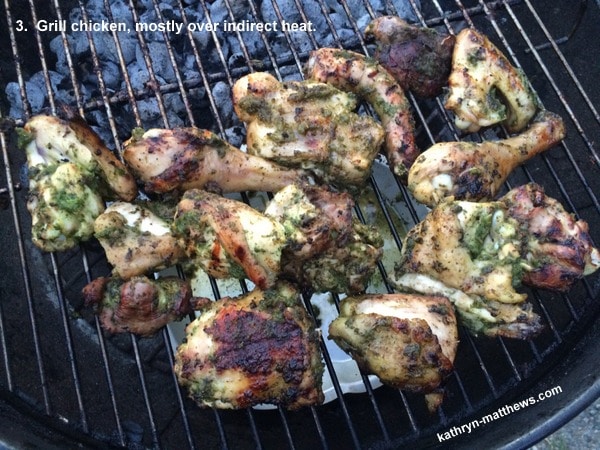 Arrange on serving platter and serve with greens or Asian Cucumber Noodle Salad.