On chilly autumn mornings, I love eating this particular ground lamb dish—made in advance—for breakfast. It's filling, warming and satisfying. Adding a cup of filtered water thins out this flavorful, chunky ground lamb and zucchini "ragout", transforming it into an equally tasty and easy-to-digest "soup" that sustains me until lunch. I find lamb to be an exceptionally nourishing food, especially for adrenal fatigue and hypothyroidism, both of which I have.
Americans often overlook lamb as a nutritious source of protein. It is a mainstay in the cuisines of Australia, New Zealand and Africa. Lamb is also a staple in the much-touted Mediterranean diet (Greece, Turkey, Middle Eastern countries), associated with a lowered risk of cardiovascular disease. Americans, however, eat less than a pound of lamb a year—and I'll bet it's mostly around Easter!
That's unfortunate because lamb, especially grass-fed and grass-finished, is not only a lean meat that is high in protein, it is a very good source of omega-3, the "good fat" most people associate with salmon, walnuts and flaxseed.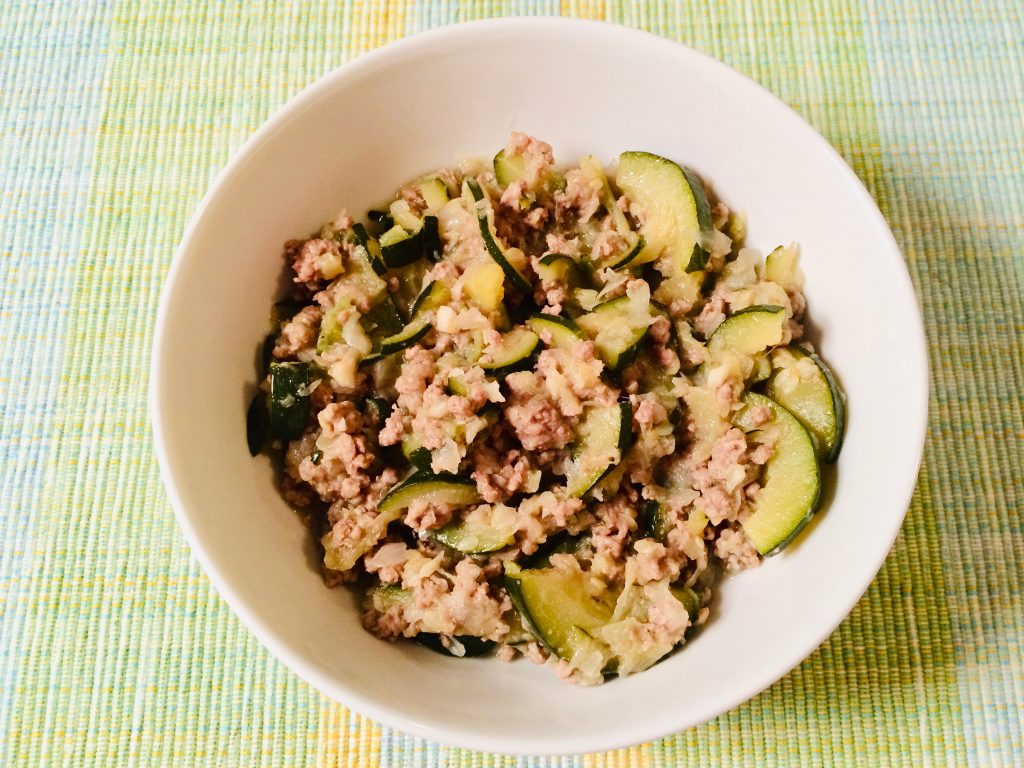 As a ruminant—a type of mammal that chews its cud—sheep have a digestive system that fares best on a natural diet of grasses and forage plants.
Want to get the most nutritional bang for your buck? Then, seek out 100% grass-fed—and grass-finished—lamb at farmers' markets or at a Whole Foods Market. While conventional lamb may start out grazing on grass, they are finished on grain to fatten them up. Grain is not part of their natural diet and difficult for ruminants (like lamb) to digest. If fed too much grain, a lamb can experience liver failure. Lamb that has been 100% grass-fed will contain at least 25% more omega-3s than conventionally raised lamb.
Grass-fed lamb is also a very good source of selenium and zinc, two minerals that are vital to thyroid and immune health. According to several studies, supplementing with selenium, an important mineral with antioxidant properties, can help reduce inflammation and damage to thyroid tissue in autoimmune thyroid disease, like Hashimoto's. Sufficient zinc is also needed to help make thyroid hormone (T3) and activate thyroid hormone. As an antioxidant and anti-inflammatory agent, zinc bolsters immunity and helps with autoimmune thyroid disease.
An excellent source of vitamin B12, lamb is a good source of B-Complex vitamins, including B1, B2, niacin (B3), B5, B6, folate and biotin.
This is a great, budget-friendly "stretch" recipe and one-pot dish that can be made within 30 minutes.  You can use zucchini, yellow squash or a combination of both.

Grass-fed Ground Lamb and Zucchini Braised in Coconut Milk

2 medium onions, finely chopped by hand or in the food processor
4 cloves garlic, minced
2-1/4 pounds organic zucchini, yellow squash, or a combination—well washed, halved lengthwise, then again, and thinly sliced into half-moons
1 pound ground lamb, grass-fed and grass-finished
1 cup canned unsweetened organic Native Forest coconut cream or full-fat coconut milk
2 tablespoons coconut oil
2-4 tablespoons chopped fresh herbs, like cilantro, or thyme, sage, oregano—or a combination
1 teaspoon Celtic sea salt, or, season to taste
In a 5-quart Dutch oven (I prefer an enameled cast iron Dutch oven, like Le Creuset; you can also use a stainless steel Dutch oven) over medium heat, melt the coconut oil.
When the oil is sizzling (but not smoking), add chopped onions. Saute about 1 minute, then lower heat to medium-low and continue cooking another 3 minutes, or until onions are translucent and soft (but not browned and crispy!).
Raise heat slightly: add minced garlic and sauté about 30 seconds.
Raise the heat to medium: add the sliced zucchini (or yellow squash). Be sure to coat all of the zucchini in the coconut oil and continue cooking until the zucchini softens, about 8 minutes. The zucchini will release water as it cooks, but if it begins sticking while you're cooking it, add 1/4 cup filtered water, scraping the bottom of the pot to "unstick".
When the zucchini is soft, add the ground lamb. Using a wooden spoon, break up the lamb thoroughly, stirring frequently until meat has browned, about 2-3 minutes.
Raise the heat. Add the coconut cream (OR coconut milk), stirring well. When the mixture comes to a high simmer, turn heat to low and cover.
Simmer about 5-6 minutes.
Turn off heat. Stir in chopped herbs and Celtic sea salt, to taste.
Serve with an arugula salad or cooked leafy greens and a sweet potato.