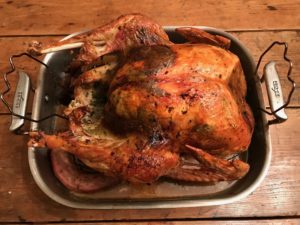 We get a lot of mileage out of our Heritage Bronze Thanksgiving turkey.  I love organ meats, so I always chow down on the turkey gizzard, liver and heart. We always save the turkey carcass and turkey bones, which are repurposed into a delicious, body-warming Heritage turkey soup.
Tradition dies hard. When I was growing up, my parents used to make turkey soup the day after Thanksgiving, using the turkey carcass.  My mother would wrap up any and all the leftover turkey meat and freeze it for future meals. She would then place the turkey carcass with vegetables in a large stockpot and simmer it all day, the aroma wafting all through the house.
This Heritage turkey soup is an updated version of my parents' recipe. For example, we use sweet potatoes instead of Russet potatoes and the seasonings give the soup our own spin.
Heritage Turkey Soup
Leftover turkey carcass (ours was from a 12-pound turkey)
Any big leftover bones, like those from the legs and/or wings
Vegetables
2 medium organic carrots, cut into chunks, then minced in food processor
1 large organic onion, roughly cut into chunks, then minced in food processor
3 stalks organic celery, peeled, cut into chunks, then minced in food processor
1 medium organic sweet potato (with skin), diced
4 Szechuan whole dried (red) chili peppers

Seasonings
1/2 teaspoon smoked Spanish paprika
1/4 teaspoon chipotle powder
1 teaspoon dried oregano
1 heaping teaspoon Herbs de Provence
2 bay leaves
2 teaspoons Celtic sea salt
Freshly ground black pepper
Place the turkey carcass and bones in a large 8- to 10-quart stockpot. Add enough filtered water to cover the carcass and bones. I used approximately 1 gallon (4 quarts) of cold filtered water.
Turn heat to high, cover stockpot, and bring water to a roiling boil. Then, lower heat and simmer stock for apx. 2 hours.
Remove the carcass and the bones from the stockpot.  Pour an additional 1 quart (32 oz) of filtered water into the simmering stock.  When cool enough to handle, pull all the turkey meat off of the turkey carcass.
While you are removing the meat, add the carrots, onion, celery and sweet potato to the turkey stock. Over high heat, bring the vegetable-turkey stock to a roiling boil (do not cover stockpot).  Once the water comes to a roiling boil, let it boil for 2-3 minutes.
Reduce heat to a simmer. Add back the turkey meat and 4 dried Sichuan red peppers. Place a large branch of thyme OR tie several strands of thyme together with kitchen string in the soup. Let simmer for 30 mins.Add seasonings: Spanish paprika, chipotle, oregano, herb de Provence, bay leaves, Celtic sea salt and freshly ground black pepper.  Simmer mixture another 25-30 minutes.
Stir in 3 tablespoons of fresh cilantro.
Ladle into individual bowls and sprinkle with chopped cilantro.