This hand sanitizer recipe features all-natural ingredients, like witch hazel, which is alcohol-free. It also contains aloe vera, Vitamin E oil, tea tree essential oil and lavender essential oil; both essential oils have anti-viral and anti-bacterial properties (1).
A few years before I was diagnosed with Hashimoto's, I seemed to catch every virus that came my way. I began carrying hand sanitizer as "insurance" everywhere I went. This phase didn't last long though. I went back to frequent hand-washing, using plain soap and water because I didn't like the way Purell felt—icky and chemical-like. It also left my hands painfully dry.
I'm glad that I trusted my first instinct that Purell didn't "feel" right.
A 2014 study published in PLOS One, found that when hand sanitizer (in this study, the brand was Purell) is used before handling a receipt, a large amount of the hormone-disrupting chemical Bisphenol-A (BPA) is transferred to the skin. This happens because hand sanitizer contains dermal penetration enhancers (2).
According to the study authors (3):
Mixtures of dermal penetration enhancing chemicals can act synergistically to increase by up to 100 fold the dermal penetration of small lipophilic molecules such as estradiol, with which BPA shares physical-chemical and biological properties.

For example, Purell hand sanitizer (Gojo Industries), which we used in the current study, contains a number of dermal penetration enhancers, such as isopropyl myristate and propylene glycol, and is (63% w/w) ethanol. The use of hand sanitizers has increased in recent years and is now about a 200 million dollar a year industry just in the USA. The impact of the use of personal care products such as moisturizing lotions that contain dermal penetration enhancing chemicals on exposure to environmental chemicals has been identified as a concern.
After being diagnosed with Hashimoto's (autoimmune thyroid disease), I have made a concerted effort to limit my exposure to endocrine-disrupting chemicals, including BPA, many of which are found in personal care products, from soap, shampoo and moisturizers, to makeup and sunblock.
I choose to use—or to make non-toxic—products whenever I can. Typically, washing your hands with a good chemical-free soap (meaning NOT an anti-bacterial soap) and hot water suffice. If I feel that hand sanitizer might come in handy (e.g., traveling to a remote location), I make my own. The recipe I use (see below) is adapted from SimplyLiving.com.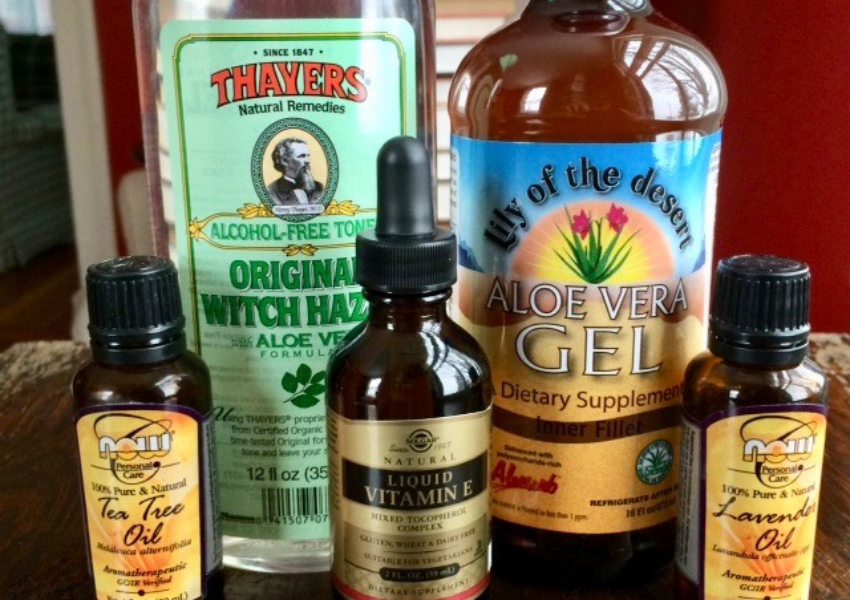 Homemade Hand Sanitizer   
Yield: Apx. 2 ounces
3 tablespoons food-grade aloe vera
2 tablespoons witch hazel
1/2 teaspoon Vitamin E oil
16 drops tea tree essential oil
8 drops lavender essential oil
Mix all the ingredients in a bowl. Transfer to a flip-top squeeze tube.
Sources:
1 Wińska K, Mączka W, Łyczko J, Grabarczyk M, Czubaszek A, Szumny A. Essential Oils as Antimicrobial Agents-Myth or Real Alternative? Molecules. 2019 Jun 5;24(11):2130.
2, 3  Hormann AM, vom Saal FS, Nagel SC, Stahlhut RW, Moyer CL, Ellersieck MR, et al. (2014) Holding Thermal Receipt Paper and Eating Food after Using Hand Sanitizer Results in High Serum Bioactive and Urine Total Levels of Bisphenol A (BPA). PLoS ONE 9(10): e110509.