I often see clients who have autoimmune conditions, like Hashimoto's thyroiditis, or multiple food sensitivities (myself, included). Often, they are highly reactive or intolerant to sugar and dairy foods.
Happily, this homemade mango-ginger popsicle will make your store-bought dairy cravings yesterday's news. And, if you have an autoimmune condition—and are not sensitive to any of the ingredients—you can enjoy as well!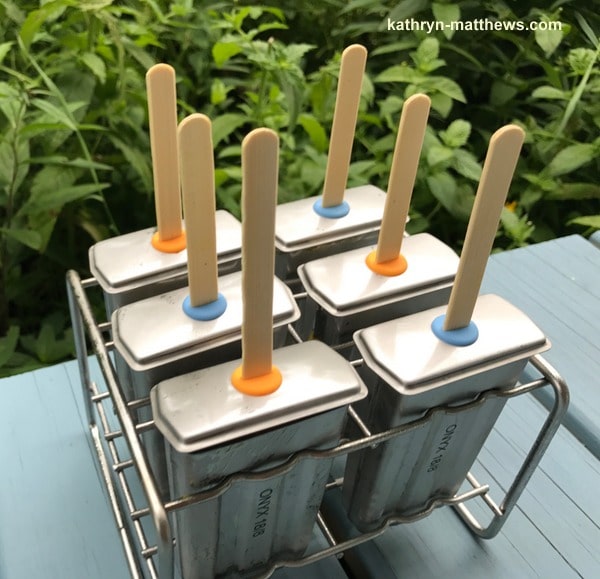 This frozen treat is luscious, creamy and a delicious antidote to the summer heat. Reminiscent of a Creamsicle, this mango version contains just three (!) real food ingredients. No added sugars. No high fructose corn syrup or artificial sweeteners. No artificial colors. No preservatives. No questionable ingredients! And it is completely dairy-free. The combination of a sweet fruit with a healthy fat also slows down the absorption of fruit sugar into the blood stream, which helps stabilize blood sugar.
For best results, be sure to use ripe mangos. How do you know if a mango is ripe? Smell it—a ripe mango will be fragrant (in a good way!). And squeeze it—a ripe mango will give slightly when gently squeezed.
Ripe mangos also have a juicy, silky flesh that marries beautifully with creamy coconut milk. Fresh gingerroot (you can mince by hand or in a food processor) imparts a lively heat that will have your tongue doing a happy dance.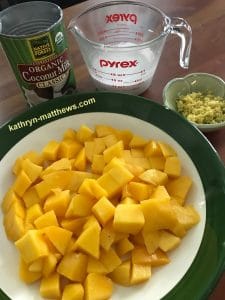 Homemade Mango-Ginger Popsicles
Yield: 6 popsicles
4 cups diced mango
1 cup full-fat coconut milk (do not use "Lite"!)
*I like the brand Native Forest Classic coconut milk
2 tablespoons finely minced ginger root
*If you like a "spicy" ginger heat, add 5 tablespoons minced ginger
Place mango, coconut milk and minced ginger in blender. Puree until smooth and creamy.
Pour mixture into a Pyrex measuring glass, from which you can gently spoon mixture into the popsicle molds. (I like ONYX stainless steel popsicle molds).
Freeze for 30 to 45 minutes; then, gently insert popsicle sticks.
Place in freezer again and freeze until mango-ginger popsicles are solid.