If you're looking to include more lean protein in your diet, consider the flat iron steak, also known as Top Blade Steak. Dubbed "flat iron steak" because its shape is reminiscent of an antique metal iron (the old-fashioned kind used for ironing clothes), this underappreciated value cut comes from the shoulder of a cow. And when that cow is 100% grass-fed and grass-finished, a flat iron steak is leaner and, in my opinion, even more deliciously beefy.
I went through a long period of time where, although I ate plenty of chicken and fish, I seldom ate red meat. Several years ago, after being diagnosed with hypothyroidism and an advanced stage of hypothalamic-pituitary-adrenal (HPA) axis dysfunction—also known as adrenal exhaustion—I found myself craving red meat with a vengeance. I went from eating red meat twice a year…to 3 or 4 times a week at the height of my adrenal exhaustion.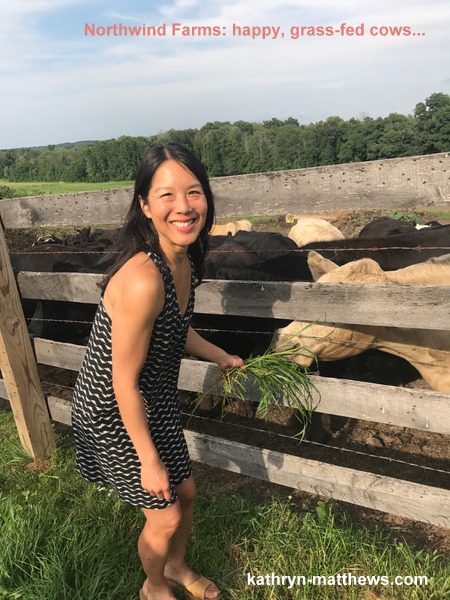 But, not just any red meat. Quality red meat that is 100% grass-fed and grass-finished. An excellent source of protein, B vitamins, minerals, like selenium and zinc that also support the thyroid, and healthy fat (omega 3 fatty acids), grass-fed beef nourishes both the thyroid and adrenals.
We are lucky enough to be able to source our meat directly from Northwind Farms, a family-owned and operated Hudson Valley farm with stellar animal husbandry practices. The quality of their meat and poultry reflects this. Originally from Brooklyn, Jane and Richard Byzienski settled in this part of the Hudson Valley over three decades ago to pursue their passion: farming. Along with their son, Russell, the Byzienskis are very much hands-on in running their farm's day-to-day operations.
The Flat Iron is a great cut for the grill. No grill? No problem. Use a cast-iron skillet, instead, for a perfectly cooked flat iron steak—stovetop—in just 8 minutes. For best results, marinate the steak for at least 2 hours.

Jalapeno-Lime Flat Iron Steak
Serves 2 to 4

1 to 1-1/2 pounds flat iron steak

For the marinade
Juice of 1 lime
1/2 to 1 teaspoon Spanish paprika (smoked paprika)
1 teaspoon dried oregano
2 to 3 serrano peppers or 1 large jalapeno
4 cloves garlic
3/4 cup scallions
1 small yellow onion, peeled, and roughly chopped
Place flat iron steak in a shallow baking dish (e.g., Pyrex glass bakeware or other non-reactive pan) large enough to hold the meat.
Season both sides of meat with Celtic sea salt and pepper.  Pour lime juice over meat, turning to coat.  Dust both sides with Spanish paprika and dried oregano.  Place garlic cloves, scallions, onion and serrano (or jalapeno) in a food processor and pulse until well combined. Evenly coat both sides of the meat with the chili-onion rub.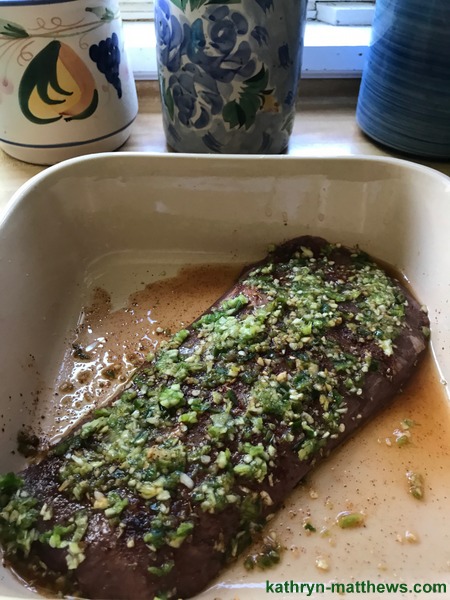 Cover dish tightly with plastic wrap. Refrigerate steak for at least 2 hours.
Remove most of chili-onion rub before cooking. Reserve marinade liquid.
Warm cast iron skillet over medium-high heat. When the skillet is hot (flick a drop of water into the skillet; if it sizzles, the skillet is hot enough), add steak. Sear steak, then cook for 3-4 minutes, depending on thickness. Turn steak and sear the other side. Pour marinade liquid on top and cook another 3 to 4 minutes. Flip steak once or twice more to ensure even cooking.
Check for doneness. If done, the steak will give slightly—but it will not be squishy.
Transfer meat to a cutting board and let it rest 5 to 10 minutes. Then, slice thinly across the grain.  Serve warm with a generous dollop of mint pesto, if desired.