One of my favorite carbs that I will literally crave this time of year (late spring to early summer) is yellow crookneck squash. They come smooth-skinned as well as bumpy and ridged on the outside. I prefer smooth-skinned yellow crooknecks. Just harvested, these beauties have flesh that is firm and tender with an almost "buttery" texture, like a perfectly ripened avocado.
Yellow crookneck squash is a high-water, nutrient-dense, low-calorie and relatively low-carbohydrate food. One 200 gram (apx. 7 oz or roughly 1 cup) serving is just 38 calories. It contains a diversity of vitamins and minerals, including vitamins A, C and B vitamins (thiamin, pantothenic acid, riboflavin, folate). Crookneck squash is high in potassium, an essential mineral for electrolyte balance, which is important during the hot summer months. Crookneck is also a good source of other minerals, such as calcium, zinc, selenium and manganese. Crookneck is a rich source of phytonutrients—lutein and zeaxanthin—that are essential for eye health.
Braised yellow crookneck squash is a lovely complement to most grilled and/or roasted meats or fish. I often cook with duck fat because it has a high smoke point and it adds delicious nuance to any braised vegetable, but you can also use unrefined or raw coconut oil.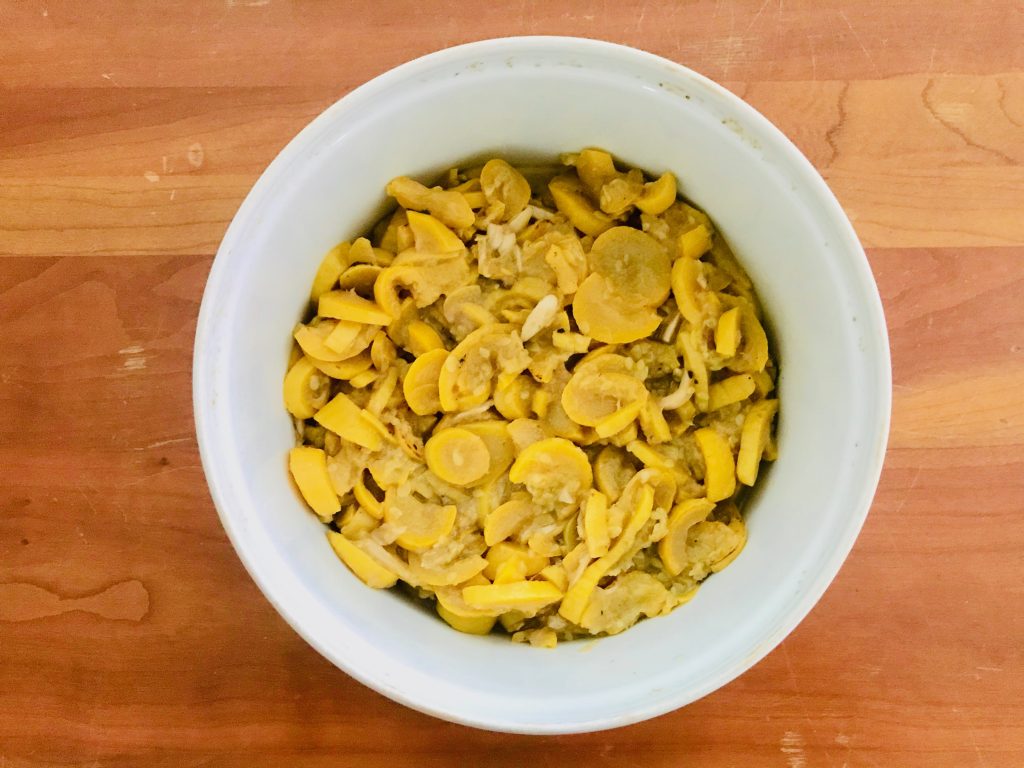 Braised Yellow Crookneck Squash
1-1/2 to 2 pounds organic yellow crookneck squash, well-rinsed and dried,
ends trimmed and discarded
4 large or 8 small cloves garlic, peeled and thinly sliced
1/2 bunch organic scallions, sliced into thin rounds
1 cup homemade organic chicken broth
*If you are using store-bought, use low-sodium chicken broth
1 scant tablespoon duck fat or coconut oil
Celtic sea salt, season to taste
To prepare and cook:
 Halve squash lengthwise and thinly slice into half-rounds. Set aside.
Melt duck fat in a 5.5 quart Dutch oven over medium-high heat.
When duck fat is hot (it's ready when you flick a drop of water in pot and oil sizzles but is not smoking), add garlic slivers.  Saute about 30 seconds.
Add crookneck squash and saute about 1-2 minutes until slightly softened.  If squash begins sticking to bottom of Dutch oven, add 1/2 cup chicken broth and stir well.
Place lid on Dutch oven and cook about 3 mins. over medium-high heat.
If squash is sticking to bottom of Dutch oven, add 1/4 cup broth to squash.
Reduce heat to medium-low and let cook about 15 mins, stirring occasionally.
Reduce heat to low. Add scallion rounds and add the rest of the chicken broth, stirring well. Cook another 15 minutes or so.
Stir in 1/2 to 1 teaspoon Celtic sea salt, or to taste.
Enjoy!