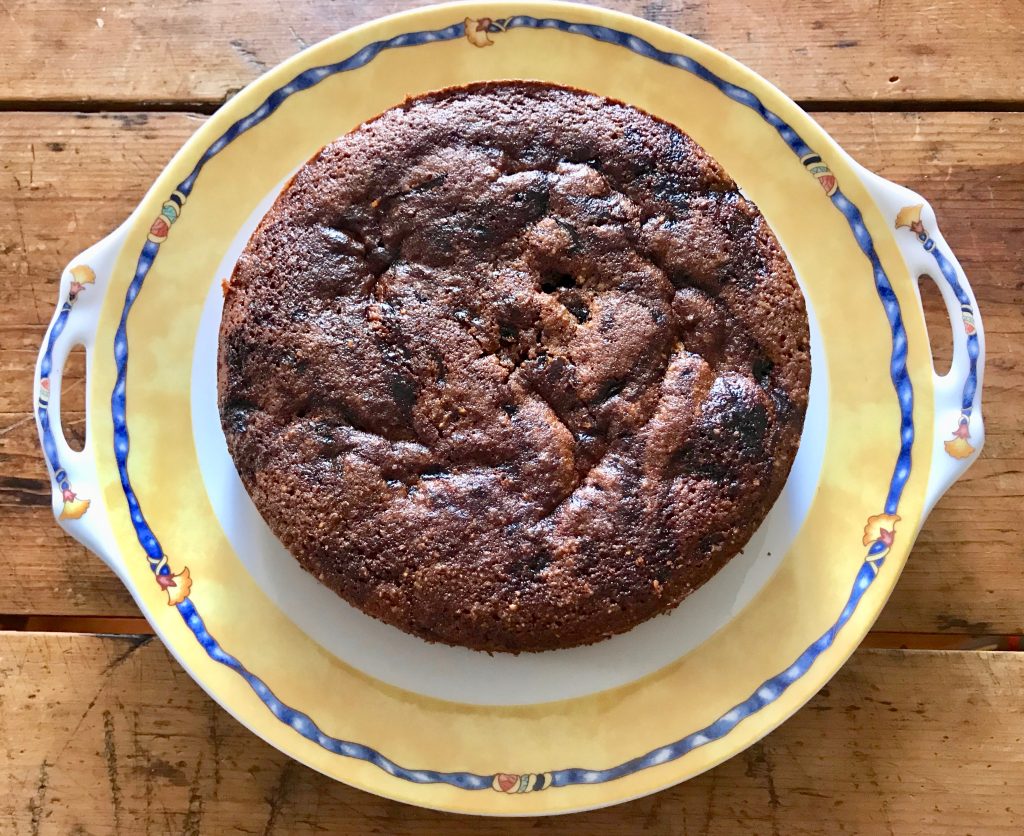 A little goes a long way with this rustic blackberry jam cake. Dense. Savory and sweet (but not too sweet). Corn grits give this jam cake density and weight and an unexpected (and pleasing) crunch.
My husband who grew up in the Deep South likened this jam cake to a toothsome "dessert cornbread". You don't have to be Southern, though, to appreciate how delicious this jam cake is….similar to an Italian olive oil-style cake.  Enjoy!

Paleo Blackberry Jam Cake
Serves 6-8
Dry Ingredients
1-1/2 cups organic almond flour, sifted
1/2 cup polenta
1-1/2 teaspoons baking powder
1/2 teaspoon Celtic sea salt
Grated zest of 1 large organic lemon
Wet Ingredients
1/4 cup extra-virgin olive oil
1/4 cup organic coconut sugar
1/4 cup pure organic maple syrup
2 large pasture-raised eggs
1/2 cup organic blackberry jam (ideally, low sugar)
Preheat oven to 325°F.
Using butter, grease and line a round, 7-inch (base diameter) cake pan with parchment paper.
In a medium mixing bowl, whisk together sifted almond meal, polenta, baking powder, Celtic sea salt and lemon zest until well-blended.
In a large mixing bowl, beat together the olive oil, coconut sugar and maple syrup, using an electric hand mixer until smooth and well-blended. Add eggs and beat well.
Using a large spatula, fold dry ingredients into the egg mixture until just combined. Take care not to overmix—or batter will be tough.
Scrape batter into the prepared cake pan. Shake pan from side to side to ensure batter is evenly distributed.
Drop dollops of jam evenly over cake batter. Use a chopstick or knife to gently swirl jam over the batter.
Place cake on center rack and bake for apx. 40 to 50 minutes, OR until the top springs back to the touch.
Transfer cake pan to a wire rack and let cake cool completely in the pan. (Weather permitting, I will sometimes set the cake outside to cool.)
When cake has cooled completely, slide a knife to gently around the cake to loosen from the cake pan. Place a plate over the cake pan and tap hard. If properly loosened, the cake should slide right out onto the plate. Turn right side up.
Serve…and enjoy!