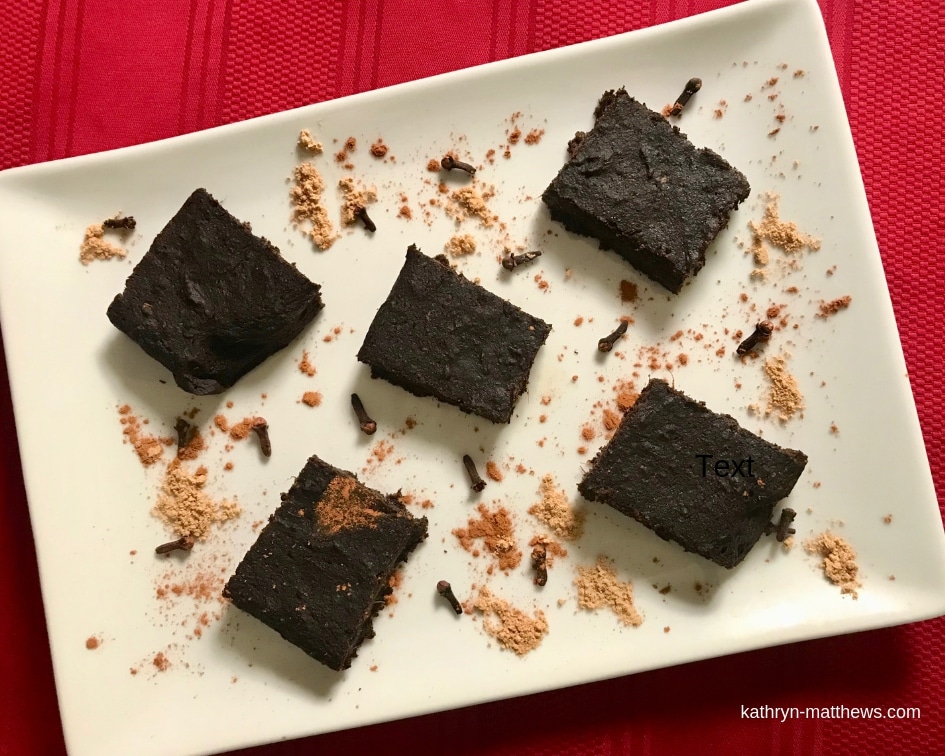 Do you enjoy a slow burn? Then you'll love these gingerbread brownies! (And, no, you won't be rating Scoville heat units…there are no chili peppers in these brownies!)  Moist and flavorful, a combination of gently warming spices (including fresh ginger root) natural sweeteners and buckwheat flour, makes these brownies a delicious, warming treat (and digestive aid!) on a cold winter day.
The star ingredient is fresh ginger.
In Traditional Chinese Medicine, ginger is considered a detoxifying and warming "yang" herb, well regarded for its medicinal effects. If you tend toward cold hands and feet or low body temperature overall, regularly consuming fresh ginger, for example, in a tea, can help improve your circulation, helping your body feel warmer over time
Ginger has both antibiotic and antibacterial properties; consumed regularly, it can help boost the immune system to better fight colds and flu; it can also help reduce pain and inflammation.
Ginger has long been used as a digestive aid. It can help quell the nausea triggered by motion sickness or pregnancy. A liver supportive herb, ginger helping rid the body of toxins. If you struggle with digestive issues, such as bloating or gas, ginger can offer relief for both symptoms. If you suffer from constipation, consuming fresh ginger can help light your digestive fire and stimulate a much-needed bowel movement!
The inclusion of ground flaxseed and zucchini in these brownies (I promise that you will NOT taste them; you won't even know they're there!!!) ramp up the fiber quotient….try them for  breakfast, along with some protein.
Buckwheat Gingerbread Brownies
1 cup organic buckwheat flour
3/4 teaspoon cinnamon
3/4 teaspoon freshly ground whole cloves (use spice grinder)
1/2 teaspoon baking soda
1/4 teaspoon Celtic sea salt
1 tablespoon ground organic flaxseed
*Grind whole flaxseed in a spice grinder, then measure out 1 tablespoon
ground flaxseed
3 Tablespoons water
1/4 cup coconut oil, melted
2 tablespoons blackstrap molasses, unsulphured
6 tablespoons dark robust organic maple syrup
1 teaspoon organic vanilla extract
1 cup organic zucchini puree
2 tablespoons fresh, finely minced ginger root
Preheat oven to 350F.
Grease an 8 x 8 square baking dish with coconut oil, then line with brown parchment paper(do not use the waxy, non-stick parchment paper).  Grease the brown parchment paper to ensure brownies do not stick.
In a small bowl, stir together the tablespoon of ground flax seed with 3 tablespoons of water; it will take at least 10 minutes for the mixture to gel.
In the meantime….in a medium mixing bowl, whisk together the dry ingredients: buckwheat flour, cinnamon, clove, Celtic sea salt and baking soda.
In another medium bowl, use a hand mixer to combine the "wet" ingredients: melted coconut oil, black strap molasses, maple syrup and vanilla extract.  (If you don't have a hand mixer, whisk together the wet ingredients.)
Stir the gelled flax into the dry ingredients. Using a large spatula, fold the blended wet ingredients into the buckwheat flour mixture. Combine well.
Transfer the batter to the lined baking dish. Hold the baking pan, and shake sideways back and forth and up and down until the batter is evenly distributed in the pan.
Place pan on the center rack in the oven. Bake for 25-30 minutes, turning the pan at the halfway point (after 13 minutes) for even baking. After 25 minutes, insert a knife into the center.  If it comes out clean, the gingerbread is done.  If there is a residual of batter on the knife, bake another 5 minutes or until the knife comes out clean.
Remove gingerbread from the oven.  Cool in the pan at least 15 minutes.  When cooled and set, cut into 16 squares.
Enjoy!!