Do you enjoy a slow burn? Then you'll love this gluten-free gingerbread! (And, no, you won't be rating Scoville heat units…there are no chili peppers in the recipe!)  Moist and flavorful, a combination of gently warming spices (including fresh ginger root) natural sweeteners and buckwheat flour, makes these brownies a delicious, warming treat (and digestive aid!) on a cold winter day. The flavors will have your mouth dancing!
The star ingredient is fresh ginger.
In Traditional Chinese Medicine, ginger is considered a detoxifying and warming "yang" herb, well regarded for its medicinal effects. If you tend toward cold hands and feet or low body temperature overall, regularly consuming fresh ginger, for example, in a tea, can help improve your circulation, helping your body feel warmer over time
Ginger has both antibiotic and antibacterial properties; consumed regularly, it can help boost the immune system to better fight colds and flu; it can also help reduce pain and inflammation.
Ginger has long been used as a digestive aid. It can help quell the nausea triggered by motion sickness or pregnancy. A liver supportive herb, ginger helping rid the body of toxins. If you struggle with digestive issues, such as bloating or gas, ginger can offer relief for both symptoms. If you suffer from constipation, consuming fresh ginger can help light your digestive fire and stimulate a much-needed bowel movement!
Despite having "wheat" in its name, buckwheat is not wheat, nor is it related to wheat. In the sorrel, knotweed and rhubarb family, buckwheat is actually a fruit seed.  Known as a pseudo-cereal, it is rich in slowly digested complex carbohydrates (compared to refined carbohydrates which are quickly digested and immediately raise blood sugar).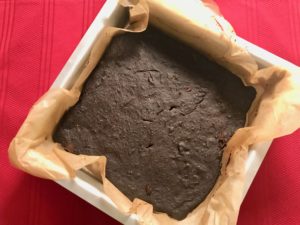 Buckwheat Molasses Gingerbread 
1 cup organic buckwheat flour, sifted
1 teaspoon freshly ground whole cloves (use spice grinder)
3/4 teaspoon cinnamon
1/2 teaspoon baking soda
1/4 teaspoon Celtic sea salt
1/4 cup coconut oil, melted
1 large egg, ideally organic or pasture-raised
2 tablespoons blackstrap molasses, unsulphured
6 tablespoons dark robust organic maple syrup
1 teaspoon organic vanilla extract
5 tablespoons fresh, finely minced ginger root
1 cup organic zucchini puree
Preheat oven to 350F.
Grease an 9-inch x 9-inch square baking pan with butter or coconut oil; then, line with brown parchment paper (do not use the waxy, non-stick parchment paper).  Grease the brown parchment paper to ensure gingerbread does not stick.
NOTE: The size of your baking pan will determine the density and moistness of the gingerbread. If you use an 8.5-inch x 8.5-inch square baking pan, you will need to bake slightly longer (apx. 30-35 mins.), and the end result is a dense and moist gingerbread that yields 9 squares.  If you use a 9-inch x 9-inch square baking pan, the gingerbread will require less baking time (apx. 25-30 mins.), and the end result is a slightly drier, flatter and lighter-textured gingerbread; the yield is 12 squares.  Either version is excellent, but the size of your baking pan will determine moistness, texture and baking time.
Roughly chop 1 or 2 organic zucchini, skin on, and place in food processor. Pulse until pureed. Transfer to a small bowl and set aside.
Peel a large knob of fresh young ginger root, roughly chop and add to food processor. Pulse until finely minced. Set aside.
In a medium mixing bowl, whisk together the "dry" ingredients: sifted buckwheat flour, clove, cinnamon, Celtic sea salt and baking soda.
In another medium bowl, use a hand mixer to combine the "wet" ingredients. Beat the melted coconut oil and egg, until well combined, apx. 2 minutes. Add the black strap molasses, maple syrup, vanilla extract and minced ginger, beating well after the addition of each ingredient.
Add the dry ingredients (buckwheat flour mixture) to the wet ingredients.  Pour the zucchini puree on top of the dry ingredients. Using a large rubber spatula, fold the buckwheat flour mixture and zucchini puree into the wet ingredients.  Be careful NOT to overmix or the texture will be stiff and dry.
NOTE:  "Folding" involves combining a delicate mixture (in this case, the buckwheat flour and spices mixture) with a heavier mixture (in this case, the egg and molasses mixture) without stirring or mixing. To fold, cut the spatula through the center of both mixtures, using a "down-across-up-and-over" motion that brings the heavy mixture back up to the top.
Transfer the batter to the lined 8″ x 8″ square baking dish. Hold the baking pan, and shake sideways back and forth, and up and down, until the batter is evenly distributed in the pan.
Place pan on the center rack in the oven. Bake for 25 minutes, turning the pan at the halfway point (apx. 13 minutes) for even baking. After 25 minutes, insert a knife into the center.  If it comes out clean, the gingerbread is done.  If there is a residual of batter on the knife, bake another 5 minutes or until the knife comes out clean.
Remove gingerbread from the oven.  Cool in the pan at least 15 minutes.  When cooled and set, cut into 16 squares.
Enjoy!!