Growing up, one of my favorite childhood treats was my mother's sour cream coffee cake: the perfect marriage of a rich, moist yellow cake with the irresistible sugary crunch of its walnut-raisin topping.
I inherited my mother's much-coveted recipe.  And, I confess, it's the one home-baked treat that I've occasionally missed since I began following a Paleo way of eating—no grains, no wheat, no dairy, no refined sugars, no processed foods—back in 2013.
So, I was thrilled to stumble across a coconut flour coffee cake recipe from Carol Lovett, author of Ditch the Wheat that I have since adapted.
Coconut flour comes from dried coconut meat that is dried, defatted and then finely ground into a powder.  The texture of coconut flour is fine and delicate; at the same time, it can create a very dense batter—you have to be careful not to overmix when blending with wet ingredients.
The first time I made the coffee cake, I ignored the recipe instruction to bake it in a small loaf pan; instead, I poured the batter into an 8 x 8-inch square glass baking pan. The result?  A coffee cake that was flat, dry and on the "crispy" side.
I tried again.  This time, I followed the recipe instructions to the letter.  How did it turn out?  Well…  "The flavors are great, but the texture is dry," said one friend who gave his unvarnished opinion.
Hmmm.  I had to agree!
The third time was a charm. The trick to creating a lighter, moister cake? Do NOT man-handle the coconut flour batter!  Instead of using an electric mixer, I used a large spatula to gently fold the coconut flour into the wet ingredients until just blended. I then folded the coconut flour batter slowly and gently into the egg white mixture, again, until just combined.
"Your 'pound cake' is definitely moister this time," my friend enthused, then asked: "But isn't anything sugary bad for you?"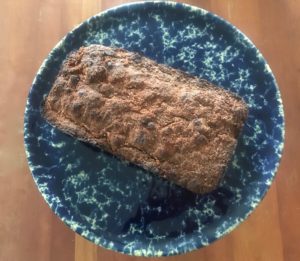 For me, this coffee cake qualifies as a guilt-free indulgence. The batter is sweetened minimally with raw honey; the cinnamon topping includes coconut palm sugar, a natural whole sweetener with a low glycemic index (GI 35).  And, gluten-free coconut flour is rich source of dietary fiber, protein and lauric acid—a "good" saturated fat—that can help promote thyroid health and the immune system. Combined with four pasture-raised eggs, this "cake" is a tasty, protein-rich special occasion indulgence.  By the way, it tastes even better the second day (if you have any left!).
If you are baking as a gift for friends or family, this coconut flour coffee cake is always a welcome love offering!

Coconut Flour Coffee Cake
Serves 4

For the egg white mixture
4 large organic or pastured-raised eggs, whites separated from yolks
1 teaspoon cream of tartar
For the batter
Wet ingredients:
1/4 cup organic, raw (or unrefined) virgin coconut oil, melted
3 tablespoons raw honey
Dry ingredients:
1/2 cup organic coconut flour, sifted
2 teaspoons pure vanilla extract
1/4 teaspoon baking soda
1/8 teaspoon Celtic sea salt
For the Topping:
* Just 2-3 tablespoons of this coconut sugar mixture more than adequately covers the coffee cake.
1/4 cup organic coconut palm sugar
1/4 cup organic raw (unrefined) virgin coconut oil, melted
2 tablespoons organic coconut flour, sifted
1/2  teaspoon ground cinnamon
Preheat oven to 350 degrees.  Grease the bottom and sides of a 9″ x 5″ stainless steel rectangular loaf pan with grass-fed butter, like Kerrygold. Then, line the bottom of the loaf pan (just the bottom) with parchment paper and grease over the parchment paper with butter.
In a large bowl, combine the egg whites and cream of tartar, using a hand-mixer.  Whip apx. 3 minutes, or until stiff peaks form (this will only happen if you are careful not to get any yolk in the whites). Set aside.
In a medium bowl, cream together the raw honey and 1/4 cup melted coconut oil.  Mix in the 4 egg yolks.  When combined, blend in the vanilla.
In a small bowl, use a sifter or strainer to sift the coconut flour. Add the baking soda and Celtic sea salt. Whisk all three ingredients together well.
Using a large spatula, gently fold the dry ingredients into the wet ingredients (honey, coconut oil, egg yolk and vanillamixture) until just combined. Be careful NOT to overmix—or the batter will become very stiff and tough.
Add the coconut flour-and-egg yolk batter to the egg white mixture.  Using  a large spatula, gently fold the egg white into the batter until just combined.  Spread batter evenly in the greased loaf pan, shaking pan from side to side.
In a small bowl, whisk together the coconut sugar, coconut flour and cinnamon.  Sprinkle over the batter so that it is evenly distributed.  (I use about 2 tablespoons).  Drizzle 1/4 cup melted coconut oil over the topping.
Place loaf pan on the center rack and bake for 30 minutes.  The cake is done when a knife is inserted in the middle, and it comes out clean.
Set loaf pan on a wire rack. When cool, use a sharp knife to loosen sides of loaf.  Carefully remove loaf; tap hard on bottom of loaf pan to loosen. When cake comes out, remove parchment paper from the bottom. Place right side up on cake plate. Slice, serve and enjoy!