In late fall, on days when the sky stretches grey and moody as far as the eye can see, and a bone-cold chill hints at snow to come, I often wake up on weekends at our old upstate New York farmhouse craving….muffins.
And what I want are Paleo Serrano-Chili muffins.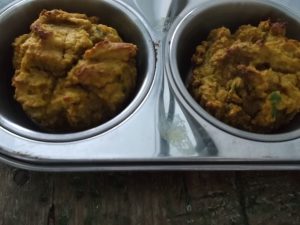 In terms of diet, I follow a Paleo template, a variation of the traditional Paleo diet, modeled after the Paleolithic Era, (which began about 2.5 million years ago and ended 10,000 years ago).  Primitive man ate only what he was able to hunt and gather.
Because the Paleolithic Era predates agriculture, a purist version of a strict Paleo diet is based on lean meats, seafood, fruits, vegetables, nuts and seeds, and healthy fats.  What it does not include: wheat, grains, dairy, soy, beans and legumes, processed foods, sugars, starches, and alcohol.
The Paleo way of eating—which emphasizes real whole foods—ranges from very strict to much looser versions of the original diet as Paleo nutrition expert Robb Wolf points out in Seven Shades of Paleo.  The bottom line being: you don't necessarily have to adhere to a strict Paleo diet to experience its many health benefits.  There's leeway—more or less—to make a Paleo diet work for you.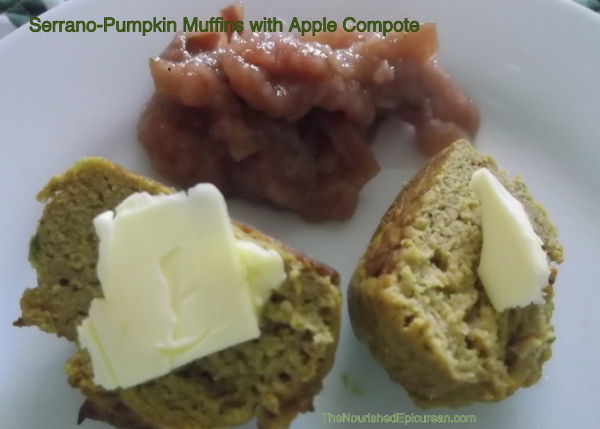 Just how Paleo am I?  I stick to a mostly low-carb version of the Paleo diet  (meaning no grains, no sugar, no refined starches), but, occasionally, I will embrace some starches, like sweet potatoes, brown rice, quinoa and natural whole food sweeteners, such as maple syrup, raw honey or coconut sugar.
These muffins are a happy exception that I make.
With five pastured eggs, a drizzle of Grade B maple syrup (more nutrient dense than Grade A) and a healthy dose of serrano pepper, these muffins are rich and moist with a piquant green chili bite.  Especially delicious slathered with grass-fed butter and a dollop of homemade apple compote. The combination of protein (eggs), fiber (pumpkin) and healthy fat (coconut oil and/or grass-fed butter) make it a perfect breakfast, an ideal (and filling) way to start the day.

Paleo Serrano-Pumpkin Muffins
1/2 cup organic coconut flour
1 teaspoon baking soda
1 teaspoon cinnamon
1/4 teaspoon allspice
1/4 teaspoon nutmeg (optional)
5 pastured eggs
1 cup organic pumpkin puree
1/4 cup organic, raw (or unrefined) virgin coconut oil, melted
1 tablespoon organic maple syrup (labeled Grade A "Dark" or "Robust" OR Grade B)
1 teaspoon organic vanilla extract
3-4 serrano peppers, ends discarded, seeds removed, and minced
Pre-heat oven to 400° F.  Line a stainless steel 12-cup muffin pan with unbleached parchment muffin liners.
In a medium bowl, whisk together coconut flour, baking soda, cinnamon, allspice, nutmeg.  Mix well.
Place in another medium bowl: the eggs, pumpkin puree, coconut oil, maple syrup, vanilla extract and serrano peppers.  Using a hand mixer, blend all the wet ingredients well.
Sift the dry ingredients into the wet ingredients, blending well with a hand mixer.
Spoon batter into the 12-cup muffin pan.
Bake for 8 minutes; turn pan around, and bake another 7 minutes.
Insert a toothpick or knife into a muffin; if it comes out clean, the muffins are done.
Let the muffins rest for 5 minutes.  Remove from parchment liners and serve.