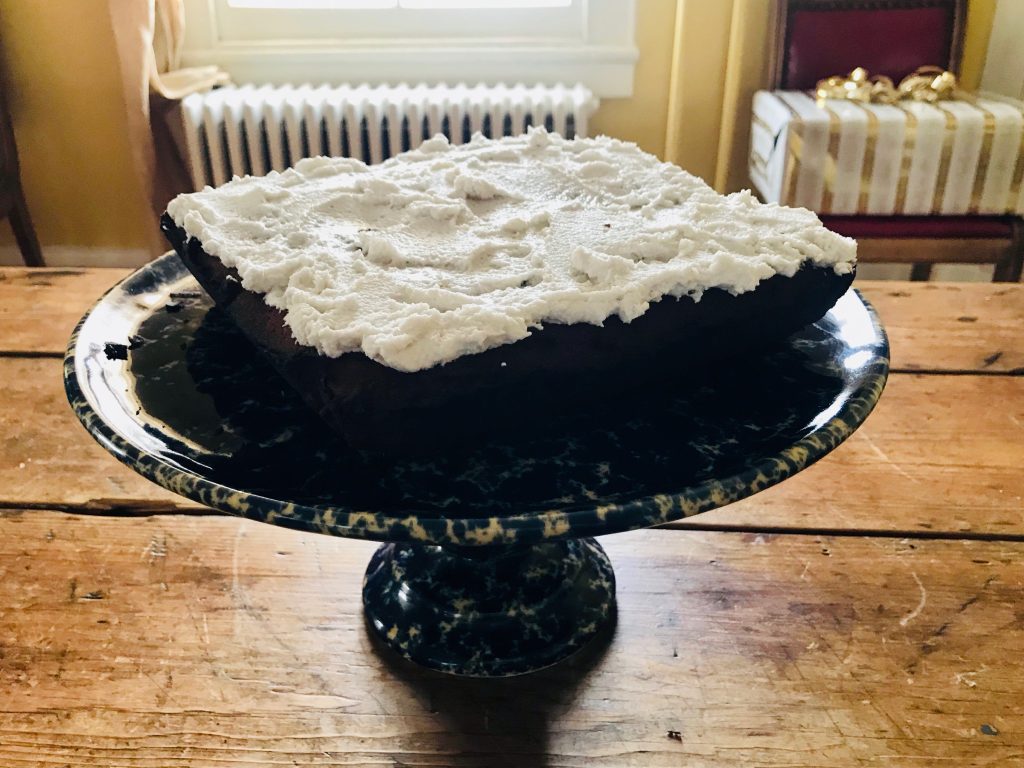 When I asked my husband what kind of cake he wanted for his birthday, he surprised me with his answer: "blackberry jam cake".
For him, blackberry jam cake is a potent nostalgia food. My husband was born and raised in the south, and his late grandmother (affectionately called "Mom" by the family) was a legendary baker. Her blackberry jam cake had always been one of my husband's favorite treats when he was growing up.
I was presented with a monumental challenge!  Southern-style desserts tend toward decadence, and they go heavy on amount of the flour, butter and sugar used. Not to mention: I had to compete with a cherished memory of Mom's unforgettable blackberry jam cake!
Well…when I served up this gluten-free, dairy-free version of blackberry jam cake, my husband flipped…he LOVED it!  And the cake was gone by the next morning…
This southern-style blackberry jam cake is a guaranteed crowd pleaser for any occasion, whether it's the holidays, a birthday, Valentine's Day, graduation, dinner party, a family reunion, or "just because". Enjoy!
Gluten-Free Southern-Style Blackberry Jam Cake
Wet Ingredients
3/4 cup (6 oz) unsalted grass-fed butter, cut into cubes
1/2 cup organic coconut sugar
3 large pasture-raised eggs
2/3 cup organic blackberry jam   (Ideally, choose a jam that is low sugar, non-GMO and free of artificial colors and preservatives).
Dry Ingredients
1 cup organic coconut flour, sifted
1/2 cup organic almond flour, sifted
1 teaspoon baking soda
1/2 teaspoon baking powder
1/4 teaspoon ground nutmeg
1/2 teaspoon cinnamon
Set aside
1/2 cup full-fat organic coconut milk
1-1/2 teaspoons raw apple cider vinegar
Preheat oven to 350ºF.
Using butter, grease an 8-inch x 8-inch square baking pan. Line pan with parchment paper, then use butter to grease the parchment paper.
In a large mixing bowl, use a hand-held electric mixer (or stand mixer if you have one), to cream the butter and coconut sugar.
Add eggs, one at a time. Beat well, scraping down the sides of bowl after each addition.
Add blackberry jam and blend well.
In a medium bowl, whisk together the coconut flour, almond flour, baking soda, baking powder, nutmeg and cinnamon.
In a small bowl or Pyrex glass measuring cup, add the raw apple cider vinegar to the coconut milk; whisk together well.
Add dry ingredients to the wet ingredients (butter, coconut sugar, egg mixture), alternating with the coconut milk-apple cider vinegar. Beat on low until the batter is smooth.
Scrape batter into baking pan. Shake baking pan back and forth to ensure that batter is evenly distributed. Place cake on center rack in oven and bake for 35 to 40 minutes, OR until a knife inserted in the middle comes out clean (no batter residue). Note: After 35 minutes, you can place a sheet of parchment paper over the cake to prevent over-browning.
Remove cake from the oven. Transfer to a wire rack and let cake cool in pan.
Word of caution:  Be sure that the cake has completely cooled (this may take 4-8 hours) before spreading the coconut cream frosting on top. Otherwise, if the cake is even slightly warm, the frosting will melt into a puddle!
You can eat plain or top with coconut cream frosting (recipe below).
Coconut Cream "Frosting"
Two 5.4 oz cans organic coconut cream
1 teaspoon vanilla extract
Chill 2 cans of coconut cream (they are 5.4 oz each) in refrigerator overnight.
Open cans and scoop out the thick white layer on top, measuring out 14 oz of coconut cream (if possible, weigh on a food scale for precision). Save liquid on the bottom for another use.
Use an electric mixer to beat the coconut cream and vanilla until well-blended. The frosting should be light and fluffy.
Use a spatula or a butter knife to spread evenly on cake (top only). If not using immediately, place in airtight container and chill until ready to use.
**Note:  If mixture curdles or separates, pour through a strainer to remove excess liquid, and beat until well-blended.