This Valentine's Day…show your beloved some strawberry love.
Red and heart-shaped, the strawberry could be considered the perfect fruit for Valentine's Day because it actually does help protect the heart.  (And a healthy cardiovascular system is key for sexual arousal and responsiveness.)
Anthocyanin, a phenol in strawberries, is what gives strawberries their distinct red color; anthocyanin can also help protect against oxidative stress. Studies suggest that regular consumption of anthocyanins (about 3 to 4x / week) reduces the risk of cardiovascular disease, the #1 cause of death among both men and women.

Ladies, take note: the results of a recent Harvard study published in Circulation link a high intake of anthocyanin-rich foods (like strawberries and blueberries) with a reduced risk of myocardial infarction (heart attack) in women ages 25 to 42.  CLICK HERE here to read my SheKnows.com article about the health benefits of strawberries.
An excellent source of Vitamin C, strawberries are also a good source of minerals, such as manganese, iodine and potassium—good to know if you plan on engaging in intensive "cardio" on Valentine's Day (excuse me, "weekend", this year!).
Right now, you won't find fresh, local strawberries at winter markets, especially in the Northeast.  The "fresh" strawberries on display at the supermarket are usually from California, like the conventionally grown (and completely tasteless) Driscoll strawberries. Buying organic frozen strawberries is the next best thing.  It's worthwhile to buy organic strawberries because according to the Environmental Working Group (EWG), conventionally grown strawberries rank at the top of their "Dirty Dozen" list of produce containing the most pesticide residue.
You can enjoy a healthy dose of strawberry goodness in this ethereal soufflé—a virtual paean to strawberries: it's light but satisfying, with a hint of natural sweetness.  And, happily, it's very easy to make!
Strawberry Souffle

Adapted from original recipe at perrysplate.com
20 ounces (two 10-ounce bags) of frozen organic strawberries, thawed
5 pastured egg whites, divided (2 egg whites in a small bowl; 3 egg whites in a medium bowl)
1 tablespoon + 1 teaspoon lemon juice
6 tablespoons raw honey
Preheat oven to 350˚F.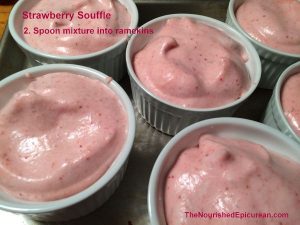 Fill a kettle with water and bring to a boil. Set aside.
Place thawed strawberries in a blender or food processor; puree well.
In a standing mixer or a large mixing bowl, place pureed strawberries, lemon juice, raw honey and 2 egg whites.  Beat on medium-high speed for 15 minutes (use high speed with an electric mixer), or until light and frothy.  (The volume of the strawberry mixture will expand).
In a separate bowl, beat egg whites at high speed.  After 2-3 minutes, add 3 tablespoons raw honey and continue beating until egg whites form stiff peaks.
Using a large spatula, gently fold the egg whites into the strawberry mixture.
Spoon strawberry mixture into 12 8-ounce ramekins, filling to the top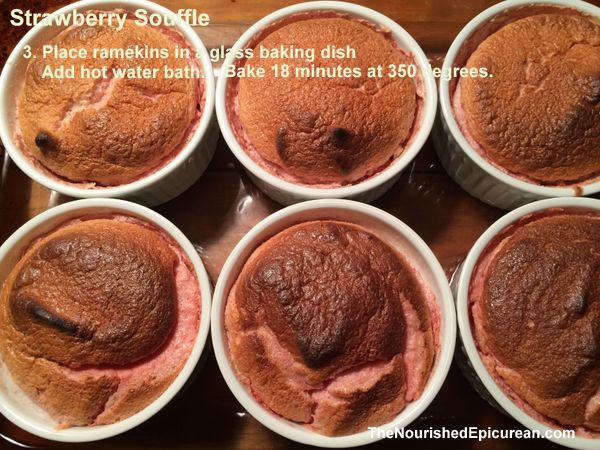 .
Place ramekins into a large 15" x 10" x 2" glass baking dish (or two separate smaller ones).  Pour about 1-inch of hot water into the baking dish holding the ramekins and place on the center rack in the oven.
Bake on the lower third of the oven for 5 minutes.  Then place on center rack and bake another 13 minutes, or, until the souffles have risen well above the rim, and the tops are golden brown.  Serve immediately.
To reheat: Cover ramekins with aluminum foil and warm in oven at 350 degrees for 20 minutes.