How high does broccoli rate on your "Favorite Vegetables" list? (Is it even on this list?!) And, how often do you actually eat broccoli?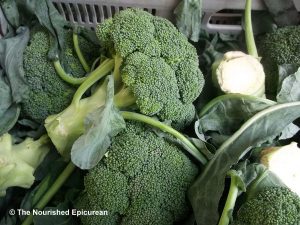 Most people have a love / hate relationship with this heart-healthy, cancer-fighting brassica. I confess that I fall in the latter camp. Although I love broccoli raab, and I regularly eat a variety of cruciferous vegetables, from kale and collard greens, to Brussels sprouts and arugula, I am not a fan of broccoli. Perhaps, it's because I'm hypothyroid and, as a food sensitivity test revealed, it's a food that—for me—triggers an immune system reaction. Don't get me wrong: broccoli is a super healthy food; my body simply does not receive it as a healthy food. On occasion, however, I will make (and thoroughly enjoy) the creamy curry-ginger broccoli soup in the recipe below. It's easy to digest and sating.
If you love−or, at least like—broccoli, and you eat it regularly, you're in a good place.
Studies link broccoli to many health benefits, including a reduced risk of heart disease and stroke. (Diabetics, in particular, are at high risk for heart disease, stroke and other health complications as a result of damaged blood vessels.)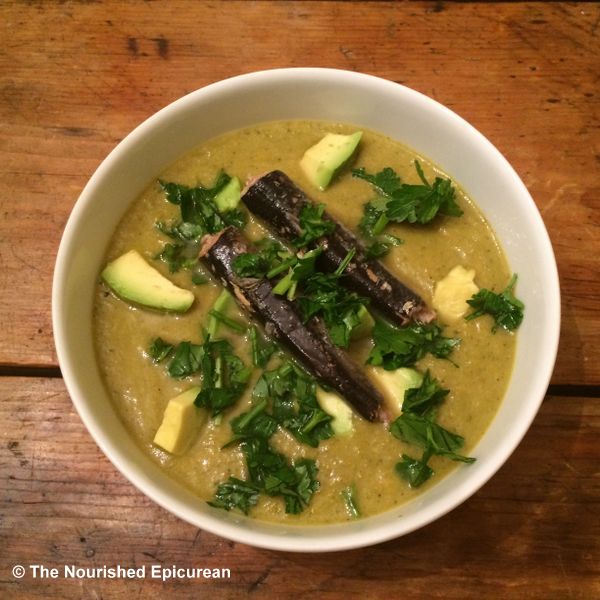 In addition to its famous cancer-fighting properties—such as isothiocynates, phytochemicals that play a role in cancer prevention—broccoli is also a concentrated source of sulforaphane, a compound that exerts an antioxidant effect, helping promote heart health. In a study published by Arteriosclerosis, Thrombosis and Vascular Biology, researchers at the Imperial College in London, found that sulforaphane activates a protein called Nrf2, which can help reduce inflammation and the build-up of arterial plaque.
Rich in soluble fiber, broccoli can also help lower cholesterol. How? Because the soluble fiber in broccoli binds with the cholesterol in the blood; this makes cholesterol easier to excrete, thereby helping reduce cholesterol levels.  Take note: the cholesterol-lowering ability of broccoli is markedly enhanced if you eat it cooked (ideally, steamed)—versus eating raw broccoli.
Like any good-for-you food, you have to eat broccoli on a regular basis to reap its health benefits. One cup of cooked broccoli is a great source source of vitamin K1, vitamin C, fiber, minerals and B vitamins. Aim for 2 cups of cooked broccoli twice a week for a minimum average beneficial amount.
If you're not a broccoli lover, try this Curry-Ginger Broccoli Soup, which will, hopefully, get you to first base.
You can enjoy this creamy (dairy-free), filling soup vegetarian-style (see photo below).  Or you can add healthy fats (coconut milk and avocado) and / or  meat or fish protein (like sardines, pictured above) for a Paleo-friendly one-pot meal.
Creamy Curry-Ginger Broccoli Soup
Serves 4 to 6 people
1-1/2 pounds broccoli, ends discarded
2 large onions, peeled and diced
2 cloves garlic, peeled
1 tablespoon minced fresh ginger root
1-1/2 tablespoons curry powder
Grated orange zest of 1 well-washed orange
4 cups organic chicken or vegetable broth,
homemade bone broth, or water
1 avocado, peeled, seed removed
2 tablespoons coconut oil, OR
fat of choice (eg, ghee, grass-fed butter or olive oil)
Optional: 1 cup full-fat coconut milk
Optional: shredded pasture-raised chicken or pork, grass-fed beef or canned wild sardines
Garnish:
2 to 4 tablespoons chopped parsley
Chopped avocado
For the broccoli: Trim the ends of the broccoli. Cut broccoli to separate the florets from the stalks. Don't discard the broccoli stalks: simply trim off the hard, woody exterior, then cut the stalk on the diagonal into 1/2-inch pieces. Cut the florets into roughly uniform-sized pieces.
Place broccoli in a large glass or stainless steel bowl. Add filtered water to cover. Stir in 1 tablespoon of apple cider vinegar. Let soak for 8-10 minutes. Drain broccoli. Set aside.
To cook the soup: In a large, heavy-bottomed stock pot OR stainless steel or enameled cast iron Dutch oven, melt the coconut oil over medium heat.
Add the onions and sauté over medium-low heat about 8 minutes, or until soft and translucent.
Stir in ginger and curry powder, about 1 minute, or until well blended.
Add broccoli, stirring until it begins sticking slightly to the bottom of the pot.
Add chicken broth, bone broth or water. There should be enough liquid to cover the vegetables. Bring mixture to a boil. Reduce heat and simmer for 20 minutes, or until the vegetables are tender.
Stir in the orange zest
Remove pot from the heat. Take off the lid, and let the soup cool slightly (about 10 minutes).
Puree broccoli soup: In batches, puree broccoli mixture, adding chopped avocado to each batch, in a blender until smooth and creamy. Pour pureed soup into a non-reactive bowl.
After the entire mixture has been pureed, add broccoli soup back to the pot and rewarm over low heat. Optional: add 1/2 cup of coconut milk, whisking until well incorporated.
Season with Celtic sea salt and freshly ground pepper.
Ladle broccoli soup into bowls. Garnish with diced avocado and parsley.
If desired: add shredded (cooked and rewarmed) meat or sardines for added protein.