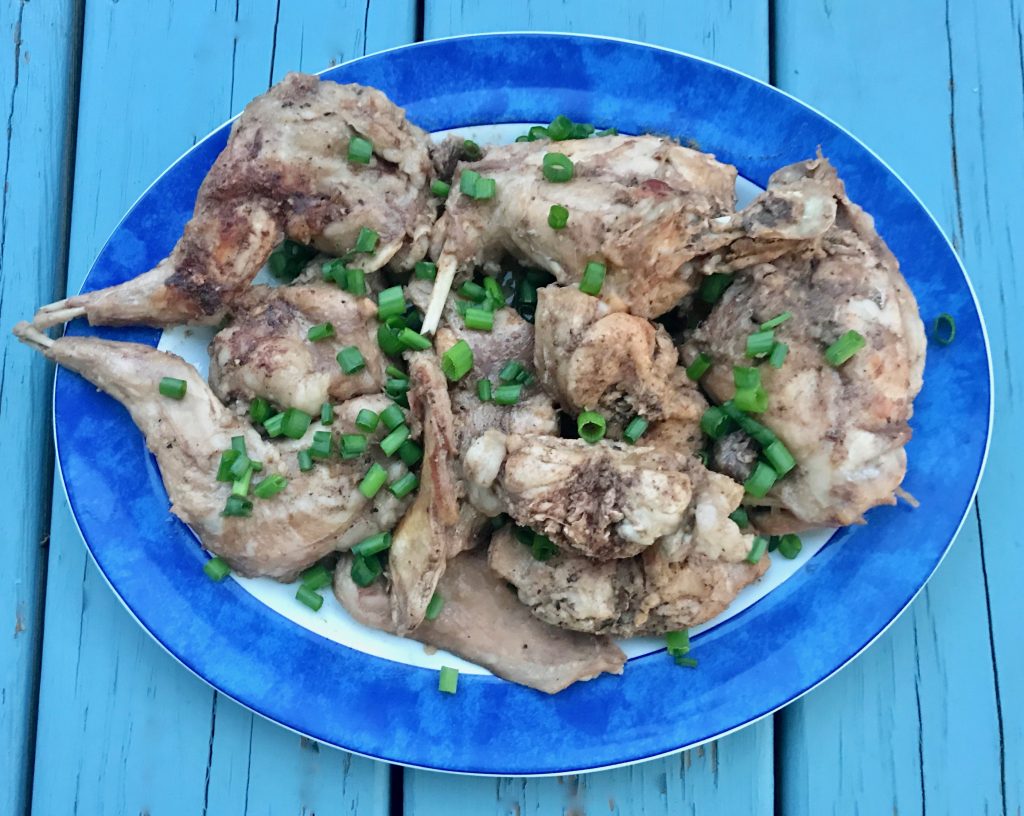 In my past life as a food and lifestyles writer, I remember a trip to Catalonia, Spain (which hugs the Mediterranean coast in northeast Spain) with great fondness. I spent time at an olive oil estate, learning their production methods, and also took a side trip to Barcelona. Catalan home cooking demonstrates a real affinity for fresh local ingredients from the land and sea.
I especially love this braised rabbit in almond sauce dish. Many variations of this dish contain tomato, carrot and/or bread crumbs in the sauce. This version does NOT, and it is gluten-free.  In Spanish cooking, bread is often used to thicken sauces and gazpachos, but this dish is no less delicious without bread crumbs!
Rabbit is not something you see at the supermarket or at Whole Foods. But, if you have a chance to buy it—say, at the farmers' market—I encourage you to do so.  I am lucky enough to be able to buy it from a nearby farm that raises rabbit in happy circumstances.
The flavor of rabbit is similar to chicken, but with a stronger, gamier undertone. I happen to love game meat. Rabbit is a very lean source of protein. It has very little fat, not surprising since it is constantly on the move. An excellent source of B12 and B6, as well as other B vitamins, rabbit is also a rich source of protein and thyroid-supportive nutrients: zinc, selenium, iron and magnesium.
The almond sauce is a delicious medley of garlic, cinnamon, ground cloves, freshly ground black pepper, white wine and Celtic sea salt. Unsweetened cocoa gives it unexpected richness and depth. Rabbit liver, included when you buy a whole rabbit, is unexpectedly light and a delectable addition in the braise.

Braised Rabbit in Almond Sauce
Serves 4
1 whole rabbit, apx. 3-4 pounds, cut into 6-8 pieces
Celtic sea salt and finely ground black pepper
1/4 cup olive oil
1/3 cup almonds with skin on, blanched and skinned
2 medium yellow onions, minced
(apx. 2 cups)
12 garlic cloves
1/2 teaspoon ground cinnamon
1/2 teaspoon ground cloves
1/2 teaspoon freshly ground black pepper
1 teaspoon Celtic sea salt
1 cup dry white wine
1 teaspoon unsweetened cocoa powder
1/4 cup filtered water
To blanch the almonds: Bring a small saucepan filled with water to a boil. Add almonds. Boil for 1 minute. Remove almonds from the water with a slotted spoon. When cool enough to handle, pinch the almonds, slipping off their brown skins—and discard.
Season rabbit with salt and pepper.  In a Dutch oven, heat oil over medium high heat and fry the blanched almonds with 11 garlic cloves, about 2 minutes. When the almonds and garlic are golden, remove from the pan.
To a glass blender jar, add the blanched almonds, fried garlic and remaining 1 clove of raw garlic, cinnamon, cloves, pepper, salt and wine. Process until smooth.
To the remaining oil (from frying the almonds) in the Dutch oven, sear rabbit pieces over medium heat until browned on both sides, apx. 5-10 mins.  Set browned rabbit pieces aside.  Saute onion until gently browned. Then add rabbit back to the pan and add blended almond-spice mixture into the pot. Simmer rabbit for 15 minutes.
Stir the cocoa into 1/4 cup water. Add to rabbit. Simmer another 20 minutes or until the rabbit is fork tender. Serve hot. Ladle a generous portion of almond sauce over each serving of rabbit.