There are no words to describe how beyond delicious this pasture-raised roasted pork shoulder is!
We use a boneless pork butt for this pork roast. Despite its name, pork butt does not come anywhere near the butt of a pig! Pork butt refers to a cut of meat from the shoulder, which consists of parts of the neck, shoulder and upper arm of the pig.
This recipe is SO simple, calling for just a few of the most basic ingredients—Celtic sea salt, freshly ground black pepper, red pepper flakes and 1 bunch of fresh sage. You then pop it into the oven and roast for a total of 2 hours (or a little more), turning every 30 minutes.
The pork essentially cooks itself with minimal fuss or effort.
The end result? A pork roast, where most of the fat has rendered, leaving it crisped on the outside and meltingly tender on the inside. I love pairing this pork roast with a generous portion of braised kale and other leafy greens. My husband, true to his Southern roots, loves pairing this roast pork with polenta, made from a coarse yellow organic cornmeal—and it's gluten-free. Roasted pork shoulder is also delicious with braised fennel and/or roasted root vegetables.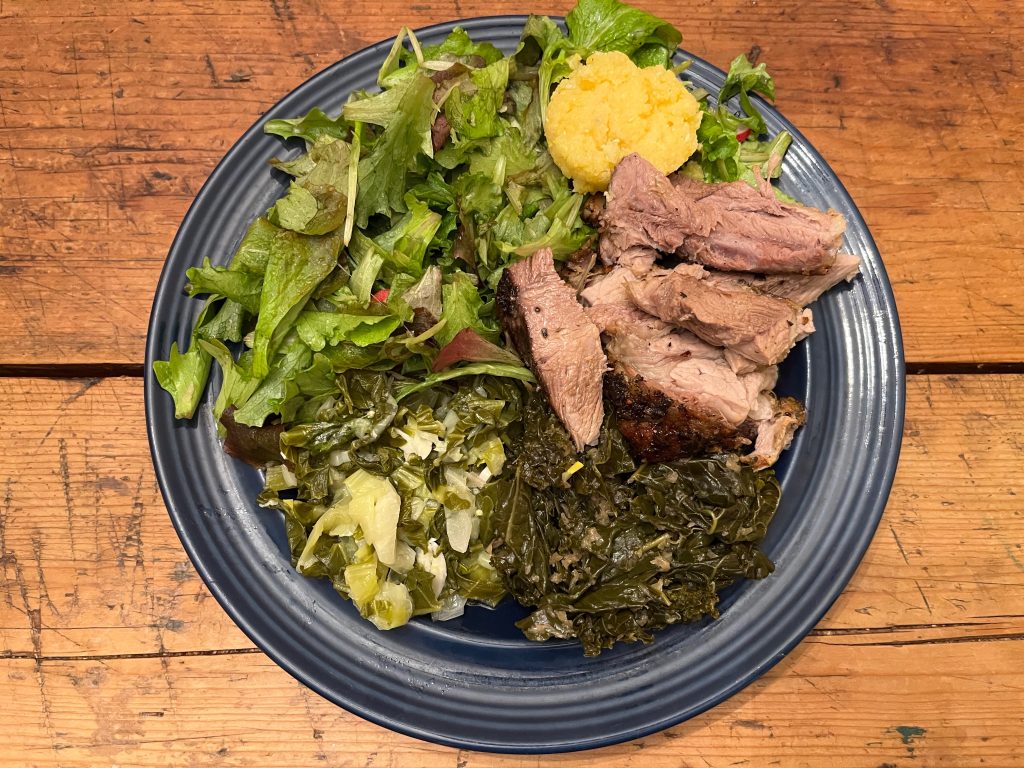 Long-Cooked Pork Shoulder
One 4-pound pasture-raised pork shoulder roast, about 4 pounds
*Note: We use pork butt, which is a shoulder cut
Celtic sea salt
Freshly ground black pepper
Red pepper flakes
Fresh sage, coarsely chopped
To prepare the pork shoulder:  
*NOTE:  You can prepare pork shoulder 24 hours in advance OR à la minute (in the moment).
Season pork generously with Celtic sea salt, pepper, red pepper flakes and 1 bunch of coarsely chopped sage.
If preparing pork shoulder in advance, refrigerate overnight. Be sure to bring pork to room temperature the next day before roasting.
To roast the pork shoulder:
Preheat oven to 375°F if using a convection oven.
Preheat oven to 400°F if using a conventional oven.
Place pork shoulder in a heavy earthenware baking dish (click on link to see brand we use). Turn roast every 30 minutes.
After roasting pork for apx. 1 hour and 30 minutes, baste pork shoulder with any rendered pork fat.
Roast pork for a total of 2 hours; then insert meat thermometer to check doneness. Pork is done when internal temperature registers between 145 to 160 degrees (depending on doneness preferred: e.g., medium rare vs. well-done).
*Please note: Less roasting time is required if pork shoulder is less than 4 pounds.
Transfer pork shoulder to wooden cutting board. Allow pork shoulder to rest 20 mins. before carving.
Enjoy