Simple salads featuring fresh, organic ingredients, can elevate the seemingly mundane into something truly delicious, satisfying and nourishing.
My salad got an unexpected flavor boost from two ingredients that I bought at the farmers' market: radishes and Chinese chives.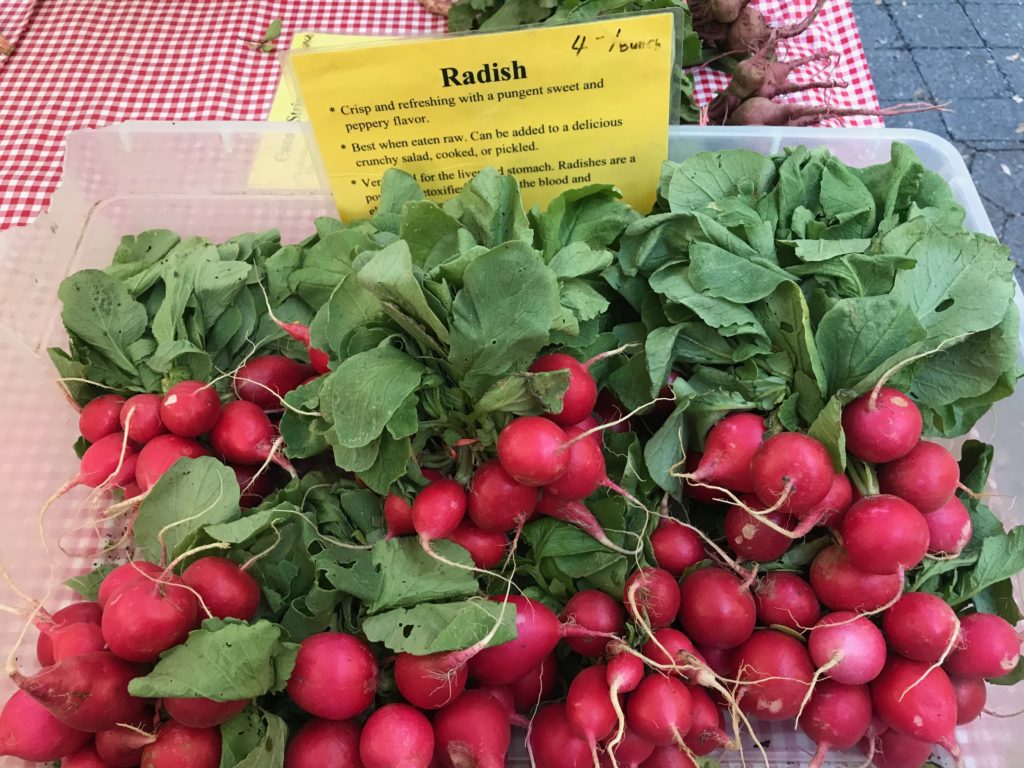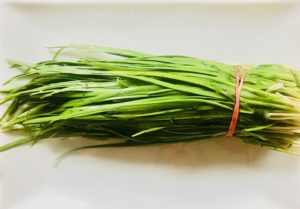 Chinese chives (jiu cai), also known as garlic chives, have flat broad leaves (see photo) and are native to southwestern China. Unlike regular chives (which have no discernible scent), Chinese chives have a distinct, pungent aroma (think ramps!) and garlicky flavor.
My father used to add them to his homemade dumplings, so, for me, Chinese chives are a nostalgia food—one that I love!  They can be eaten raw, stir-fried alone or paired with other vegetables. Chinese chives can be used in soups, with noodles or in scrambled eggs (yum!). You can typically find Chinese chives at Asian markets or more progressive markets.
I love to add them, thinly sliced, in salads.
Chinese chives are high in fiber, an excellent source of Vitamin C (good for the immune system), beta carotene and calcium, some B vitamins (B1, B2, niacin) and minerals, like iron and potassium. They can also be a helpful digestive aid. Like other members of the allium family, which includes garlic, onions, leeks, scallions, chives, among others, Chinese chives are rich in sulfur-containing compounds, which have been shown to have a protective effect against different types of cancer.
This salad is easy to make, helps boost immunity, detoxifies the liver and promotes hormone balance and breast health.
The Mix
Arugula: Cruciferous green. Contains cancer-fighting properties.
Romaine: High in minerals and vitamins C, K and folate.
Radishes: Cruciferous root vegetable. Contains cancer-fighting properties. Also contains an antifungal protein that can cause cell death of candida albicans (candida yeast).
Chinese Chives: Belongs to the allium family of garlic, onions, scallions and leeks.  Contains cancer-fighting properties. Very fragrant and pungent. Punches up the flavor in any dish!
Raw apple cider vinegar: Rich in enzymes, it can help increase stomach acid and help improve digestion.
Olive oil: A healthy fat. Nourishing for the ovaries.

Simple Fall Immune-Boosting Salad
Yield: Apx. 11 to 12 servings

7 cups organic baby arugula
7 cups organic romaine
1/2 cup julienned carrots
1/2 cup Radicchio
2 organic radishes (farmers' market), halved and very thinly sliced
1/2 bunch of Chinese chives, finely minced
**If you cannot find Chinese chives, aka, garlic chives, you can substitute scallions or milder-tasting regular chives. 

For the Vinaigrette:
Whisk together 5 tablespoons raw apple cider vinegar + 6 tablespoons extra-virgin olive oil.
Drizzle vinaigrette over ingredients and toss ingredients until well mixed.