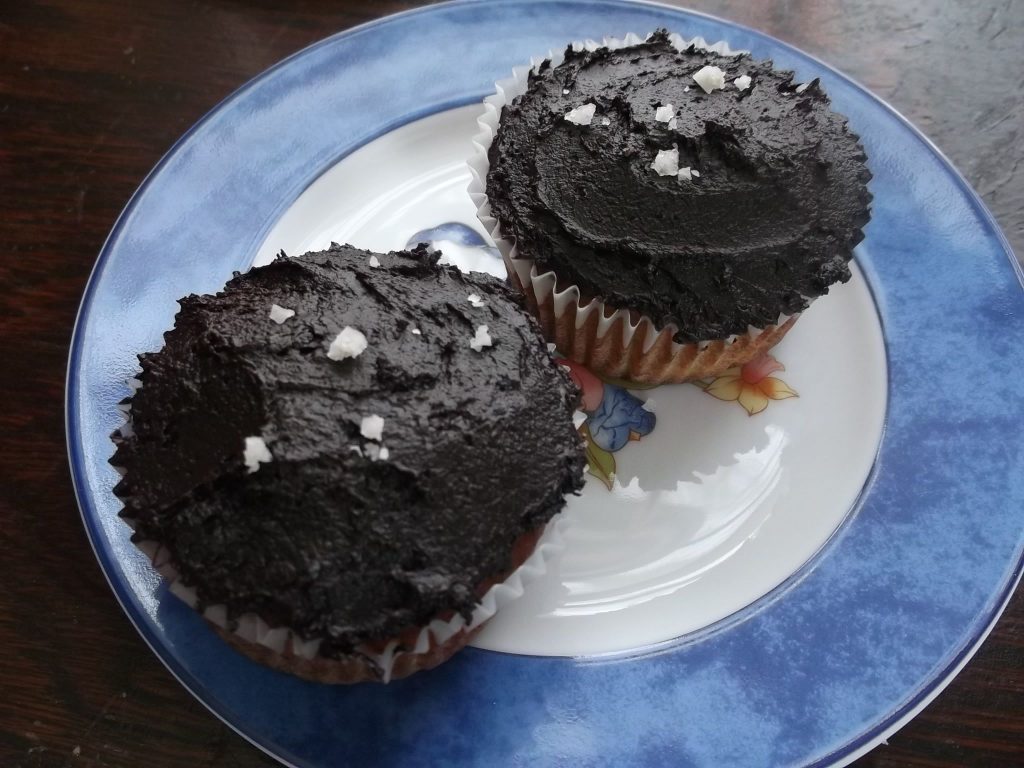 After 30 days of following a restrictive, no-sugar diet (for reasons that I'll share in another post), I ventured to reintroduce a little forbidden sweetness into my life.  Call it a "test"!  Over the long weekend, I made my version of these Paleo vanilla cupcakes with a Fleur de Sel chocolate frosting for breakfast.
I've never had an ardent appetite for sugary or processed foods. Still, it hasn't been easy resisting sugar in every form—not just wheat, gluten-containing flours, grains and dairy, but also some of my favorite fruits and vegetables.
My husband Christopher has soldiered through this journey with me. He complied when I asked him to stop buying our favorite multi-grain walnut bread from our favorite artisan baker. He did not complain that dinner was now served sans starch carbs—not even brown rice or quinoa.  He accepted my strict "NO dessert!" policy when we dined out.  He was good-naturedly resigned when I told him that, for now, starchy vegetables, like parsnips and our favorite varieties of winter squash (kabocha, butternut and pumpkin) were off the menu.  And, on Valentine's Day this year, Christopher was mindful not to tempt me with his usual gift—an irresistible one-pound box of Belgian chocolates.  Instead, a beautiful bouquet of pink tulips graced our kitchen table.  Simple.  Lovely. No sugar!
Because my husband has been a good sport, I wanted to bake a treat that he would enjoy.  And me, too; let's face it…I'm no paragon of virtue!  Even though I had white-knuckled it through 30 days without sugar, including Valentine's Day, I wanted a taste of sweet..
At this point, too, I wondered: How would my body react to a small dose of natural, nutrient-dense sweetener?  Curiosity inspired me to make these wheat-free and gluten-free Paleo cupcakes, a recipe from Elana's Pantry that I have adapted to reflect my own tastes and preferences.
Instead of agave or stevia, I used a scant 1/2 cup of Grade B maple syrup that, as natural, whole food sweeteners go, is more nutrient-dense than its Grade A counterpart, that is harvested from maple trees at the beginning of the season, the reason for its light amber color. Grade B, harvested late in the season, has a much darker color, a more pronounced flavor and a higher concentration of minerals, including trace minerals manganese and zinc.  Historically, Grade B has been much cheaper than Grade A.  But, as I discovered, it's quite pricey right now (I paid $15 for 16 ounces), thanks to what appears to be a current shortage of Grade B maple syrup.
From a purely epicurean perspective, I substituted cocoa powder for melted chocolate chips in the frosting.  My go-to brand is 100% unsweetened Valrhona cocoa powder, an intensely dark cocoa with a deep bittersweet flavor. Based in France, Valrhona makes a Dutch process cocoa powder—not a "natural" cocoa, whereby the cacao beans are simply roasted before being ground into a powder.  Instead, Dutch process cocoa is made from cocoa beans that are first treated with a potassium solution to neutralize their acidity, then dried and ground.  So, Valrhona is considered a more "processed" cocoa powder.  But since it is 100% unsweetened, and I love the depth of its bittersweet flavor, I'm not worried about losing potential antioxidants in my cocoa because it wasn't a "natural" process.
The verdict?
According to my husband, who ate five in one sitting(!):  "Not a strong vanilla taste.  But the cupcakes have an appealing yellow cake texture and flavor that complements the bittersweet Valrhona-coconut frosting.  The dark chocolate flavor resonates, especially with a tiny sprinkle of Celtic sea salt on top!"
I agree: they were delicious!  With six eggs and coconut oil, these Paleo cupcakes are high-protein and nutritious.  They also told me where my body was with sugar.  After eating three (hey, they're small!), I felt plenty full and sated—five hours passed before I felt pangs of hunger again.  For me, the cupcakes were just sweet enough, just indulgent enough to satisfy my physiological, emotional and psychological lust for sugar.  Not another cupcake passed my lips after those first three.  I simply lost desire for them!  Turns out: I hadn't missed sugar (or conventional cupcakes) as much as I thought I had.  Now, I'm back on the "no sugar" track.  And moving forward.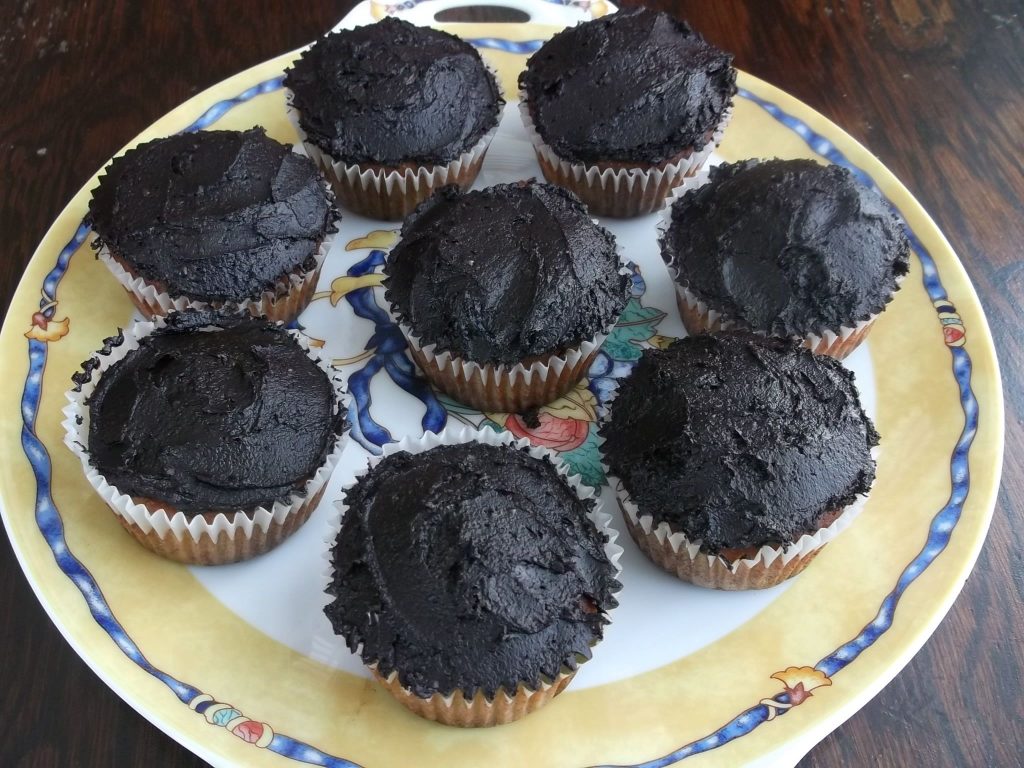 Paleo Vanilla Cupcakes with Valrhona-Coconut Frosting
Makes 12 cupcakes
For the cupcakes:
1/2 cup organic coconut flour, sifted
1/2 teaspoon Celtic sea salt
1/4 teaspoon baking soda
6 large eggs, ideally from organic or local cage-free, free-roaming hens
1/2 cup organic coconut oil, melted
1/2 cup organic maple syrup, labeled Grade A, Dark Color, Robust Taste
1 tablespoon organic vanilla extract
For the frosting:
1/2 cup Valrhona 100% (unsweetened) cocoa powder
3/4 cup organic coconut oil
2-1/2 tablespoons organic maple syrup, labeled Grade A, Dark Color, Robust Taste
1 tablespoon organic vanilla extract
Celtic sea salt, a pinch or two to sprinkle over each cupcake

To make the cupcakes:
Preheat the oven to 350 degrees.  Line a muffin tin with parchment baking cups; set aside.
In a small bowl, whisk together coconut flour, sea salt and baking soda.
Melt the coconut oil over low heat (you do not want the oil to burn or smoke) and remove immediately; before pouring into eggs, make sure it is cool to touch.
In another bowl, use an electric mixer and beat together eggs, maple syrup, vanilla extract, adding cooled coconut oil.
Slowly pour wet ingredients into the dry and blend with mixer until batter is smooth, taking care not to overmix.
Scoop up apx. 1/4 cup batter and carefully add to parchment paper muffin cups.
Place on center rack and bake15-18 minutes.  To avoid overbaking (they'll get tough!), check after 12 minutes for doneness and every 2-3 minutes after that.
Cool completely.  Top with frosting and sprinkle with Celtic sea salt.

To make the frosting:
Using an electric mixer, mix the cocoa and coconut oil (do NOT melt!) until well blended; add vanilla and maple syrup.  You may need to add a little more coconut oil until frosting is soft and spreadable.