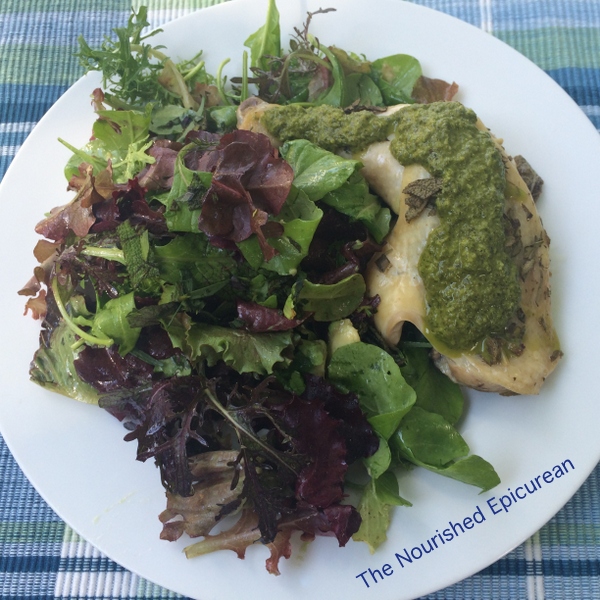 This summer, I fell unexpectedly in love with basil. At my favorite farm stand, I would rivet toward the herbs on display, drawn to the co-mingling scent of several varieties of basil, including Genovese (sweet) basil, lemon basil, Thai basil and holy basil, also known as tulsi. The uniquely aromatic, uplifting fragrance of basil would prompt me to buy several bunches—any combination of the above—all of which would later be transformed into a toothsome pesto.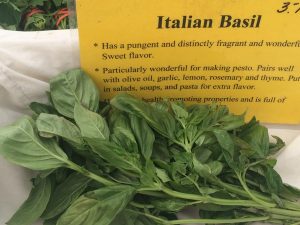 Genovese basil is the Italian variety with which we're most familiar, and it is a rich source of antioxidants, magnesium and vitamins. There are, however, 35 varieties of basil, but it is holy basil, or tulsi, a.k.a. ocimum sanctum L that has received the most scientific attention.
Herbs, including basil, are often overlooked as a source of green food nutrition.
Basil, specifically, tulsi, has been used as a medicinal herb in India for thousands of years. In traditional Ayurvedic medicine, tulsi—in the form of teas, tonics and ointments—has been used to treat colds, coughs and the flu. It has been used to cleanse toxins from the respiratory tract and to alleviate digestive issues, such as flatulence and bloating.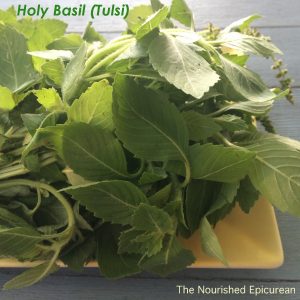 Studies also show that holy basil can help boost mood.
Tulsi has anti-inflammatory, anti-stress and anti-depression effects. A powerful adaptogen—an herbal treatment that helps the body adapt to stress and become more stress-resilient—tulsi is commonly available as a tea or capsule supplement. Studies have shown tulsi to help alleviate physical stress and metabolic stress (for example, reduce blood glucose levels, improve blood pressure and reduce diabetic symptoms), as well as mental stress, especially anxiety and depression. Regular consumption of tulsi can have a calming effect on the body, as well as promote focus and clarity.  Tulsi has a distinctly sharp sweet-spicy flavor, hinting at clove, licorice and mint (it is a  member of the mint family).
Containing anti-bacterial, anti-viral and anti-fungal properties, tulsi also helps protect against infections, which is likely why basil extract is included in homemade and more natural plant-based brands of household cleaners and dental care products.
Basil pesto is delicious any way you choose to use it, whether tossed with zoodles (zucchini noodles), spooned over a tomato salad, on a burger or generously drizzled over grilled fish or vegetables.
One essential kitchen appliance for making pesto is a food processor. Even if you don't consider yourself a "cook", consider investing in a large (11-cup or 14-cup) food processor. If you're busy and unable (or not willing) to spend a lot of time in the kitchen, a food processor is a worthwhile splurge, especialy if you want to prepare real food "no cook" meals at home. A food processor saves you hours of painstaking chopping, slicing, grinding or pureeing. Anything that I need to mince or chop, like onion, carrots, peppers, I toss into the food processor. You can easily blend ingredients for a raw or cooked soup or whip up a bean dip in no time.
I've used my food processor to make countless seasonal pestos. My version of pesto is hypoallergenic, containing no dairy (as in no parmesan or romano cheese) and no nuts (like pine nuts or walnuts). The star ingredient is the basil, itself.

Holy Basil Pesto
This recipe calls for holy basil, but any variety of basil will work. I've even combined several varieties, like Genovese basil, lemon basil and African basil, into one pesto. Taste as you go along. You may need more—or less—garlic, sea salt or olive oil, depending on how large your bunches of basil are and your personal preference for a thicker or thinner pesto.
3 medium bunches of basil, leaves only (discard thick or woody stems)
2-3 large garlic cloves (or 4-6 small cloves)
Juice of 1 large organic lemon
1 teaspoon Celtic sea salt
1/2 to 3/4 cup quality extra-virgin olive oil
Place basil leaves, garlic cloves, lemon juice and Celtic sea salt in the bowl of food processor. Pulse ingredients together, slowly drizzling in the olive oil (stop 2 or 3 times to scrape down the bowl). Continue processing all the ingredients until smooth and well blended. Use immediately.
If made in advance, store in a glass jar with a tightly fitting lid and refrigerate.