I
magine coming home on a cold, snowy winter day—or any day really—and finding a plate of just-baked lemon-ginger almond cookies waiting for you!
That's baked love…!
In my humble opinion, the combination of lemon and ginger are a match made in foodie heaven!  Grated organic lemon zest and fresh minced ginger root are a sprightly flavor combination that make these lemon-ginger almond cookies simply irresistible!
Best of all, they are gluten-free (good-bye bloating, fatigue, mood swings and gut issues!); call for just a few whole food ingredients; and are super easy to make—you just need a whisk and a wooden spoon.  It is 100% dairy free (it does not even include eggs!) and is vegan- and vegetarian-friendly.
Baking tips: nut flours tend to clump; for best results, sift the flour into a mixing bowl using a sifter or strainer. Also, if you have a food scale,  weigh the sifted almond flour to make sure that you have the full 8 ounces (2 cups).
Enjoy!

Lemon Ginger Almond Cookies
Adapted from Elizabeth Barbone's Gluten-Free Baking
Yield: 16 cookies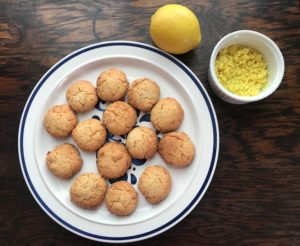 2 cups finely ground almond flour, sifted (8 ounces)
1/2 teaspoon baking powder
1/3 cup dark maple syrup (it will be labeled Grade A, dark color with robust taste)
2 teaspoons organic vanilla extract
Grated zest of 1 organic lemon (apx. 2 tablespoons)
1-1/2 to 2 tablespoons minced fresh gingerroot
Preheat oven to 350°F. Adjust oven rack to the middle position.
Line a rimmed baking sheet with parchment paper.
In a medium mixing bowl, sift the almond flour, using a sifter or strainer. Whisk together the sifted almond flour, baking powder, lemon zest and minced ginger, blending well.
Using a wooden spoon, stir in the maple syrup and vanilla. Stir until a sticky dough forms and holds together.
Drop rounded tablespoons of the dough onto the parchment-lined baking sheet, about one inch apart.  When done, go back and gently press each ball of dough, flattening slightly with the palm of your hand.
Place cookie sheet on center rack in oven. Bake 6 minutes, then turn baking sheet and bake another 6 minutes, or until the edges are golden brown.
Remove from the oven. Let the cookies cool in the pan, apx. 3 minutes, then transfer cookies to a wire rack and let them cool completely.
If you are reusing the same baking sheet for multiple batches, be sure to cool between batches.