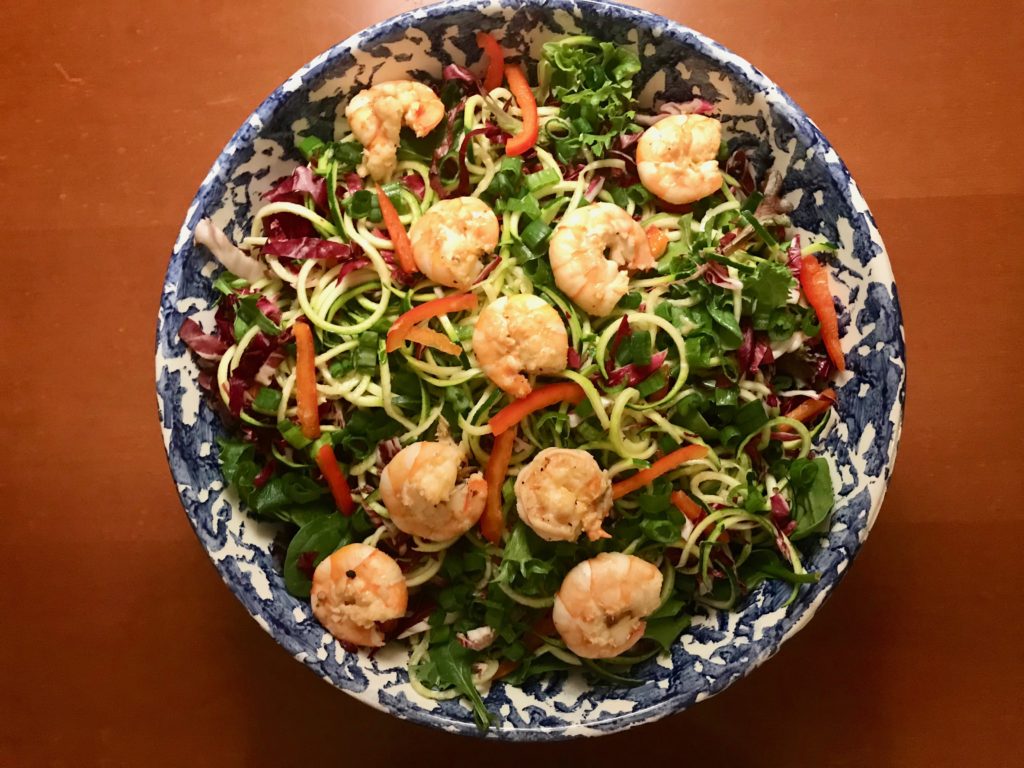 Americans LOVE eating shrimp. Hands down, shrimp is the #1 seafood consumed in the U.S.
Shrimp is also a thyroid-friendly source of protein: 4 ounces contains an impressive 26 grams of protein. It is an excellent source of the mineral selenium, which helps activate thyroid hormones so that they can be used by the body. Selenium also has antioxidant properties that can potentially protect the thyroid gland from free radicals (unstable cells that can damage cells, causing illness or accelerated aging).
Shrimp is also a good food source of iodine, a mineral that is needed to make thyroid hormones. Although iodine deficiency can cause or worsen hypothyroidism (low thyroid) or goiter (enlarged thyroid), it is best to increase your consumption of iodine-rich foods, like shrimp, seaweed, fish and eggs rather than taking an iodine supplement. Iodine is a fickle mineral. While too little iodine increases risk of hypothyroidism, ingesting too much iodine (e.g., kelp tablets) can also hurt the thyroid gland.
Truth be told, I've never been a big shrimp lover. But, in this fresh and sumptuous zoodle salad, "X" (shrimp) hit the T-spot (my thyroid!) in a memorably delicious way!
This is the ultimate all-you-can-eat thyroid-friendly, hormone-balancing salad.
Regularly consuming salads or smoothies that include RAW cruciferous vegetables, like cabbage, baby kale or broccoli, can be detrimental to the thyroid, especially if you have Hashimoto's or hypothyroidism (low thyroid). While cruciferous vegetables have many health benefits, they contain goitrogens, naturally occurring substances that inhibit your body's ability to use iodine, and, as a result, disrupt thyroid function by inhibiting the release of thyroid hormone (by the thyroid gland) OR by inhibiting the conversion of T4 (storage form of thyroid hormone) into T3, active thyroid hormone that the body can actually use. This translates into a slower metabolism.
The good news… There are no goitrogenic vegetables in this lemon-garlic shrimp zoodle salad! Radicchio is a type of chicory (not a cruciferous cabbage). If you are sensitive to nightshades, you may want to remove or swap out the red pepper.
The combination of low-calorie, high-water and all-organic salad ingredients—spring mix + radicchio + spiralized zucchini + red pepper + scallions + shrimp—makes this a particularly satisfying "all you can eat" salad, especially if you're a volume eater. (Personally, I am allergic to small portions and "small plates"!)
Lemon Shrimp Zoodle Salad with Sesame-Ginger Vinaigrette
Prepare the Wild-Caught Shrimp
1 pounds wild-caught shrimp, peeled, deveined and well-rinsed
Zest of 1 organic lemon (apx. 1 tablespoon)
4 medium cloves garlic, minced
Scant teaspoon of Celtic sea salt
Scant teaspoon of freshly ground black pepper
3 tablespoons fresh-squeezed lemon juice
Combine all ingredients in a medium glass bowl until the shrimp is well-coated. Cover and let marinate in refrigerator for 1 hour or more.  *While the shrimp is marinating, prepare the salad and vinaigrette (see recipes below).
To Cook the Shrimp
Warm 1-1/2 tablespoons coconut oil in a Dutch oven over medium-high heat.  When the coconut oil is hot—but not smoking—add shrimp and cook 2-3 minutes until pink and firm to the touch. Take care not to overcook. Using a slotted spoon, transfer shrimp to a non-reactive bowl and cover to keep warm.
For the Zoodle Salad
5 to 6 cups organic spring mix, well rinsed, and spun dry
4 medium organic zucchini, spiralized
1 medium organic red pepper, cored, de-seeded, quartered, and sliced very thinly
1 small head organic radicchio, quartered, cored and sliced thinly; use apx. 2 cups of thinly sliced radicchio
1 cup thinly sliced scallion rounds (green part only)
For the Sesame-Ginger Vinaigrette
4 tablespoons raw apple cider vinegar
4 tablespoons coconut aminos
4 tablespoons toasted sesame oil
1 tablespoon minced gingerroot
Place the organic spring mix, spiralized zucchini noodles, red pepper slices, 2 cups sliced radicchio and scallions in a large salad bowl. Drizzle the sesame-ginger vinaigrette over the zoodle salad; toss and combine well.
Arrange cooked shrimp on top.
Enjoy!!!