We're in prime summer squash season now. While there are many varieties of summer squash, my favorites are the classic, dark green-skinned zucchini and straightneck yellow squash.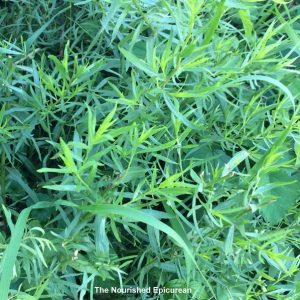 I especially love the combination of summer squash. local, pasture-raised eggs and fresh tarragon plucked from our upstate herb garden in omelets and frittatas.
At the farmers' market near my apartment in Manhattan, I make a weekly beeline for a farm stand called Lani's. Its Bordertown, New Jersey grower practices pesticide-free farming that is "beyond organic". Though somewhat pricier—a dollar or two more per pound than other vendors—the variety and quality of Lani's produce is stellar—and always worth it.
Their zucchini and straightneck yellow squash are more gorgeous and finer than summer squash I see elsewhere. Smaller, more slender and texturally firm to the touch, Lani's summer squash is free of unsightly spots, cuts and blemishes.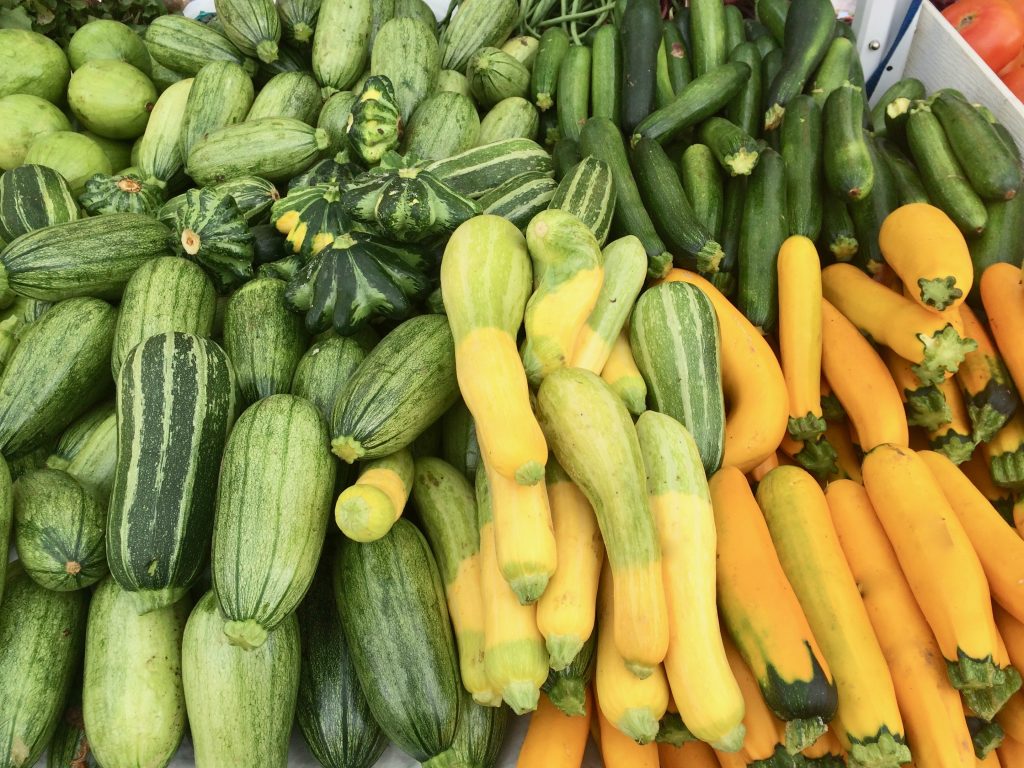 While you don't have to buy 100% of your produce organic, I would recommend that you buy any kind of thin-skinned produce organic—think strawberries, apples, peaches, celery, bell peppers, leafy greens, zucchini and yellow squash. Thin-skinned produce contains the highest loads of pesticide residue. A small percentage of zucchini and yellow squash is genetically modified. Personally, I am willing to pay a little more for squash that is non-GMO.
This time of year, I give my spiralizer a real workout as I eat copious amounts of zoodles (zucchini noodles), my favorite "pasta" since I no longer eat wheat or gluten because of my hypothyroidism. (Check out this yummy recipe for zoodles). I use the leftover zucchini "stubs" from spiralizing in a zucchini frittata—think of a frittata as a crustless egg "pizza", my version is also dairy-free and gluten-free! Simply throw the zucchini stubs into a food processor bowl, pulse until finely minced, and use for the frittata (see recipe below).
Whether you're looking for a tasty way to add a vegetable source of fiber to a meal (summer squash contains a good amount of fiber!), yummy ways to use zucchini from an overflowing vegetable garden, or a simple quick and healthy home-cooked meal, try this airy-light, yet rich-tasting zucchini frittata (it's mostly zucchini mixed with some yellow squash).
There are many ways to make a frittata. Some recipes call for a frittata to be cooked mostly stovetop, then finished under the broiler. Other recipes call for a frittata that is mostly baked in the oven and finished under the broiler. Mine is the latter. Never use a non-stick pan to make a frittata!  Instead: use a 10-inch to 12-inch well-seasoned cast iron skillet or an oven-proof skillet (I use an All-Clad skillet, greased well with coconut oil). I very lightly "set" the egg mixture in the skillet for about 1 minute on the stove; then, it goes straight into the oven where it bakes for 13 to 15 minutes, or until mostly set. I'll finish the frittata by broiling it for 1-2 minutes. Be careful not to overcook.
Zucchini-Tarragon Frittata
Serves 4
3 medium organic yellow onions, minced
2 cups minced zucchini (keep skin on)
1-2 tablespoons coconut oil, divided
3-4 tablespoons minced tarragon (or fresh mint), divided
8 eggs, ideally, pasture-raised, certified organic, or free-range eggs
1/4 cup unsweetened flax milk or full-fat coconut milk
1/2 teaspoon Celtic sea salt, or to taste
Freshly ground black pepper
Optional:  1 tablespoon unsweetened coconut flakes
Preheat oven to 350˚F.  Place rack in upper third of oven.
Peel onion, roughly chop and mince in food processor. Set aside.
Roughly chop zucchini (about 2 to 4 zucchini, depending on size; I generally prefer small, thin zucchini and yellow squash) or zucchini "stubs" from leftover spiraled noodles. Place in food processor bowl, pulsing until minced.
Warm 1 tablespoon coconut oil in a Dutch oven OR a 10-inch to 12-inch oven-proof stainless steel skillet over medium-high heat.
When coconut oil is hot (but not smoking), add onion and sauté until softened, about 3-4 minutes. Add zucchini and 1 tablespoon minced tarragon; sauté until softened, 2-3 minutes. Transfer cooked onion-squash mixture to a bowl and set aside. Let cool.
Crack 8 eggs into a medium-sized bowl (stainless steel or glass). Add unsweetened flax milk or coconut milk, 2 tablespoons minced tarragon, Celtic sea salt and freshly ground black pepper. Combine ingredients well.  *I do this by adding a whisk attachment to an electric mixer and blending until the egg mixture is foamy. You can also add the egg mixture to a blender and blend until well mixed.
Stir the cooked onion-zucchini mixture into the eggs, until well incorporated.
Thoroughly grease an oven-proof skillet with butter. Heat 1 tablespoon of coconut oil in a 10-inch or 12-inch cast iron skillet or well-greased oven-proof stainless steel skillet over medium-high heat. Pour egg-zucchini mixture into the skillet. Lower heat to medium-low; gently stirring eggs until they start to set, about 1 minute.  Transfer skillet from stovetop to oven.  Optional: Sprinkle unsweetened coconut flakes evenly over frittata.  Bake eggs for apx. 8 minutes.  Then, turn skillet to the other aside (so frittata cooked evenly), and bake another 6 to 8 minutes. As the frittata sets, it will  puff up. When eggs are mostly set and firm to the touch (if it's still a little "wet" in the middle, that's OK), increase temperature to "Broil" and broil 1-2 minutes.  The frittata should be lightly browned—be mindful not to overcook or over-brown.
Remove frittata from oven and let cool.
Enjoy! A frittata can be eaten warm or at room temperature.