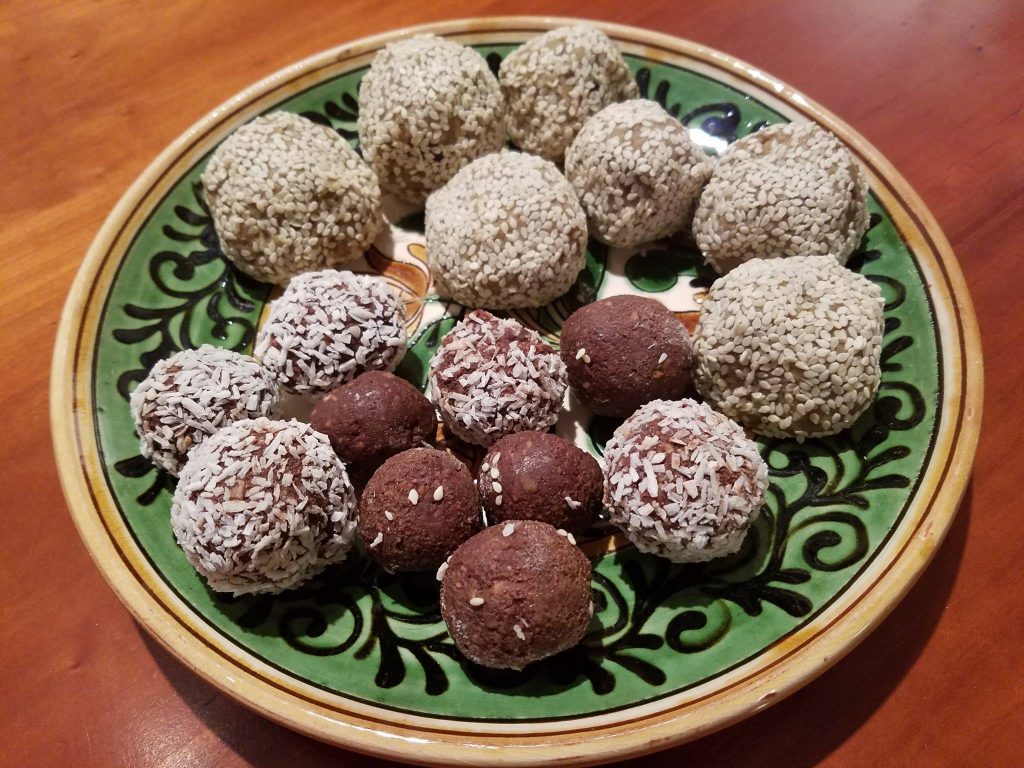 Do you find yourself crashing—fatigued, unfocused and flagging—mid-afternoon, between 2pm and 4pm? Or, if you're doing a clean eating cleanse, do you find yourself feeling more draggy than usual?
Instead of reflexively reaching for a hit of sugar or caffeine, try a few bite-sized protein balls for an energy pick-me-up. Gently sweetened by dates, these raw cacao truffles are high in protein, a good source of fiber and rich in minerals and antioxidants. And, speaking of antioxidants…guess which food ranks #1 on the Top 10 ORAC (Oxygen Radical Absorbance Capacity) list, which measures the level antioxidants present in food—and outranks goji berries, acai berries and blueberries?  That's right: raw cacao.
If you need a "lift", raw cacao contains the compound, theobromine, which has a similar (but much milder) stimulating effect as caffeine. You'll get your boost—without the jitters.
These truffles are pretty and portable—easy to pack for the road or bring to the office. Best of all, they just minutes to make in a food processor, a powerful blender, like a Vitamix, or a Nutribullet!

Raw Cacao Truffles
Yield: 8-9 balls
3 pitted dates, soaked
1/3 cup organic sunflower seed butter
2 tablespoons organic raw cacao
Dash of cinnamon
*Garnish:  Unsweetened shredded coconut for rolling
Soak the dates in water until softened, about an hour—or overnight—at room temperature.
Add the soaked dates, Sunbutter, dash cinnamon and raw cacao to a food processor, high-powered blender or Nutribullet. Blend until well combined, about 1-2 minutes. If very crumbly, you may want to add 1-2 tablespoons of the soaked date water to the mixture.
Scoop out the mixture and roll into balls.
Place some shredded coconut on a small plate or bowl. Roll the balls in the shredded coconut.
Serve fresh or refrigerate at least 30 minutes before serving.