Shiso, a.k.a., "perilla", is a Japanese herb related to the mint family. In the summer, I'm happy to be able to find this at my favorite "beyond organic" vendor at a nearby farmers' market in the City.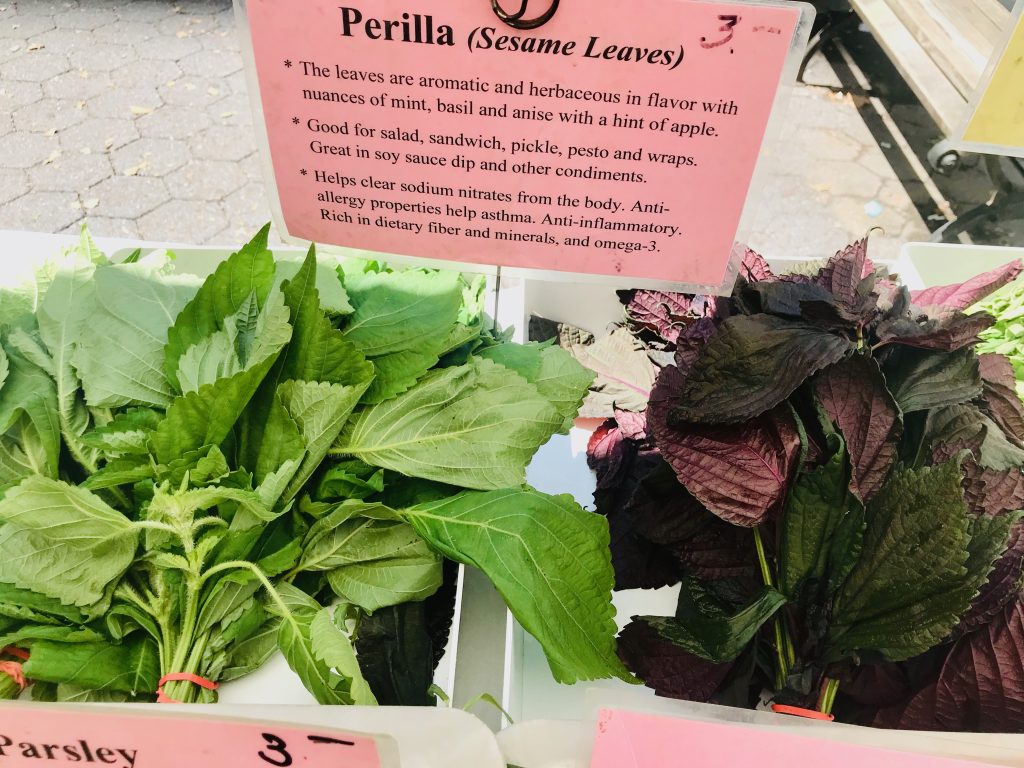 Shiso actually originated in China, where it was used as a medicinal herb. It later made its way to Japan, where shiso evolved into one of Japan's main seven flavorings. It is als­­o used in Vietnamese and Korean cuisines. In Korea, the herb's name translates into "sesame leaves" (as you see in my photo), although, technically, shiso and sesame are not related. As it turns out, the farmer at my favorite stand, who grows perilla, is Korean.
There is green shiso and red shiso. Green shiso tastes like a cross between citrus and cinnamon. Personally, I favor red shiso, which has an exotic, hard-to-describe flavor profile—a helter-skelter fusion of mint, basil, anise and clove. The pigment is a distinct, deep red, hinting at its rich anthocyanin (flavonoid) and mineral content, especially iron, calcium, potassium and magnesium.
Shiso has a history of being both a medicinal and culinary herb in Japan. If you eat out at Japanese restaurants, you have likely had shiso in any number of ways…added to soups, rice or tempura, served with sashimi, wrapped around sushi, meat or fish cakes, or used as a garnish for tofu.
Shiso leaves can also be used to make an antioxidant-rich "red" tea (just add hot filtered water). Its anti-inflammatory and anti-allergy properties can help boost the immune system. In Japan, shiso has been used as a natural herbal remedy for conditions, from asthma and arthritis, to eczema. Because of its antibacterial and anti-inflammatory properties, shiso has traditionally been used to treat morning sickness and can provide relief for indigestion and food poisoning.
I enjoy shiso as a pesto…it's a handy condiment—easy to digest and a versatile flavor complement to grilled or poached fish, chicken or 100% buckwheat noodles. You can also chop shiso leaves and add to salads. Or, add whole shiso leaves to a stir fry.

Shiso Pesto with 100% Buckwheat Noodles and Arugula
For the Shiso Pesto
2 large bunches of shiso, leaves only, washed and spun dry
4 garlic cloves
1/2 cup fresh-squeezed lemon juice, strained of pulp
1 teaspoon Celtic sea salt, or, to taste
3/4 cup high quality extra-virgin olive oil
Combine all ingredients in a food processor. Pulse until well blended and creamy in consistency.  Store in a 32-oz glass mason jar in the refrigerator.

For the Buckwheat Noodles
1 serving
Despite having "wheat" in its name, buckwheat is NOT related to wheat at all. It is, in fact, the seed of a flowering fruit related to rhubarb and sorrel. That said, in Japanese cuisine, "soba" is the Japanese name for buckwheat.  However, soba is often made with a combination of buckwheat and wheat flours. Because I am unable to tolerate gluten or wheat, I always specify 100% buckwheat noodles—only buckwheat and no wheat!
1 skein 100% buckwheat noodles
Bring water to a boil, add noodles, reduce heat and take care not to overcook (it's just 5 minutes for King Soba and 8 minutes for Eden). Drain and rinse with cool water.
Transfer noodles to a bowl.  Add a generous dollop of shiso pesto. Garnish with baby arugula. Enjoy!