I'm not so much a lazy (though, sometimes, yes!) as I am a time-pressed cook. That's why I love Delicata squash. You can eat it straight up…no peeling required.
Winter squash, including Delicata, is an excellent source of antioxidants, B vitamins and plant-based, anti-inflammatory nutrients, like omega 3s and beta-carotene.  Not only is it a perfect cold-weather food to boost the immune system and to protect against colds and flu, its ability to help regulate blood sugar—in addition to its antioxidant and anti-inflammatory properties—makes winter squash a heart-healthy food.
I admit: winter squash, especially the larger varieties, can seem formidable by their size, weight and tough outer rinds. But the cylindrical-shaped Delicata, which ranges from cream to yellow, with distinctive dark green stripes, is easily totable home from the market.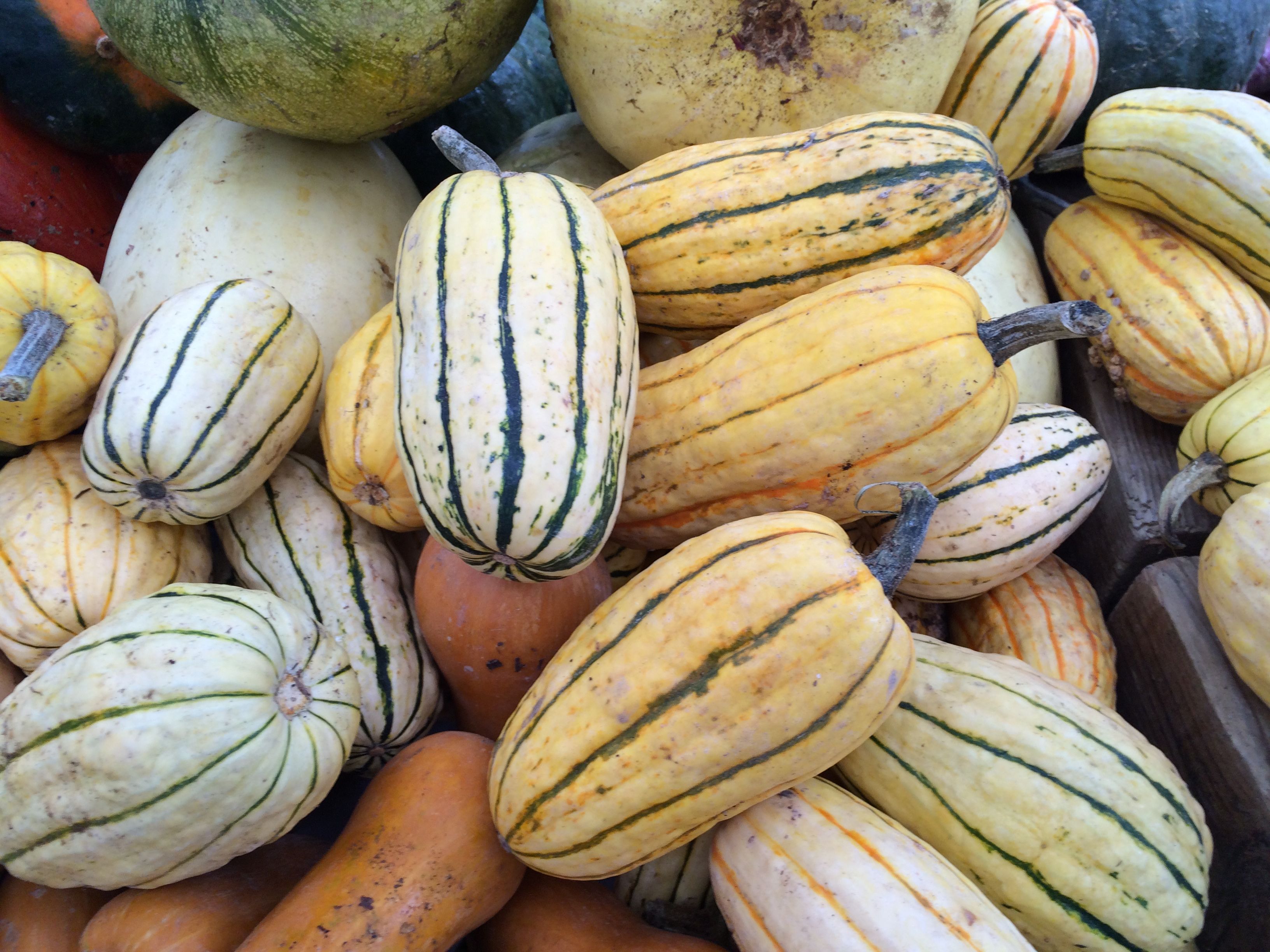 Here's a quick and easy way to prepare.
Roasted Delicata Squash
2-3 Delicata squash, rinsed well (because you'll be eating the skin!).
1-2 teaspoons Herbs de Provence OR dried rosemary OR dried oregano, crumbled
2-3 tablespoons olive oil
Celtic sea salt
Preheat oven to 350°F.   Line a heavy-gauge cookie sheet with parchment paper.
Using a heavy chef's knife, cut Delicata squash in half lengthwise. Scoop out the seeds and scrape the center clean.  (It's like seeding a cucumber). Going down the length of each squash half, cut thin 1/2″ slices. Repeat for each Delicata squash.
Place all the crescent-shaped slices in a large non-reactive (ideally, glass) bowl. Add the dried herbs and olive oil.  Mix well with your hands.  Arrange squash on the parchment-lined cookie sheet in a single layer.
Place squash on center rack and roast approximately 35 to 45 minutes, turning pan at the halfway point (apx. 18 to 20 minutes to ensure even cooking). Roast until a knife inserted into the squash slides in and out easily—no resistance! Season with Celtic sea salt, to taste.