"Any variety of herb in existence may go by the name of salad," Prosper Montagne, the French chef and author of Larousse Gastronomique, once famously said.
My appetite for salad is legendary. I eat a large salad at lunch every day—"large" means 6 to 7 tightly packed cups of leafy greens (yes, I was curious enough to measure!). My lunch salad is always some variation of cooked greens (kale, chard or cabbage); raw greens (romaine or mesclun) mixed with cruciferous (cabbage slaw or brussels sprouts) and root vegetables (a few shavings of beets or a little sweet potato), and enhanced by incidentals—a small spoonful of pinto beans, thin slices of red onion, sunflower sprouts, a grating of cucumber or radish, olives, avocado and a drizzle of grassy, extra-virgin olive oil. The "foundation", though, always consists of dark leafy greens
.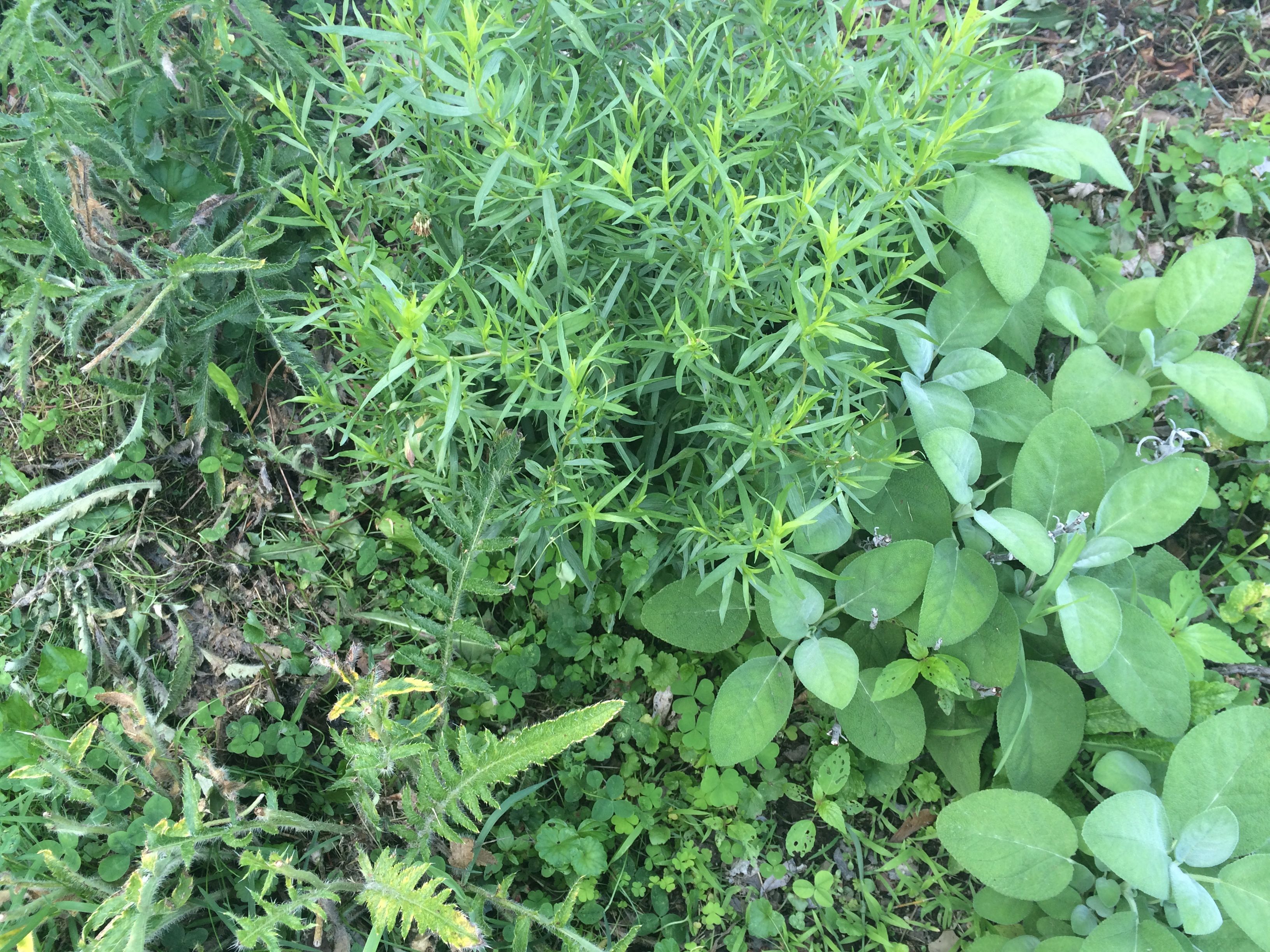 I've been known to eat leftover salad for breakfast with the same relish as someone who loves cold, leftover pizza the morning after.
At dinner, I welcome more salad (!) and some type of braised leafy greens, like mustard greens, sweet potato greens, mizuna or Korean watercress.
For optimal health, you want to aim for 8 to 12 servings of vegetables daily.  Eating salad is an effortless way for me to reach this "quota".
One big benefit that I have enjoyed from my ferocious consumption of leafy greens? A clear complexion. Organic leafy greens, especially those that you grow in your own garden or from a local farm, are not only a delicious way to enjoy summer bounty, they're also an excellent way to detoxify and nourish the body.  Fresh out of college, I experienced a bout of severe cystic acne, for which I was prescribed a scandalously potent dose of Accutane to eradicate. (Sidenote: Accutane was taken off the market in 2009 after the manufacturer was hit with over 7,000 lawsuits claiming myriad side effects).  In retrospect, during that period, I regularly binged on processed foods and a high-sugar diet.  Now, by way of clean eating, I have clear skin—even around menses—and my regular (large!) consumption of leafy greens—rich in fiber, vitamins, antioxidants and phytonutrients—is a major contributing factor.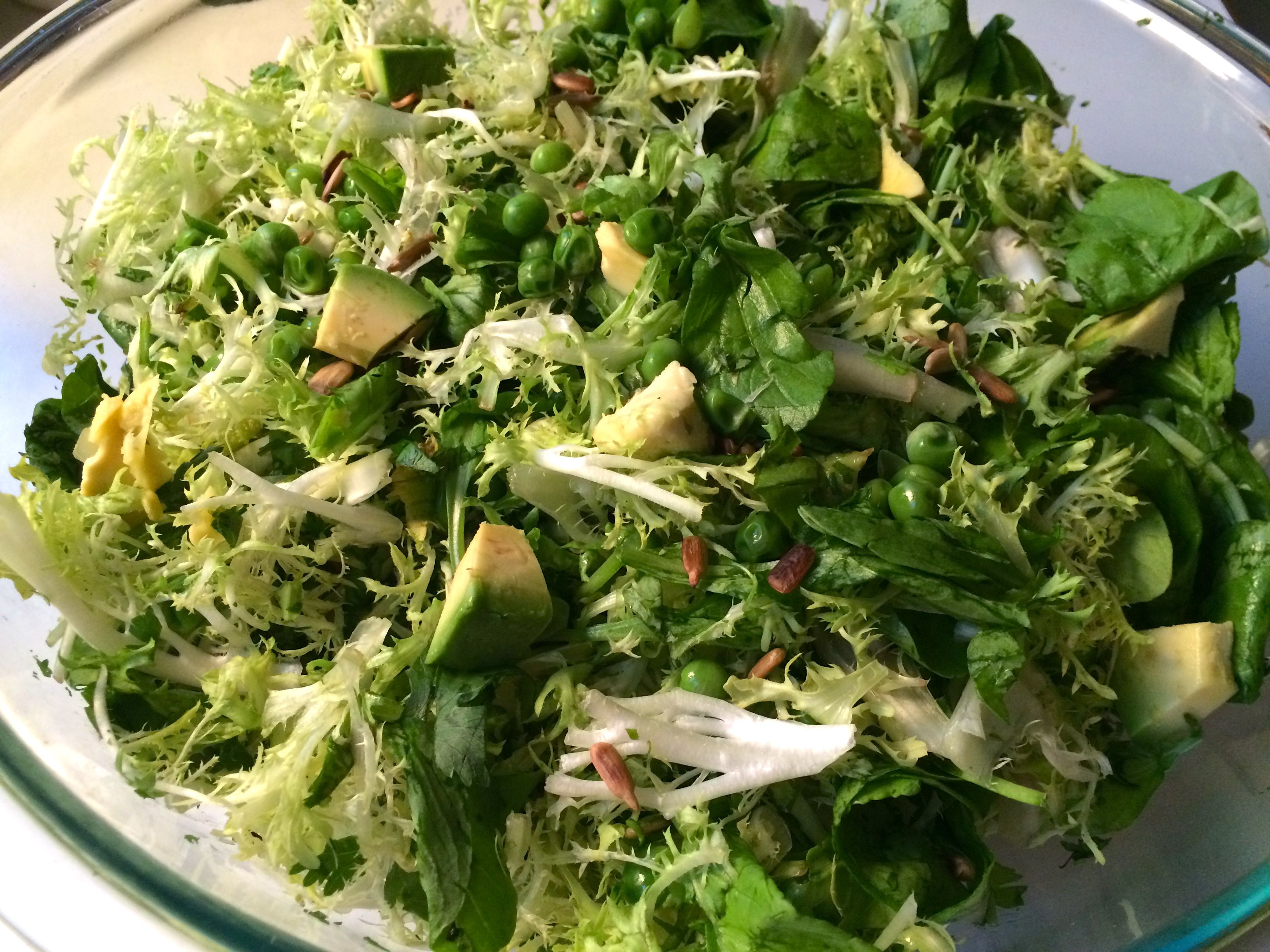 The beauty of salad lies in its simplicity.
You can dress it up or down. A simple salad of baby romaine or baby arugula tossed with avocado and dressed with an olive oil-apple cider vinaigrette is just as delicious as a more complex one.  Sometimes, I'll mix greens—spinach and romaine; a spring mix and arugula—throw in some toasted sunflower or pumpkin seeds, fresh corn (sliced off the cob), avocado, herbs from our garden (tarragon, sage, mint or oregano) and even edible flowers, like nasturtium, for a spicy bite.
If I want more of a "layered" salad-as-a-meal, this is one of my favorites…

Frisee with Avocado, Dill and Toasted Sunflower Seeds

2 heads frisee, ends discarded and chopped roughly
**Feel free to use organic mesclun, arugula or other favorite leafy green
3-4 tablespoons chopped dill
1 medium bunch scallions, well washed and thinly sliced
2 tablespoons raw sunflower seeds, lightly toasted
1 cup cooked peas (optional)
Half an avocado, diced
1 tin of sardines (packed in water), drained and crumbled
Celtic sea salt, to-taste
Wash frisee well and spin dry. Place all the ingredients in a large bowl. Sprinkle Celtic sea salt to taste. Drizzle vinaigrette (recipe below) and toss well.

For the vinaigrette:
1 tablespoon freshly squeezed lime juice
1 tablespoon apple cider vinegar
1 tablespoon olive oil
Whisk all the ingredients until well blended. Drizzle over frisee and toss well.