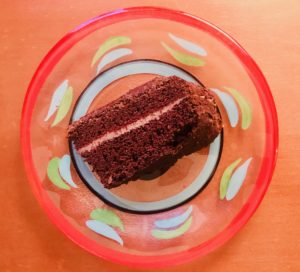 The last time I attempted to bake a gluten-free, dairy-free birthday cake was 6 years ago. I decided to try again. I wanted to make a chocolate layer cake to celebrate my birthday—as well as my sister's recent significant birthday.
One of the most effective ways that I manage my Hashimoto's thyroiditis, an autoimmune thyroid condition that causes hypothyroidism (underactive thyroid), is by eliminating wheat, gluten, grains and dairy from my diet.
This means that choosing the right gluten-free flour to make a cake can be a tricky proposition. I am allergic to all nuts, so almond flour is out. Although I like its taste and texture in baked goods, coconut flour triggers an instant headache. I avoid baking with commercial, pre-packaged "gluten-free" flours because they contain blood sugar-spiking grain flours, like brown rice flour, white rice flour, potato starch and/or sorghum flour. Many recipes for "gluten-free" baked goods also call for gums and/or starches, like xanthan gum or guar gum, which, for me, causes digestive upset.
The solution?  Tiger nut flour. Unlike tiger blood, tiger nut flour is not something that Charlie Sheen has ever obsessed about, but it is a WINNING flour!
Tiger nuts are not nuts. Nor are they tiger testicles, as one friend had assumed!  Tiger nuts are edible tubers, from the roots of yellow nutsedge (Cyperus esculentus), a plant that is considered an invasive weed in the U.S.
Yet, in ancient Egypt, tiger nuts were considered a medicinal food. And they were a popular sweet treat: roasted and crushed, tiger nuts were eaten with honey. From Egypt, the cultivation of yellow nutsedge spread to North Africa and the Iberian Peninsula. Tiger nuts are used in Spanish and Mexican cuisine and in horchata, a sweet and creamy milky beverage.
High in antioxidants, tiger nuts are a nutrient-dense food. Just one serving contains 10 grams of fiber! They contain bacteria-fighting properties; eating tiger nuts on a regular basis may help boost immunity. Tiger nuts are high in resistant starch fiber, which passes undigested through the digestive tract and can help stabilize blood sugar and promote satiety (feeling full). As a prebiotic food, tiger nuts help feed good gut bugs, helping to improve digestion and overall gut health. Studies indicated that high-fiber tiger nuts are a beneficial food for controlling diabetes and for lowering LDL "bad" cholesterol.
If you decide to bake with tiger nut flour, I suggest that you use the "extra fine" flour. Also be sure to sift the flour—either with a sifter or through a stainless steel strainer—because tiger nut flour tends to clump.
I won't lie: this tiger nut chocolate cake was a 4-hour labor of love; 30 mins to make the cake; 50 minutes to bake the cake; 2 hours for the ganache (don't let this scare you off! This was mostly unattended as it simmered over very low heat on the stove); 10 minutes for the frosting; and 30 minutes to assemble.
But, if you love homemade chocolate cake, the end result is SO WORTH IT!
This cake was a HUGE hit with my sister and everyone who tasted it. You'd never guess that this chocolate layer birthday cake had been made with a strange-sounding (and nutrient-dense) ingredient like "tiger nut flour"!  Enjoy…
Tiger Nut Chocolate Ganache Birthday Cake
INGREDIENTS
Cake
3-1/4 cups organic tiger nut flour
*Shake the tiger nut flour through a sifter or stainless steel strainer to remove all lumps and clumps; tiger nut flour tends to clump
3/4 cup raw cacao powder, sifted
1/2 cup organic coconut sugar
2 teaspoons organic baking soda
1 teaspoon coarse-ground Celtic sea salt
1/2 cup coconut oil, melted
1 cup organic, full-fat, unsweetened coconut milk
3 large pasture-raised eggs
2 teaspoons vanilla extract
2 tablespoons organic maple syrup, Grade A, Robust Taste
Chocolate Ganache
(*Can be made 1 day in advance)
15 oz of organic, full-fat, unsweetened coconut milk
2 tablespoons organic maple syrup, Grade A, Robust Taste
2 teaspoons raw cacao powder
1/2 teaspoon vanilla extract
Chocolate Frosting
8 tablespoons organic, full-fat, unsweetened coconut milk
3/4 cup unsweetened 100% cacao chocolate chips
2 tablespoons organic maple syrup, Grade A, Robust Taste
METHOD
For the cake
Preheat oven at 350°F.
Grease the bottom and sides of a round tin-plated steel springform pan with coconut oil; line the bottom with unbleached parchment paper.
To a large mixing bowl, add the well-sifted tiger nut flour, raw cacao powder, coconut sugar, baking soda and Celtic sea salt. Whisk dry ingredients well.
In a medium bowl, combine the melted coconut oil, coconut milk, eggs, vanilla and maple syrup, using an electric mixer.
With a large rubber spatula, gently fold the dry ingredients into the wet ingredients to form a batter. Be careful not to over-mix.
Pour batter into springform pan and gently shake from side to side to make sure batter is evenly distributed.  Place cake on top of a heavyweight baking sheet lined with parchment paper (to catch any batter drippings).
Then, place on center rack in oven and bake 25 minutes; then, turn the baking sheet around for even baking.  Bake another 25 minutes, or until a knife inserted into the center comes out clean.  If, after 50 minutes, the batter in the middle of the cake is still "wet", tent cake with aluminum foil to prevent burning on top and lower the heat to 325°F. Bake until a knife inserted in the center comes out clean.
Remove from oven and let cake cool completely on a wire rack.
When completely cool, use a serrated knife to gently slice cake, horizontally, through the middle so that you have two cake "layers".
Using a spatula, spread chocolate ganache (see recipe below) over the top of the bottom layer. Refrigerate bottom layer for 30 minutues.
Once the bottom layer with the chocolate ganache has chilled, carefully transfer the other half of the cake on top. Spread the chocolate frosting (see recipe below) evenly over the top of the cake.
For the Chocolate Ganache  (*Can be made 1 day in advance)
In a medium saucepan, whisk together the coconut milk and maple syrup over medium-high heat until mixture comes to a gentle boil. Reduce heat and simmer (do not cover) for 2 hours, whisking occasionally, until the coconut milk is reduced by half and has a thicker consistency and darker color (similar to condensed milk).
Add the raw cacao powder and vanilla extract, whisking until mixture is smooth.
Let ganache cool and refrigerate until the cake is ready. *Can be made 1 day in advance.
For the Chocolate Frosting
Fill a 3-quart stainless steel saucepan with water. Bring to a gentle boil, then lower heat. Add the chocolate chips to a small stainless steel mixing bowl or a small heat-resistant glass bowl. Place bowl over saucepan. Melt the chocolate chips in the bowl over simmering water. Using a wooden spoon, stir in the coconut milk and maple syrup into melted chocolate until well combined and smooth.
Let cool for 5 minutes before icing the cake.