I love pie. A few years ago, I even won a red ribbon at a local, upstate apple pie baking contest for both my filling and my pie crust.
That was then.
Since being diagnosed with low thyroid in 2013, I have followed a strict wheat-free, gluten-free Paleo diet. This has been a good thing since I recently discovered—by taking a food sensitivity / intolerance test—that I have a severe (non-Celiac) intolerance to both gluten and gliadin, two proteins found in wheat. For me, this means: no wheat, spelt, rye, barley, malt or oats.
But going wheat-free and gluten-free hasn't been as hard as you might think.
This gluten-free, dairy-free ginger-infused pumpkin custard is a delectable alternative to traditional pumpkin pie at Thanksgiving. But not just Thanksgiving….it's the perfect antidote any time you're craving a home-baked treat that's warm, creamy and comforting. The recipe below is super simple, but quality ingredients matter. I use pasture-raised eggs, Grade B maple syrup, a more nutrient-dense, later-season maple syrup, and an organic pumpkin puree.
The result? A custard that's creamy, rich, just sweet enough and gently gingery with a mild pumpkin flavor. Packed with protein (eggs), fiber (pumpkin) and healthy saturated fat (coconut milk), you'll feel deliciously sated.
This custard is also great for breakfast!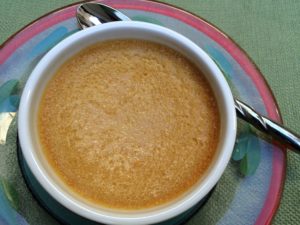 Baked Ginger Pumpkin Custard
Yield: 6 four-ounce individual custards
1 15-oz can unsweetened, full-fat coconut milk
1 tablespoon gingerroot, finely minced
3 pasture-raised eggs
1 pasture-raised egg yolk
1/3 cup organic pure maple syrup, Grade B
1 teaspoon organic almond extract
1 cup organic pumpkin puree (BPA-free can)
Preheat oven to 350 degrees.
Place 6 four-ounce (six-ounce) ramekins in a 13" x 9" Pyrex glass oblong baking dish.
Fill a kettle with water OR bring 1 quart (4 cups) of water to a boil in a pot. Set aside.
Place coconut milk and ¼ cup of water (to make 2 full cups of coconut milk) in a heavy bottomed saucepan. Whisking the coconut milk, bring it to a gentle simmer over medium heat. Stir in the minced ginger. Remove pan from the heat, cover, and let steep for 30 minutes. Strain coconut milk (discarding the ginger) and return to pan. Optional: For a gingery bite, save ginger, and stir ¼ teaspoon into individual custards before putting in the oven.
Beat eggs, egg yolk, maple syrup and almond extract in a mixing bowl until smooth and well mixed.
Once the coconut milk is warm (NOT boiling!), slowly pour coconut milk into egg mixture, while mixing with an electric blender at medium speed. Combine well.
Add pumpkin puree to the egg mixture; whisk until well blended.
Pour pumpkin-egg mixture into a large glass measuring cup (4 cups), then pour into individual ramekins.
Fill the baking dish with hot water, about 1-inch deep or so.
Place on middle rack in oven. Bake for 50 min to 1 hour. The length of time will depend on size of custard dishes and how deep the custard is.
A knife inserted in the middle will come out clean when it is finished.  Serve warm or at room temperature.