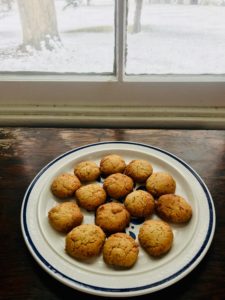 What better way to celebrate Valentine's Day than to give someone you love—including yourself—healthy, home-baked treats.
Valentine's Day is synonymous with chocolate.
However, when you bake for someone else—romantic partner, friend or family member(s)—don't assume that they want chocolate just because it's Valentine's Day! As a die-hard dark chocolate lover, myself, I learned the hard way that not everyone loves chocolate as much as I do.
When I recently served a friend what I thought was the perfect dessert: a slice of homemade chocolate layer cake, I noticed her ambivalence. Then, it dawned on me: "Do you like chocolate?" I asked. "Not really," she said. Prodding further, I discovered that her favorite desserts were, in fact, custards, anything made with lots of lemon, and sticky toffee. Ouch!! Still, I welcomed her candor. After all, I don't like cheese cake, bread pudding, macaroons or mud pie. If I am baking for someone else, I would hope to make something that gives them joy and pleasure.
The recipes below feature chocolate and non-chocolate-themed home-baked treats. These treats are gluten-free; sweetened judiciously with unprocessed, natural sweeteners (e.g., maple syrup, coconut sugar); contain a minimum amount of flour; and, incorporate whole food ingredients—no stabilizers or binders, like xanthan gum or guar gum, or sugar alcohols. Just real food!
If you are trying to limit your sugar intake, but still find it hard to pass up refined sugary treats, like cookies, brownies or pastries, making a healthier version of your favorite baked goods can be an important first step towards better health. Home-baked goods are a wonderful, special occasion gift and indulgence. That said: you can overeat homemade treats, especially when you think they're "healthy", so watch portion sizes. Less is more.
Why gluten-free?
According to Dr. Rodney Ford, a pediatrician, gastroenterologist, allergist and author of The Gluten Syndrome: at least one in 10 people are negatively affected by gluten, with up to 50% of people somewhere in the gluten-sensitivity spectrum.1, 2  In those who are gluten sensitive, or who are genetically susceptible, gluten triggers an inflammatory-immune response. Gluten sensitivity symptoms are not limited to the gut (e.g., IBS, constipation, diarrhea, ulcerative colitis, etc.); they can also manifest in the skin and nerve tissues: headaches/migraines, skin eruptions and rashes; ADHD, mood imbalances (anxiety/depression), joint pain and more.3, 4, 5
I have been eating gluten-free (no wheat, no grains) for nearly a decade. Why? Because gluten triggers an immediate, inflammatory response in my body that manifests as brain fog, low energy, fatigue and depression (yes, gluten can negatively affect mood in a big way).
To be clear: eating "gluten-free" does not mean that you are eating "low carb", "low sugar" or "low calorie" foods. Yes, eating gluten-free can help reduce inflammation in the body. But it does not mean that you can eat unlimited amounts of anything labeled "gluten-free", especially if it is a flour-based, since your body identifies grains and starchy foods as "sugar". Remember: a little goes a long way.
Are you feeling inspired to serve up some home-baked love?
If you're a novice baker or an occasional baker (and even if you're not!), you'll want to review the following gluten-free baking tips before you tackle gluten-free baking. Unlike cooking, where you have more flexibility to swap out one ingredient for another, baking is precise and less amenable to substitutions.  Gluten-free baking requires some time, energy and attention to detail.  To ensure a successful and delicious outcome, click here to read these 11 gluten-free baking tips.
---
See Recipes for Gluten-Free Treats BELOW:
**Click on each photo for the recipe.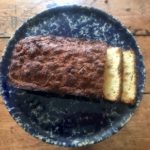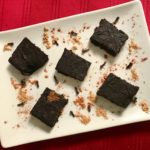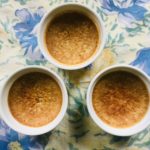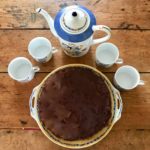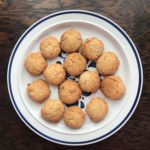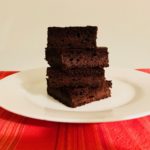 Coconut Flour Coffee Cake
Slow-Burn Buckwheat Gingerbread
Chilled Ginger Custard
Tigernut Flour Chocolate Cake with Chocolate Ganache
Lemon-Ginger Almond Cookies
Sweet Potato Brownies
Sources
1, 3  Medical Hypotheses. Vol. 73, Issue 3, Sept. 2009, pp. 438-440.
2    VeryWell Health. Oct. 25, 2020
4    Gluten Free Society.
5    Gluten Free Society.